Maybe you've heard of toad in the hole Jamie Oliver style or seen it on a British menu. What is toad in the hole though? Well, this hearty English toad in the hole recipe is made by adding pork sausages to Yorkshire pudding batter, and it is especially good served with mashed potatoes and vegetables, along with onion gravy or your favorite brown gravy.
So if you're wondering 'what is toad in the hole' there is your answer. The next question is probably why is it called toad in the hole?
It is believed the name comes from the dish's resemblance to toads poking their heads out of holes. Another name for it is 'sausage toad' but that is rarely heard any more. A toad in the hole recipe dating back to 1861 calls for 'any kind of cheap meat purchased in the evening when it is cheaper than during the day' rather than sausages. Other historical recipes call for battered leftover stew meat or even whole pigeons!
How to Serve a Toad in the Hole Recipe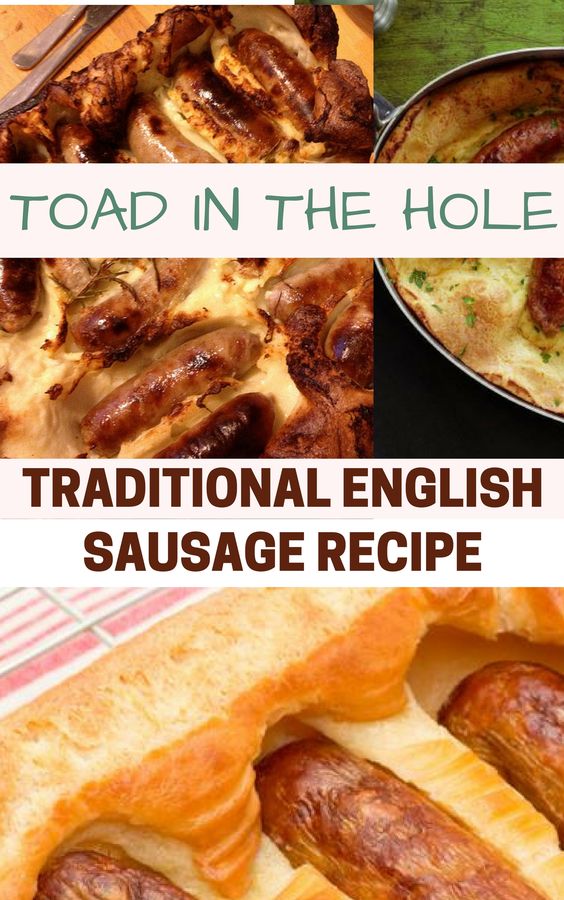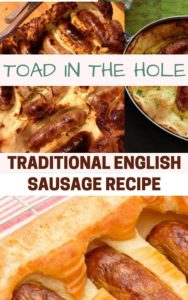 We like to make this with big, fat, juicy, herbed pork sausages, either putting them directly into the Yorkshire pudding batter or replacing their skins with wafer-thin slices of prosciutto, Parma ham, Serrano ham or streaky bacon instead.
Yorkshire pudding is made with flour, eggs and milk or water, along with optional mustard, and it is often served with beef and gravy, as part of the typical Sunday roast dinner. Some people even have Yorkshire pudding as a dessert with syrup or honey. It's also a classic part of a traditional toad in the hole recipe.
Historically, Yorkshire pudding was smothered in thick gravy and eaten as a starter recipe, or appetizer, to fill the belly with cheap ingredients so people would not eat so much costly meat during the next course.
You will find our toad in the hole recipe simple to follow, and it makes a tasty, filling meal for cold autumn or winter evenings. This shepherd's pie recipe is also a nice winter warmer.
The kids will love this toad in the hole recipe as much as the grownups, and served with a pile of steaming mashed potatoes and some vegetables, everyone can expect to leave the dinner table perfectly full and happy.
Print
Toad in the Hole Recipe
This authentic British recipe is made with pork sausages in a Yorkshire pudding batter. Enjoy this traditional English dish with a nice, thick, homemade onion gravy and creamy mashed potatoes.
Author:
Prep Time:

20 mins

Cook Time:

35 mins

Total Time:

55 mins

Yield:

4

1

x
Category:

Main Course

Cuisine:

English
4½ oz

(

125g

) all-purpose flour (plain flour)

2

eggs

5

fl oz (

150

ml) whole milk

1 tablespoon

whole-grain mustard (optional)

5

fl oz (

150

ml) cold water
Salt and black pepper, to taste

6

herbed pork sausages

3 tablespoons

lard or dripping

3½ oz

(

100g

) thinly sliced prosciutto or Parma ham (optional)

1 cup

(250ml) onion gravy, to serve
Instructions
First you need to whisk the flour, eggs, milk, mustard (if using), water, salt, and pepper together.
Make sure you beat out any flour lumps.
Let this batter sit on for 15 minutes.
Meanwhile, you can preheat the oven to 425 degrees F (220 degrees C).
If you like you can discard the sausage skins and wrap the sausages in ham instead.
If not, simply prick a couple of holes in each sausage skin using a fork.
Put the lard or dripping in a roasting tin and put it in the oven until it begins to smoke.
Now you can pour the batter into the roasting tin carefully.
Arrange the sausages on top.
Bake the toad in the hole for 25 to 30 minutes or until it is golden brown and puffy.
Serve with onion gravy, if liked, and perhaps some mashed potatoes and vegetables too.
Notes
Toad in the hole is one of the best-loved English dishes. It is made with herby pork sausages (choose nice, big fat ones for this recipe, not skinny chipolatas!) and a Yorkshire pudding crust, supposedly named because it looks like little toads poking their heads out of holes. However this got its name, there is no doubt it is a classic English dinner recipe which the whole family will love. Make some buttery mashed potatoes to go with it, and cook some vegetables, perhaps peas and carrots, then cut the toad in the hole into servings, and serve it with thick onion gravy to complete the meal.
Photo by Eljay, on Flickr