This old-fashioned squab pie recipe, which dates back over a century, combines lamb (or pigeon) with fruit and spices. It is known as Devonshire or Devon squab pie, Gloucester squab pie or sometimes West Country squab pie. You can trace it back to Devon, Cornwall and Gloucestershire, all of which are counties in England.
In Devon, where I happen to be from, this is often served with clotted cream on the side – outside of Devon, usually not. A squab usually refers to a young domestic pigeon but this pie has been made with mutton or lamb for many years.
It is thought either the original pie was made with pigeon (known as squab) or the name perhaps comes from 'squabble' which means to have a disagreement about whether to make meat pie or apple pie (since this one contains both).
What's in a Devon Squab Pie?
This West Country lamb pie contains (as well as the lamb) apples and spices as well as a pastry lid. It is hearty and filling, and therefore perfect comfort food for the cooler seasons.
It can be made as one big pie or you can use separate ramekins to make portion-sized servings. There are various versions of squab pie. In fact, in the US it is actually made with pigeons. Agatha Christie, a famous English crime novelist, created a variation of squab pie with hard-boiled eggs.
Now honestly, a traditional Devon squab pie is one of those 'at risk' British classic recipes because only 3% of teenagers surveyed in Britain had ever tasted it.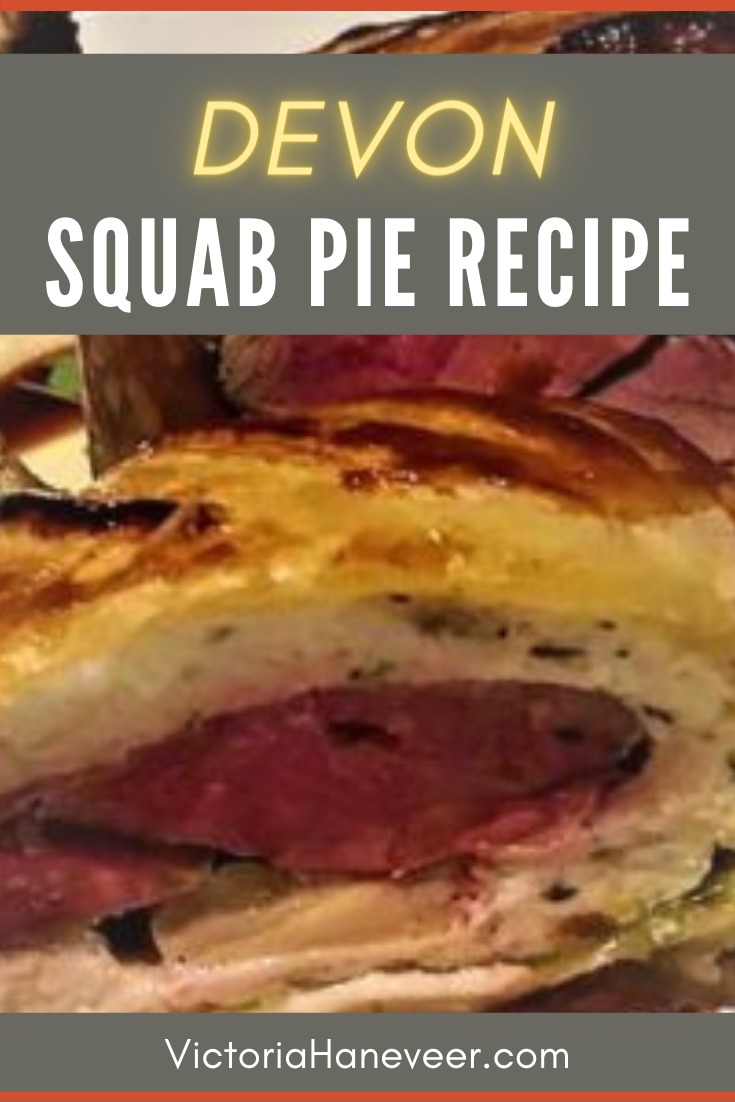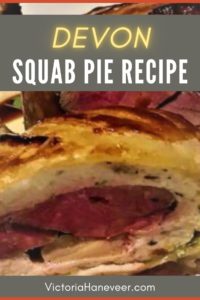 Despite this, if you are interested in historical British or English recipes, Devon squab pie is worth making, because the combination of lamb, apples and spices works really nicely, and the puff pastry crust on top is delicious. Serve this with mashed potatoes and vegetables on the side, to enjoy it to the fullest.
Squab Pie Recipe in History
Then in parts minutely nice
Soft and fragrant apples slice
With its dainty flesh, the sheep
Next must swell the luscious heap
Then the onions savory juice
Sprinkle not with hand profuse
– A gentleman of Bodmin, 1846
In 'The Squab-Pie. A Devonshire Tale' which was published in 1827, John Taylor used verse to tell of the captain of a ship who forgot to buy meat for his trip. A boy on the ship goes into town to get a large squab pie from the bakery for a penny, but sadly it was not meant to be his.
Set on a Sunday, the family who had commissioned the pie from the baker, in order to avoid cooking, tried to find the pie but didn't manage to. John Taylor explains that the moral is that if you believe it is a sin to cook on a Sunday, you should not be still having a big meal by getting a baker to cook for you. Either have that big meal (our squab pie recipe) or don't have it at all. (We advise that you do!)
Another Fun Southwestern Legend
This alternative legend surrounding squab pie, along with the other unusual pies of Cornwall, is that they were the reason that the devil never visited Cornwall. In his book 'Popular Romances of the West of England', Robert Hunt explains that the devil crossed the River Tamar to get to Torpoint.
The chapter called 'The Devil's Coits etc' reasons the devil thought the Cornish would put anything in a pie and decided to leave before they took a fancy to 'devilly pie' returning to Devon!
Print
Traditional Devon Squab Pie Recipe
A perfectly balanced rich, meaty filling of lamb, leeks, fruit and spices is enclosed under a light puff pastry lid, to make this classic pie recipe from England's West Country. Enjoy our Devon squab pie.
Author:
Prep Time:

25 mins

Cook Time:

1 hour 10 mins

Total Time:

1 hour 35 mins

Yield:

6

1

x
Category:

Main dish

Cuisine:

English
All-purpose flour (plain flour), as needed
Salt and black pepper, to taste

2

lb 4oz (1 kg) chopped lamb neck fillet

2 tablespoons

olive or canola oil

2

chopped leeks

1

chopped yellow onion

¼ teaspoon

ground nutmeg

½ teaspoon

ground allspice

¼ teaspoon

ground cinnamon

2

apples (one tart and one sweet, if possible)

2

thyme sprigs

18

fl oz (500ml) lamb or chicken stock

2

bay leaves

10

pitted prunes

2 tablespoons

double cream or heavy cream (optional)

9 oz

(

250g

) puff pastry

1 tablespoon

milk

1

egg
Instructions
Season some of the flour with salt and black pepper, and toss the lamb in it.
Heat a tablespoon of oil in a casserole dish.
Heat the other tablespoon of oil in a skillet.
Brown half in the lamb in the casserole dish and half in the skillet (using both saves time).
Now transfer the lamb from the skillet into the casserole dish.
Add the leeks and onion to the skillet, plus a bit more oil if needed.
Sauté over a moderate heat until the onion is golden.
Add the leek mixture to the lamb, along with the spices.
Now halve, core and thinly slice or chop the apples.
Add them to the lamb, along with the thyme, stock, bay leaves and prunes.
Bring the mixture to a boil.
Grind in some salt and black pepper.
Simmer the mixture, covered, for 30 minutes.
Add more liquid if necessary but remember the mixture needs to be quite thick so only add a little.
If you want to use cream, stir it in now (this is not a traditional step but it does taste good).
So now you can taste and add more salt and/or black pepper if necessary.
Transfer the mixture into a 1¾ pint (1 liter) pie dish or into 6 small ramekins.
Leave them to cool while you preheat the oven to 400 degrees F (200 degrees C).
Now roll out the pastry and use it to cover the pie (or pies).
If you have a pie funnel, set it in the center – if not, cut slits for the steam to escape.
Beat the egg with the milk, and then brush this mixture over the pastry.
Bake for 25 minutes or until piping hot and golden brown on top.
Notes
There is some work involved in making this Devon squab pie recipe but the result is worthwhile. This is traditional West Country food at its finest!
Here we combine lamb with fruit, vegetables and spices to make this wonderful pie which is topped with pastry.
Make it in ramekins for an intriguing starter recipe (before fish or chicken) or unusual lunch, or in one big pie dish for sharing.
In the county of Devon, this is traditionally served with clotted cream on the side, but there is also the option of adding some cream to the filling instead.
You can use mutton instead of lamb if you like, or swap the prunes for a handful of raisins.