English chicken pie, or English chicken pot pie, is a hearty, tasty dish. If you are going to make a pie from scratch, you might as well do it properly, which is why we have chosen to share this homemade chicken and vegetable pie recipe made from scratch using a whole chicken, vegetables, and even a homemade pastry crust. This English chicken pie takes a while to make but the end flavor is well worth it because it offers such a wonderfully fresh taste.
Imagine serving this on a chilly weekend evening with some steaming hot mashed potato on the side and perhaps some corn on the cob or another side dish. Your whole family is going to fall in love with the amazing taste it offers.
English Chicken Pie: Consider Using a Whole Chicken
We like to use a whole chicken for this English chicken pot pie recipe because we are using this to make a stock as well as to get the chicken for the filling. Celery, onion, carrot and potatoes feature in this recipe, along with aromatic ingredients such as thyme, bay leaves and nutmeg. The pastry is made in a food processor using flour, lard and butter, and we are brushing beaten egg over the top of the pie crust to give it a nice, glossy shine and golden color.
What to Pair with English Chicken Pie
Because this pie has meat, vegetables and potatoes in there, you might want to serve it by itself instead of with a side dish or two, but it is also nice with mashed potatoes. The pie makes its own gravy inside so you do not need to make separate gravy for it. Although this pie takes longer to make than some of our other savory pie recipes, it is well worth making for a special occasion because the flavor is amazing.
Print
English Chicken Pie
This English chicken pie is sure to impress everybody because you are making it from scratch and the flavor is second to none. The crisp pastry encases the gorgeous creamy chicken and vegetable filling.
Author:
Prep Time:

40 mins

Cook Time:

1 hour 10 mins

Total Time:

1 hour 50 mins

Yield:

6

1

x
Category:

Main Dish

Cuisine:

British
3 3/4

lbs (1 3/4 kg) whole chicken

2

sliced celery stalks

1

sliced yellow onion

4

bay leaves

1

thyme sprig

1 teaspoon

crackled black peppercorns

1

peeled, chopped carrot

1

lb (450g) peeled, chopped potatoes

1/2

lb (225g) peeled, chopped carrots

5 oz

(

150g

) leeks, in 1-inch (2 1/2 cm) pieces

7 oz

(

200g

) baby button mushrooms

3 oz

(

75g

) butter

5 1/4 oz

(

150

ml) heavy cream (double cream), optional

1 1/2 oz

(

45g

) all-purpose (plain) flour

1/2 teaspoon

ground nutmeg

1 tablespoon

fresh thyme

1/2 tablespoon

chopped fresh parsley (optional)
Instructions
Remove the giblets from the chicken (if it has them) and keep for another use
Put the chicken in a snug-fitting pot with the celery, onion, thyme sprig, peppercorns and bay leaves.
Cover with 3¼ pints (1½ litres) of water and bring it to a boil.
Now cover and simmer for 25 minutes.
Turn the heat off and let the chicken sit in the pan for an hour.
Remove the chicken to a chopping board and let it cool right down.
Pour the stock into a bowl and clean out the pot.
Strain the stock back in to the pot.
Bring it to a boil then add the potatoes and cook for 2 minutes
Add the carrots and cook for 4 minutes.
Add the leeks and cook for 4 minutes or until the vegetables are tender.
Transfer the potatoes, carrots and leeks to a large bowl, using a slotted spoon.
Bring the stock back to the boil and have it boiling fast for 30 minutes or until it reduces to 14 fl oz (400 ml).
Chop the chicken into pieces and discard any skin and bones.
Toss it with the vegetables in the bowl.
Melt an ounce (25g) of butter in a pan and sauté the mushrooms for 2 minutes, then add those to the bowl with the chicken mixture.
Add the rest of the butter then when it melts you can add the flour and cook for a minute.
Stir in the reduced chicken stock and bring it to a boil.
Simmer for 5 minutes, stirring often.
Take the pan off the heat and stir in the nutmeg, cream and chopped thyme.
If you prefer not to use cream, you can use tomato sauce or some broth instead.
Add the parsley too if using.
Add salt and pepper to taste.
Stir this sauce into the chicken mixture.


About Halfway There!

Spoon the mixture into a 2-inch (5 cm) deep, 4-pint (2-litre) ovenproof dish.
Put a pie funnel in the middle.
Now you can prepare the pastry.
Sift the flour and salt into your food processor, then add the lard and butter.
Pulse until it looks like fine breadcrumbs, then add 3½ tablespoons of cold water.
Process until the mixture shapes itself into a ball, then turn it out on to a floured board.
Knead the dough until smooth.
Roll the pastry out until it is 1-inch (2½ cm) wider than the pie dish.
Trim the overhanging pastry edge, brush it with beaten egg and press it on to the rim of the pie dish.
Cut a cross in the middle of the pastry lid so the pie funnel can poke through there.
Brush beaten egg all over the top, then chill the pie for 20 minutes.
Preheat the oven to 425 degrees F (220 degrees C).
Brush a little more egg over the pastry and bake for half an hour or until the pastry is golden brown and the filling is hot.
If the pie gets too brown before the filling is hot enough, you can cover it with foil.
Keywords: english chicken pie recipe, english chicken pie, english chicken pot pie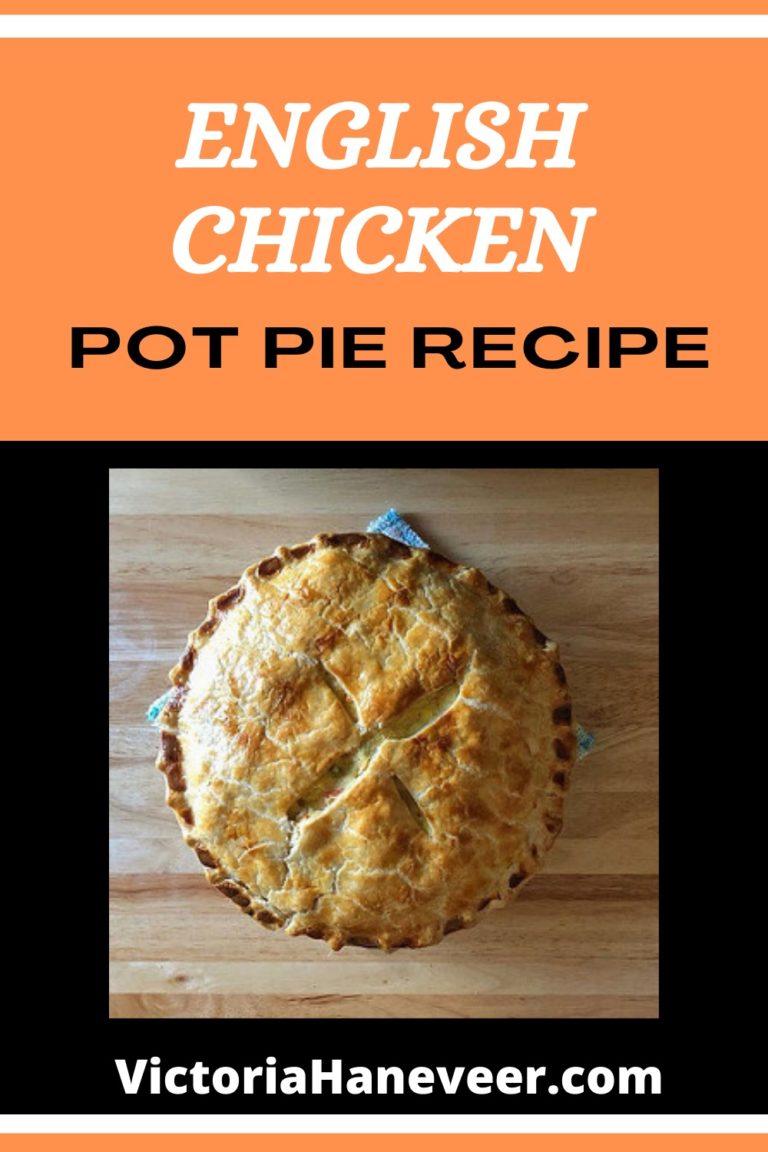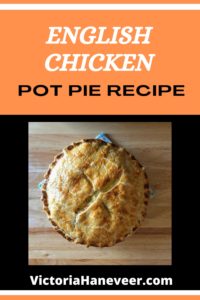 Photo by Manuel Sanvictores, on Flickr
This is one of the best English chicken pie recipes ever. It includes vegetables such as potato, carrots, onions, celery and more, along with nutmeg, bay leaves and thyme for aromatic flavor. The pastry is homemade and covers the wonderful mixture inside. The filling is made first and then the pastry, and then it all goes together.
The final step is baking the pie in the oven. This is a classic English chicken pie recipe which you will love, either served as it is or with some mashed potatoes and your favorite vegetable on the side. Any leftovers can be gently rewarmed in the oven the following day.