Being from Devon, in southwest England, it goes without saying I am fond of English scones and know a good traditional English scones recipe. Served with clotted cream and then jam on top (or jam and then clotted cream if you are from Cornwall rather than Devon), these wonderfully delicious little treats are best served with a pot of strong tea.
English Style Scones vs. American Style Scones
British scones are not the same as American ones which have more butter in the mix compared to flour than the British variety. This is why the traditional English scones recipe differs. Because butter is usually added before the cream and jam, less butter is used in the batter.
The same is true about the amount of sugar. A British scone is either plain or made with raisins. I have also made savory cheese and mustard ones (and those are amazing served warm with butter on top).
A typical English cream tea is something you will find all over the country, especially in touristy areas, and you can expect to get a pot of tea with milk and sugar on the side, a freshly baked scone, some butter, clotted cream (certainly not whipped or squirty cream!) and jam. Knowing a traditional English scones recipe means you can host your own tea parties though.
Although one scone might not sound very filling, trust me – this is a calorific treat which is pretty heavy! You might think you can eat two, but not many people can!
What is Clotted Cream?
So if you aren't from the UK, you might be wondering what 'clotted cream' is or what you can serve instead if you can't get it where you live. This goes perfectly with an English style scones recipe, as well as the jam of course.
Clotted cream, which is sometimes known as Devonshire cream, Cornish cream, clouted cream or scalded cream, is a thick type of cream made by heating full-cream cow's milk in a water bath or using steam, then letting it cool in shallow pans. The cream content will rise to the top to form 'clots'.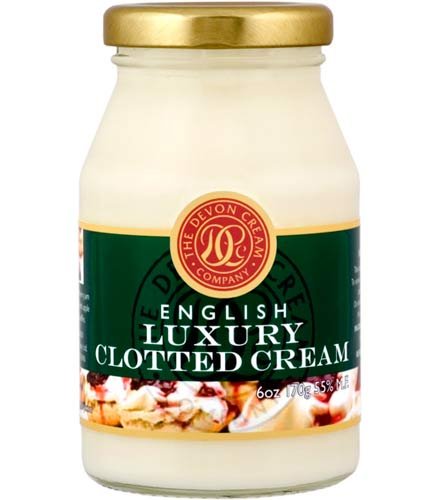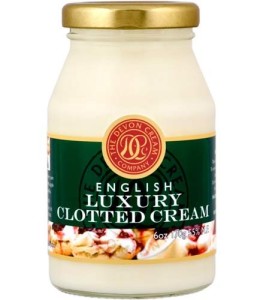 It tastes rich and sweet and it is very thick. Clotted cream has at least 55% fat but usually closer to 64% which means it would be classified as butter in the US!
Not Just for a Traditional English Scones Recipe
Clotted cream is good with any desserts. Just swap your whipped cream for clotted and see if you like it better.
This cream is an essential part of cream teas which are popular not only in Devon and Cornwall in England, but also in southern Australia since British immigrants took the recipe over with them.
You will need it to serve with your traditional English scones recipe. Devon clotted cream is less yellow than Cornish clotted cream because the local grass has less carotene in it. It is used to make fudge and ice cream, and sometimes used to enhance savory dishes like scrambled eggs, risotto or mashed potatoes.
Even if you can't find it outside England (and that is sadly often the case) you might be able to find a similar version, but in the US dairy products must be pasteurized so it won't taste the same.
You can buy 'English Luxury Clotted Cream' online (through Amazon is good) which is pretty similar but more buttery and without the crusty topping. I've tried it and it's passable but of course not as good as the fresh kind you'd get in Devon or Cornwall! It's OK with a traditional English scones recipe though.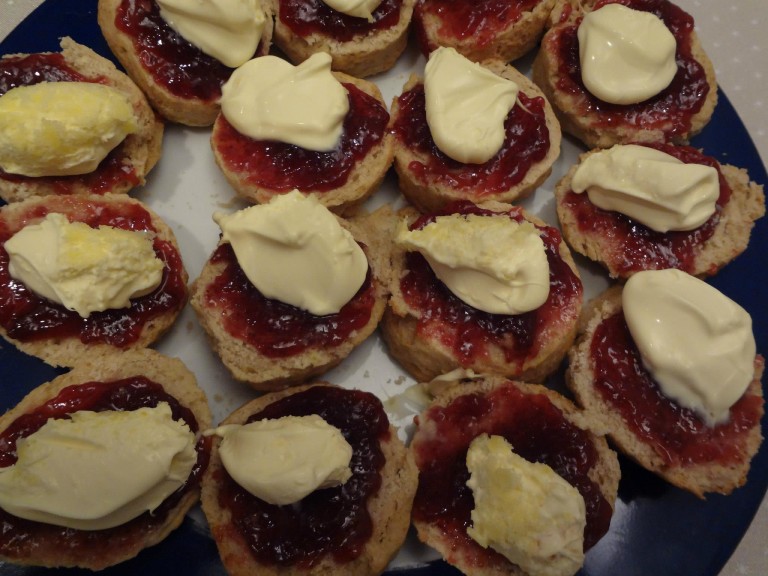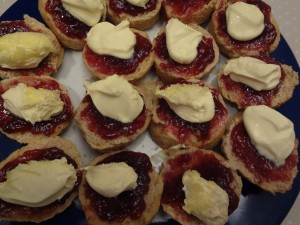 If you want to make a faux clotted cream rather than serving your scones with heavy whipping cream (only 38% fat so a very different flavor and texture,) why not try this?
Clotted Cream Substitute Recipe
Stir 3 oz (85g) of cream cheese at room temperature with a tablespoon of white sugar and an 1/8 teaspoon of salt.
Pour in a cup (250ml) of un-whipped whipping cream (not Cool Whip). Beat the mixture until stiff like softened butter and keep leftovers in the refrigerator. This isn't too bad but if you can get clotted cream, give this traditional English scones recipe a try with that and you will see what a difference it makes.
Print
Traditional English Scones Recipe
Tasty, crumbly scones are perfect topped with jam and clotted cream, served alongside strong brewed tea. Try this traditional English scones recipe and enjoy these gorgeous little treats while they're still warm from the oven.
Author:
Prep Time:

20 mins

Cook Time:

10 mins

Total Time:

30 mins

Yield:

8

1

x
Category:

Snack

Cuisine:

English
12 1/2 oz

(

350g

) self-rising flour, and more for dusting

1 teaspoon

baking powder

¼ teaspoon

salt

3 oz

(

85g

) chopped chilled butter

3 tablespoons

white sugar

6

fl oz (

175

ml) milk

1 teaspoon

lemon juice

1 teaspoon

vanilla extract
Handful of raisins (optional)

1

beaten egg, to glaze
Strawberry or raspberry jam and clotted cream, to serve
Instructions
Preheat the oven to 425 degrees F (220 degrees C) and put a baking sheet in there to heat up.
Put the flour in a bowl with the baking powder and salt and stir.
Now rub in the butter with your fingers until it looks like fine crumbs.
Stir in the sugar.
Microwave the milk for 30 seconds until warm, then add the lemon juice and vanilla.
Make a well in the flour mixture and pour in the liquid.
Add raisins if you want to, or omit if not.
Use a butter knife to combine the mixture.
Sprinkle some flour over a work surface.
Tip the dough on to there and dredge it with some flour.
Flour your hands too.
Now you can fold the dough a few times until smooth, then pat it in to a 1 3/4 inch (4cm) thick round.
Dip a 2-inch (5cm) cutter in flour, then cut 4 scones out of the dough.
Reshape the dough into a round, then cut out 4 more scones using the cutter.
Brush beaten egg on top then arrange the 8 scones on your preheated baking tray.
Bake for 10 minutes or until golden brown on top and risen.
Eat warm from the oven or cool later, topped with clotted cream and jam.
Notes
If you want to freeze these, let them cool first. Thaw them then bake in a 300 degrees F (150 degrees C) oven for a few minutes to refresh them.
You can see whipped cream in the photo because I had these scones outside of the UK and they came with the wrong kind of cream. Clotted cream is more yellow with a yellow crust on top.