Learning to how many crème brûlée is easy, and this creamy, sweet dessert is very tasty after any kind of main dish. Crème brûlée, sometimes mis-spelt as crème brule, is also known as crema catalana, Trinity cream and burnt cream. But what is creme brulee exactly?
The rich custard base is topped with a hard caramel layer, and it is usually served at room temperature although it can also be served chilled if you want to make it ahead.
More about Crème Brûlée
Vanilla is the typical flavor for crème brûlée but there are other possibilities, including coconut, chocolate or coffee. This dessert dates back to at least the late 1600s. This dessert is similar to 'flan' which is a Spanish dessert served without the caramelized top.
This dessert is often served in individual ramekins and the top can be made separately and added, or else you can sprinkle sugar on the finished desserts, then use a cooking torch or broiler to caramelize it.
Our recipe only needs 5 ingredients. You will need egg, cream, white and brown sugar, and vanilla to make it, and this recipe is pretty easy to follow. Serve the dessert as it is or pair it with some fresh berries for a colorful contrast. We like it with fresh strawberries and even a sprig of fresh mint. When learning what is creme brulee and how to make it, you will also want to consider garnishes.
How to Use a Cooking Torch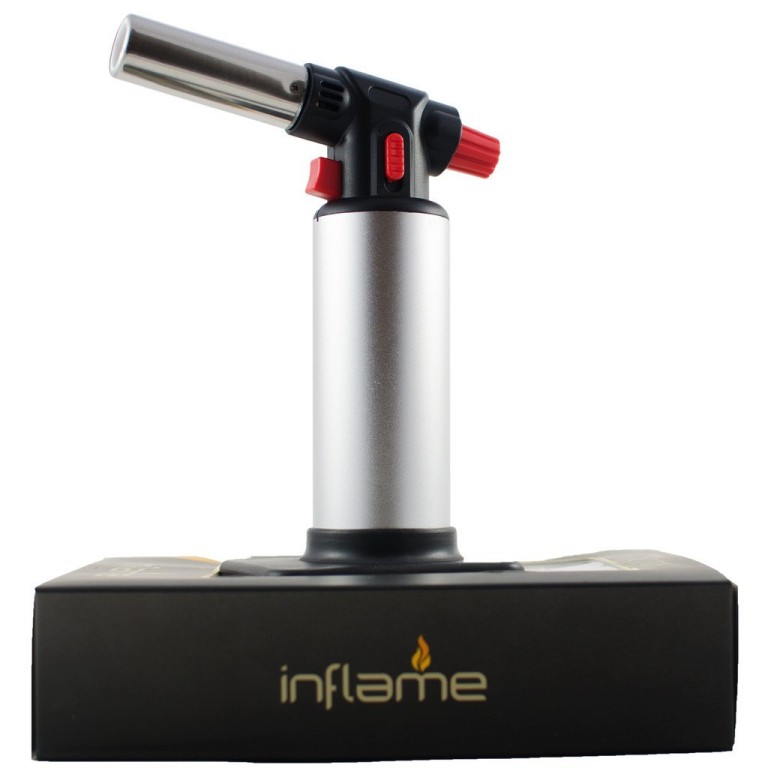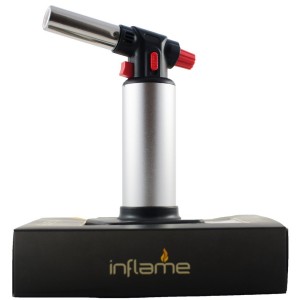 A cooking torch, culinary torch or blowtorch is handy in the kitchen, and not just for crème brûlée either. You can do all kinds of things with it.
Try it for toasting meringues, browning the top of your next lemon meringue pie, searing the crust on meat or finishing off fish or seafood, or adding a crispness to anything which isn't crispy enough.
Other Uses for a Kitchen Torch
Use it to crisp the toppings on soups or casseroles, or melt cheese. You can even make grilled cheese sandwiches at a pinch, without needing the stove or oven.
Using a blow torch is quicker than broiling, and you can direct the heat exactly where you want it to go and see the results immediately. Now you know what is creme brulee and how to make it, you might just want to invest in one of these nifty gadgets.
To use a cooking torch, wave it back and forth over whatever you are melting, caramelizing or browning until you get the desired result.
Best Blow Torch, on Amazon
Print
Crème Brûlée Recipe
This sweet, creamy custard dessert is famed for its layer of crispy caramel on top which you can make with a broiler or, quicker still, a kitchen blowtorch. Make this in individual ramekins and serve cold.
Author:
Prep Time:

15 mins

Cook Time:

30 mins

Total Time:

45 mins

Yield:

5

1

x
Category:

Dessert
6

egg yolks

6 tablespoons

white sugar

1/2 teaspoon

vanilla extract

2 1/2 cups

(

375

ml) heavy cream

2 tablespoons

brown sugar
Instructions
First preheat the oven to 300 degrees F (150 degrees C).
Beat 4 tablespoons of sugar with the egg yolks and vanilla extract in a bowl until creamy and thick.
Pour the cream into a pan and stir over a low heat until nearly boiling.
Take the cream off the heat right away.
Beat the cream into the egg yolk mixture until well combined.
Next, pour the cream mixture into the top pan of a double boiler.
Stir it over simmering water for 3 minutes or until the mixture will lightly coat the back of a spoon
Take the mixture off the heat and pour it into a shallow heat-proof dish or 4 ramekins.
Bake it in a preheated oven for half an hour.
Take the crème brûlée out of the oven and cool down to room temperature.
Refrigerate the dessert for at least 1 hour or overnight if you like.
Preheat the broiler.
Combine the remaining 2 tablespoons of white sugar with the brown sugar.
Sift this mixture evenly over the custard.
Put the dish or ramekins under the broiler for 2 minutes or until the sugar melts.
Keep an eye on it – you want it to caramelize not burn.
Let the crème brûlée cool then refrigerate until the custard sets again.
Serve chilled or at room temperature.
Notes
If you have a kitchen blow torch, use that to caramelize the sugar on top, instead of using the broiler.