What is a watermelon radish, you might be wondering. It could be you have spotted watermelon radishes at your local market and you are curious what to do with such a vegetable. What kind of watermelon radish recipes are there? Maybe you are looking for a good watermelon recipe. Well I purchased some of these at my local market, and I have been experimenting!
First of all, what is a watermelon radish anyway? Well, this vegetable is an edible globular root with green leaves and thin stems. The outside is whitish and the flesh is bright pink. It is tender-crisp and firm in texture. It tastes mild and a little peppery. You might taste some almond in there when enjoying your watermelon radish recipes.
This vegetable varies in size between a golf ball and a softball, and you should choose ones which have smooth crack-free skins. You can get watermelon radishes all through the year, although spring and late fall are the peak season for them. This heirloom Chinese daikon radish belongs to the mustard (brassica) family. A watermelon radish is a good source of vitamin C, especially when you enjoy it raw.
What to Do with Watermelon Radish
So what kind of watermelon radish recipes are there? Serve them raw or cooked, either hot or cold. Cooking it mellows some of the pepperiness and brings out the natural sweetness. You can use a mandolin to thinly slice them to pickle, serve with sushi, use in a stir-fry recipe, or incorporate in salads.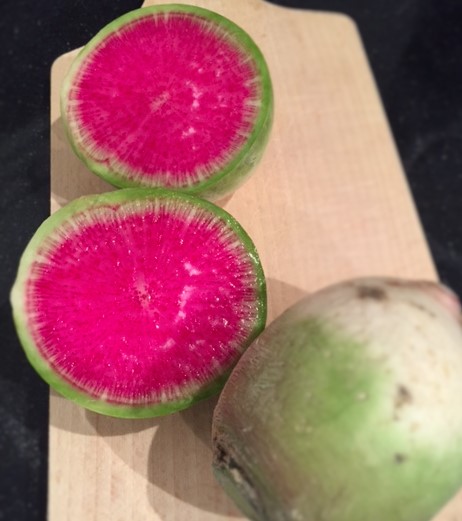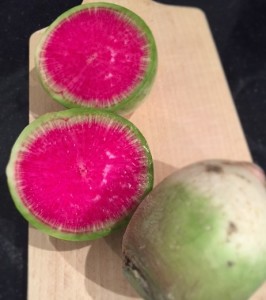 Try watermelon radish with apple, soft cheese, fennel, creamy dressings, salad greens, eggs, noodles, bacon or white fish, and pair it with herbs like mint, tarragon or cilantro. Citrus is also good with this vegetable. Once you have bought some, keep them in the refrigerator and use within a week.
The Origins of Watermelon Radishes
In Chinese, watermelon radish is known as Shinrimei or Xin Li Mei which means 'in one's heart beautiful' probably because of the gorgeous pink inside. This vegetable originated in China but once it reached the USA it was known as red meat radish or beauty heart radish.
This cool season crop likes soil temperatures under 68F but above freezing. If the soil is too warm it can affect the flavor and also make the texture dry which will of course impact your watermelon radish recipes.
Raw Watermelon Radish Recipes
Try them thinly sliced on bread (buttered or with cream cheese) with some salt, pepper and perhaps dried dill. Toss thin slices with lemon juice, salt and olive oil and marinate for 20 minutes before eating. Some people pickle watermelon radishes in vinegar, salt and sugar for a few days.
How to Cook Watermelon Radish
You might like to saute watermelon radishes with butter and/or olive oil and salt, or else saute with shallots. Pour in a little stock or water and reduce until glazed. Something else you can do is roast them with carrots, beets and sweet potatoes in olive oil for a root vegetable side dish. Try making them into fries or chips, with salt and cumin as the flavoring.
Watermelon Radish Salad Recipe
This ingredient is great in salad. You can slice it or chop it, leaving the skin on (if you rinse it) or peeling it off. Mix it in with any kind of grain (rice, pasta, couscous, noodles etc) and add some fruit, salad vegetables (cucumber, cherry tomato etc) and then your favorite kind of salad dressing.
I am into ranch dressing right now but this would go with literally anything. Add nuts, cheese, hard-boiled eggs and/or olives, and serve it over lettuce. The flavor of the watermelon radish is so mild it goes with anything, really, so there are various watermelon radish recipes you can enjoy.
Asian Watermelon Radish Salad
If you want an Asian take on the dish, cook egg noodles or rice noodles and rinse them under cold water, then toss them with thinly sliced watermelon radish, thinly sliced water chestnuts, well-drained mandarin slices, chopped peanuts, baby salad leaves, crushed pineapple, cucumber, cherry tomatoes, raw bean sprouts and either a tablespoon of soy sauce and a teaspoon of sesame oil or some Kewpie roasted sesame dressing (opens in new tab) which is absolutely gorgeous.
Print
Easy Watermelon Radish Salad
Watermelon radishes not only add color to a salad but also crunch, color and flavor appeal. The light, peppery flavor of watermelon radish adds a distinctive flavor to any kind of salad you want to make.
Author:
Prep Time:

5 mins

Total Time:

5 mins

Yield:

1

1

x
Category:

Salad
1

watermelon radish, very thinly sliced

1

handful cooked rice, pasta or couscous

1 tablespoon

chopped nuts (walnuts, almonds or cashews)

1 tablespoon

dried cranberries or raisins

2 tablespoons

crushed pineapple or

6

mandarin segments

1

inch (2.5 cm) thinly sliced cucumber

1 teaspoon

fried bacon bits (Baco's)

1 teaspoon

crispy fried onions

3

halved cherry tomatoes

1 teaspoon

parsley, basil or cilantro leaves

2 tablespoons

salad dressing (any type you have)
Handful of salad leaves (any kind) or baby spinach
Instructions
Toss all the ingredients together until well mixed.
Be creative, leaving out any of the ingredients you don't have (except the watermelon radish and dressing!) and adding in anything else you like.
Serve right away.