An indoor smoker is a wonderful buy if you want to smoke your own food. It's a good plan if you either don't want to do it outdoors, you don't have a backyard, or the weather isn't really on your side. There are different types of indoor smokers to choose from. You can get one for under $50 and the results of your indoor smoker recipes will be really impressive.
Bring all the delicious flavors of wood smoking indoors and try smoking a whole fish filet or ham. You can also smoke ribs, salmon, chicken, sausages, tofu, cheese, nuts, garlic, salt (yes, smoked salt is amazing!), Cornish hens, and much more.
No oil or fats need to be added when making indoor smoker recipes, and you don't have to add salt or flavoring either. The food smokes in its own juices so it stays nice and moist.
Choose from many types of wood chips to get the perfect taste from your indoor smoker recipes, and consider combo-cooking, which means smoking the food first then finishing it off on the grill or oven to get it crispy.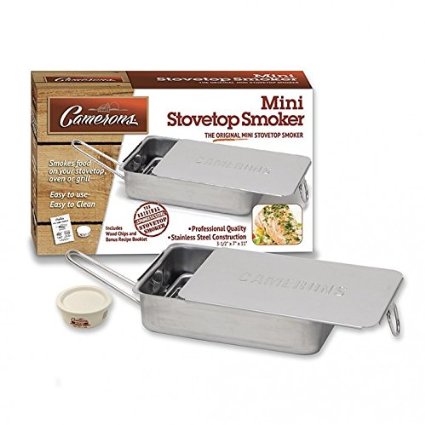 Where to Get an Indoor Smoker
One of the best indoor smokers we have seen is this one you can get from Amazon. It is made with seamless stainless steel and has foldaway handles for storage. This one goes straight on the stove rather than being electric.
There is a nonstick rack included plus you can pop everything in the dishwasher after use for easy cleanup after making your easy smoker recipes. Try it over gas, electric or a camp fire and smoke your food easily.
Mini Stovetop Smoker, on Amazon
How to Use an Indoor Smoker
With this model, you need to take out the drip tray and rack and put 2 tablespoons of wood chips in the base pan, then put the rack over the drip tray. Add your food and slide it closed.
Put the smoker on the stove with the flame or heat underneath set to medium. After a couple of minutes the wood chips will begin to smoke and you will see a little trail of smoke coming out at the edges. When the food is done, rinse the ashes down the drain and either put the smoker components in the dishwasher or wash them in warm, soapy water.
This model is smaller than the regular stovetop smoker, making it easier to stow away. This mini electric smoker comes with an instruction and cookbook, along with 2 tubs of wood chips which is enough for 10 times of smoking.
Smoked Tri-Tip Recipe
First of all let's try this smoked tri-tip steak recipe. This is one of my favorite indoor smoker recipes. You will need 2 pounds (a kilo) of tri-tip at room temperature, which you can season with salt and black pepper. Add a dry rub to it. Let the meat sit for an hour. Else you can cover and chill for about 8 hours, then bring it back to room temperature before smoking.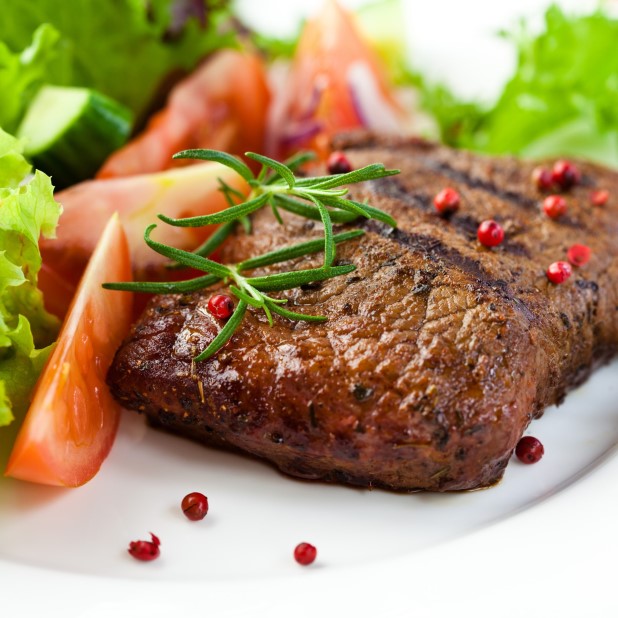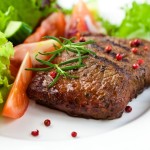 Put 2 tablespoons of wood chips in the smoker, then put the meat on the rack over the drip tray. Close the lid but leave an inch (2.5cm) gap and smoke over a medium heat.
The meat will be done in about 30 minutes, or 40 minutes if it is a bit larger.  Now broil the steak 6 inches (15cm) from the heat for 4 minutes per side to char it. Let it rest, then slice it against the grain to serve. This is great served with mashed potatoes or potato salad. Add your favorite kind of vegetables or maybe a nice tossed green salad, as you prefer.
Indoor Smoker Recipe for Cheese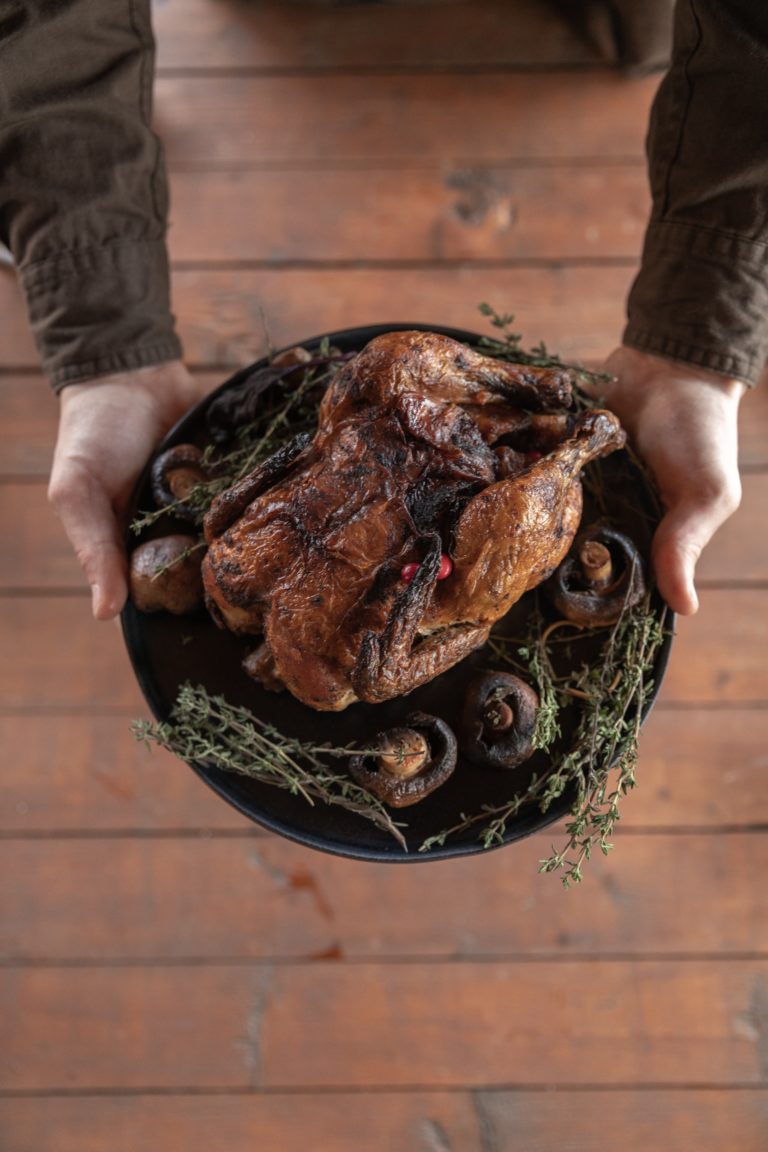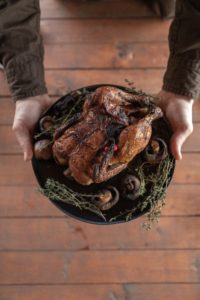 Put your smoker over a very low heat, adding the wood chips following the instructions in the smoker manual. Add two 8oz (230g) of cheddar cheese.
Smoke it for 4 hours, then store it in a re-sealable bag in the refrigerator for up to 2 weeks. This is gorgeous served on buttered crackers with fruit chutney.
How to Smoke Nuts
Try nuts in there. Put 2 generous handfuls of whole almonds, walnuts, cashews, or a mixture on the rack (on some foil so they don't slip through!) and use hickory chips, then smoke for 10 minutes for a subtle smoky flavor.
More Indoor Smoked Food Ideas
Try skin-on fish filets and alder chips. These will take about 20 minutes to smoke and the flavor is really good. Hot dogs or sausages are also nice when smoked.
Put a tablespoon of mesquite wood chips, then add a pound of hog dogs.
Smoke them over a medium heat for about 15 minutes. You might like to put some beer and/or apple juice in the tray, although this only adds a very subtle flavor to the sausages.
Now you have plenty of indoor smoker recipes to try out. Which are you going to try out next?