Deciding which dishes to make is not always so easy. There is no clear cut answer to that question but you narrow the possibilities down. Choose from hot or cold starters, meat, fish or vegetarian ones, something quick and easy or something impressive. Maybe you already know that two of your guests don't like pork and it is going to be a hot evening. That can make it easier. What about a chilled chicken salad or a classic prawn cocktail?
If you are new to cooking and already nervous about making starters, a main course and a dessert, then don't pick something complicated! You won't be impressing anyone if it goes wrong. Choose a classic recipe like homemade pate, baked Camembert with redcurrant sauce or even pigs in blankets.
Your guests will love the fact that you are serving a timeless classic and simple recipes like these are easy to make and will keep your stress levels down. Deciding ahead which dishes to make means you have plenty of time to gather the ingredients and prepare your delicious dishes!
You won't want to be stuck in the kitchen all night so what about preparing some make-ahead snacks? You might need to be in the kitchen for twenty minutes before bringing out the main course but if you have the starters ready to serve, or in the oven warming up, you can sit with your guests when they arrive and enjoy some time with them before you all begin to eat.
Which Dishes to Make: How to Guess Quantities
If you are having four guests for dinner, it should be straightforward how much food to make. You might even like to make extra so you can have the leftovers for lunch the following day. But what about if you are in charge of a buffet and you're informed there will be "about eighty people, maybe a hundred" coming? Then how do you decide which dishes to make and how much of each thing?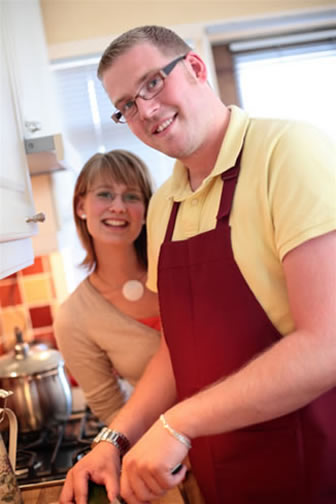 If this is the scenario it is impossible to guess exactly how much food you are going to need to make, right down to the last sausage roll. It is better to have a little food left over (preferably food that keeps) than run out of food and have hungry guests but there are a few things you can do to simplify things even further.
As well as the items you are going to make for the buffet or gathering, have some standbys to hand. Big bags of chips and nachos, jars of olives, an extra block of cheese and a couple of French baguettes can be kept in the kitchen just in case. If the starters are dwindling, you can get this emergency stock out and replenish the buffet table. If not, crisps, olives and cheese will keep until the next time you want them.
More Tips for Fancy Appetizers
Keep your meals simple and take your time choosing which dishes to make. If you follow those two rules you can't go too far wrong. Guests can be very forgiving if you do have a kitchen mishap, as long as you've tried, but if you are organized in the kitchen and follow the recipe, allowing plenty of time to make the dishes and garnishing them attractively, there shouldn't be any problems.
Choose which dishes to make a day or two before the event and then if you can't find some of the ingredients you still have time to change your mind about what to do. Whether you choose a new, exciting dish or an old favorite, using one of our easy starter recipes will mean that your dinner should kick off very well indeed, at least where the food is concerned.
Keep the garnishes simple too, even if you are making something like fancy seafood starters. A common mistake when making such a recipe is assuming the more complex the garnish used the better the dish will look, but actually this could not be further from the truth! A simple sprig of parsley in the center of a bowl of pureed cauliflower soup is going to look classier than 3 sprigs of parsley, a sprinkling of nutmeg and a grinding of black pepper.
When in doubt about which dishes to make, keep it simple. One basic garnish is all you need regardless of the starter you are making, and if the recipe is already colorful then you might not need any garnish at all. If you require more convincing, take a look at any dish prepared by a well-known chef and see how he or she chooses to garnish it.