Monthly Archives:
August 2015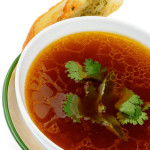 Bone broth is a slow-cooked soup made from animal bones which are filled with magnesium and calcium, along with collagen. This beverage is a great addition to any diet, especially if you have skin problems, immunity issues or digestive trouble, because it can help with those. There has been a lot of talk lately about how to make bone broth recipes, with people wondering not only how to get the ingredients and make it, but also why it is so popular and what nutrients it includes.
Combined with apple cider vinegar (to coax the minerals out of the bones) and seasonings or vegetables, bones make a tasty, nutritious broth which will keep for about 4 days. It will also freeze, so why not make a big batch of bone broth recipes for the whole family? The meaty flavor is nice and this is a snack or drink that you can have anytime for extra energy. Oh, and bone broth recipes taste pretty good too!
Bone Broth Recipes are Popular Everywhere
Broths and stocks made from bones are given emphasis in Asia, and they are also prized in Europe for being the foundation of cooking. Keep a slow cooker full of bone broth on low (it will only cost a few cents a day to let it run) and you can ladle some into a pasta or rice dish, use it as the basis of a gravy or sauce, or simply help yourself to a cup of it whenever you want a healthy drink. You are sure to love bone broth recipes, especially the homemade kind. Use bone broth to braise meats or veggies, or just use it whenever you need a savory liquid to add to cooking, or an energizing, nutritious drink.
Continue reading →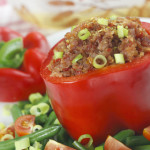 I've always been a fan of stuffed peppers, especially when beef, rice and cheese come together with seasonings to offer a rich and satisfying filling. But this time I wanted to make something without the rice and cheese, and I was curious how to flavor the beef sufficiently so that could be the main ingredient. That is how the idea for these curried beef stuffed peppers was born.
The following curried beef stuffed peppers recipe is made with spices and seasonings to add a light curry flavor to the beef filling, along with walnuts, raisins and other ingredients to add flavor accents. The overall effect is amazing and I am keen to make these curried beef stuffed peppers again soon.
I served the curried beef stuffed peppers with green beans on the side and actually they didn't look much on the plate but, trust me, they are filling! The following recipe makes 2 servings and the amount of filling should be just enough to fill the peppers. Mine was perfect – neither too much nor too little, but of course it depends on the size of your peppers.
Some More Hot Content For You
Other Posts You Might Like