Appetizer and Starter Articles
Let's take a closer look at simple starter recipes and find out what they are, when to serve them and how to present them. Starter recipes is the British term for appetizers, and these little treats can be easy to make and very tasty. Smaller dishes can be served before a main course or when you want to make snacks instead of a more filling meal. You can serve them at parties, buffets, get-togethers, cocktail parties and more. If the occasion calls for finger food or a snack, rather than a heavy meal, you can serve such recipes.
Plan which ones you are going to serve by thinking about your guests and looking at the rest of the planned menu. You can't go too far wrong if you are willing to mix creativity with classic dishes and perhaps add your own touches to our starter recipes, in order to make them unique and personalised. Match your snacks to the occasion and make something you feel your guests would enjoy.
Starters really don't have to be difficult to make or overly elaborate. In fact, some of the best are the most simple ones – dishes which have successfully stood the test of time. You can serve starters hot, warm or chilled, arranged artistically on big plates with exotic garnish, or served simply. There are literally thousands of different dishes you can learn to make. Continue reading →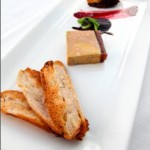 British food is considered by some non-Brits to be boring or stodgy. This couldn't be further from the truth. Great British starter recipes include such delights as prawn cocktail, brown Windsor soup, cheese and tomato tartlets, homemade pate and more. Learn more about famous British starters and you will be able to rustle up all manner of delicious fare.
In Wales you might find Welsh rarebit on the menu, which is basically grilled cheese on toast, but beer and Worcestershire sauce are used in the traditional recipe. Scottish food varies as widely as Scotland itself does but Scottish soups like cock-a-leekie and Scotch broth usually go down well. Arbroath Smokies, which is smoked haddock, can be a delicious starter.
Irish potato pancakes are very tasty and soda bread with butter makes a good starter. Dublin Bay prawns are a great example of famous British starters and seafood is more popular today in Ireland than ever before. Pear and blue cheese tart is an English starter recipe, as is asparagus with sauce, pigs in blankets (bacon-wrapped sausages) and vegetable frittata. Continue reading →
Some More Hot Content For You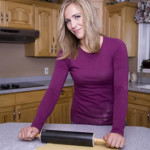 Starters are supposed to make people want to tuck into them, so choosing a nice garnish as well as the best recipes is important. Learn some top tips for gorgeous food and find out how to present the most gorgeous looking dishes imaginable.
You can even serve something basic like raw broccoli and carrot pieces with a dip in style. Make sure you only use perfect crudites and make them all the same size. Present the dip in a nice bowl and arrange the crudites around the outside.
You can make any meal look good, even if it is something quite plain and not colorful. That's what tips for gorgeous food are all about. Take meatballs for example.
How do you make these little brown balls look appealing? Just arrange them on a colorful plate and garnish them with a sprig of fresh coriander or parsley. It is the little touches like that which make your little dishes look appetizing. Continue reading →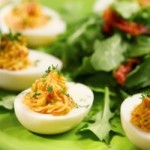 There are easy starter recipes, or appetizers, for every season and occasion – something for every palate and every diet. So what are you going to make for your starter recipe? You might already be considering meat, fish, international appetizers or something else, or you might just be looking for some ideas and inspiration. There are lots of different easy starter recipes which are suitable for everyone from beginner cooks right up to seasoned chefs.
If you want some tips on making the best easy starter recipes for any event, have a look at our articles or if you already have some idea of what you want to make you can browse our extensive collection of delicious starters. Whether you are looking for very easy starters, classic and traditional starters or something impressive for a special occasion, there is plenty of choice. Continue reading →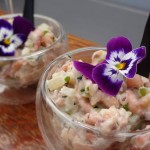 International dishes have taken off recently in a big way. It is not unusual at all these days to see international starter recipes on a restaurant menu or to be given them at a dinner party. This obviously applies to main courses and desserts as well as starter recipes.
Chicken sate, prawn toast, Asian soup recipes, Greek dips, Spanish tapas and more are popular as well as common these days and many people even prefer international starter recipes over traditional British ones. There are more ingredients available in modern supermarkets than ever before and you can use these ingredients to make exotic recipes and fusion-style snacks.
Recipes for international starter recipes vary between countries and it can be fun to make international dishes or make your own starter recipes combining two different cuisines. What about Greek pita bread with a Mexican dip or Chinese spring rolls with an Indonesian satay sauce? Continue reading →
There is a lot to be said for sticking to classic recipes when making appetizers. Everyone loves crisps, olives, cheese, chicken wings and cold cuts after all, don't they? Even though this might seem like the safe route to take when planning easy party appetizers, it is fun to create memorable appetizers too.
Obviously, you want your starters to be memorable for all the right reasons, not because one of your guests suffered third degree burns when biting into a piping hot appetizer or stained his shirt with a messy red dip because you forgot to provide napkins! Making appetizers everyone will love is a mixture of creativity, know-how and patience.
Making Appetizers: Ingredients and Presentation
An appetizer might be memorable because of the way it is presented, the fine ingredients you have used to make it or because you are serving an interesting mixture of classic cuisine and exciting exotic items. Continue reading →
Other Posts You Might Like