Appetizers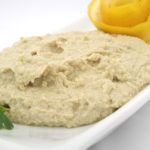 Using peanut butter instead of tahini is a great idea if you want a great-tasting and easy hummus recipe which boasts plenty of nutrition from the peanut butter. Our easy hummus recipe with peanut butter will appeal to everyone, old or young, because it is creamy and flavorful.
This hummus recipe without tahini is very simple to make and you can serve it as a dip, perhaps with celery or pita bread, or use it as a spread in sandwiches, pairing it with chicken and cucumber or salad leaves and sliced boiled egg.
How to Make Hummus Without Tahini
You will need a food processor or blender to combine the ingredients for this hummus, then you can simply transfer it into a serving dish.
The garbanzo beans, which are also known as chickpeas, can be cooked fresh ones or well-drained canned ones. Use fresh lemon juice if you have it, and you will also need salt, natural creamy peanut butter and fresh garlic.
We like to drizzle olive oil on top and sprinkle on some parsley and paprika, since they add to the flavor and also look great but you can omit those if you prefer.
Continue reading →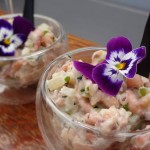 This Old Bay shrimp and apple salad is a gorgeous recipe. It looks really nice served in little glasses with edible flowers as a garnish, but it can also be served over lettuce or baby salad leaves if you prefer. This Old Bay shrimp and apple salad is a nice way to begin any kind of meal, and it is especially good during the summer when you don't want to cook.
We are using shrimp, and you can use little ones or chop larger ones. Make sure they are peeled and deveined first. Canned or thawed shrimp are fine here. You will also need some red apple and onion for crunch. The dressing for our Old Bay shrimp and apple salad is made with mayonnaise, Worcestershire sauce, Old Bay seasoning and lemon juice.
Old Bay Shrimp and Apple Salad Tweaks
If you want, you can add other ingredients to the Old Bay shrimp and apple salad mix. We suggest diced celery, chopped walnuts or diced cheddar cheese. You might even want to add a little fresh dill weed or chopped chives. The recipe is nice as it is, so you might not want to add anything else to it. Also take care not to overwhelm the delicate flavors by adding too many other flavors to the mix.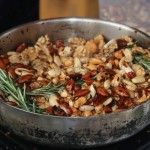 If you are looking for an amazing snack, consider this honey roasted nuts with rosemary recipe. You can use any kind of nuts you want, maybe just walnuts or cashews, or a selection of your favorites. Just choose plain ones, not the spiced, salted or already-roasted kind.
Walnuts work really well in this honey roasted nuts with rosemary recipe, or you might want to use different ones so people can take a peek and pick out their favorite ones. Make a big batch of this (perhaps double the recipe) if you have a crowd coming over, because the roasted nuts keep for up to a week in an airtight container.
The first thing to do when making honey roasted nuts with rosemary is roast the nuts in the oven, just to bring out their flavor and get them extra-crunchy. While they are roasting you can melt the butter with the honey, oil, salt and rosemary in the microwave, then toss the nuts with the honey mixture and then roast them again in the oven.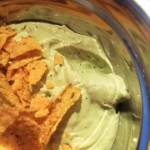 Dips are always fun to make, especially if you have a food processor and can whip them up in seconds! Although sometimes a hot dip is good, such as this hot and creamy crab dip or even our tasty artichoke dip, cool and creamy dips are also good. Try our Greek yogurt avocado dip if you like cool, creamy dips for your chips or crudites.
When I made this particular recipe I enjoyed it with Doritos, but you could serve this with crackers, vegetable crudites, melba toast, baguette bread slices, corn chips, potato chips, or anything else you want to dip in there. I made this in literally 3 minutes and the flavor was amazing. I wasn't planning to eat all of this Greek yogurt avocado dip but, uh, well you know how it is!
What You Need to Make Greek YogurtAavocado Dip
You will need some Greek yogurt, an avocado, some lime juice, and salt and black pepper to taste. If you want, you can swap the Greek yogurt for sour cream or use half and half. I've made it both ways, and both are good. Serve this as a Greek yogurt avocado dressing over salad if you want. If you prefer a thinner consistency, add a splash of milk (only a little bit because you don't want it too thin). Some cilantro in the Greek yogurt avocado dip is also nice, or you could put a small pinch of garlic powder in there. Even some hot sauce for a special zing! Continue reading →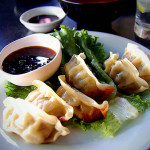 It is fair to say that potstickers are well-loved, and no wonder, when they boast such an incredible flavor in every bite. One is never enough. If you know something about potstickers history or you just like to eat them, you might already know through history potstickers have gone by a variety of names, including guotie, Peking Ravioli, pork dumplings, and wortip. Potstickers are both pan-fried and steamed.
Once the little dumplings are filled they are pan-fried on one side and then steamed in water or broth, so they end up crisp and browned on one side but easy to remove from the pan with a spatula. Try not to overcook them though, because then they will stick!
Curious Potstickers History
These little treats have been around since the Chinese Song dynasty, which dates back to 1280AD) although the exact origins are not known. According to legend however, they were invented when a chef in China's Imperial Court accidentally burnt some dumplings. Oops! Continue reading →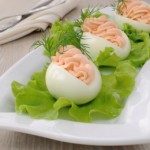 How pretty do these salmon pate stuffed eggs look? This recipe takes deviled eggs to the next level, by combining the egg yolk with salmon, lemon and creamy ingredients to make a pale pink, delicious-tasting appetizer. One or two egg halves per person is a good estimate although some people won't be able to stop munching on these lovely little snacks.
There are different ways to prepare these salmon pate stuffed eggs. You can make them the traditional way by slicing the eggs in half lengthwise or you could remove a wedge from the top (like in the picture) for a different look.
How to Add the Salmon Pate Stuffed Eggs Filling
The salmon pate stuffed eggs filling is better piped in with a piping bag (or a plastic bag with the corner cut off) but if you don't have one or you don't want to pipe, you can simply spoon the filling in. Chill the salmon deviled eggs for half an hour then serve them perhaps with some snipped chives on top or with some fresh herb sprigs. Maybe add some lemon wedges to the platter too.
This tasty snack is easy to prepare and you can make them ahead, making them ideal buffet food or party snacks. If you're making them any more than half an hour ahead though, cover them with plastic wrap before popping them in the refrigerator. Be careful not to wrap them too tight – you won't want to ruin your carefully piped filling.
Continue reading →