Other Reviews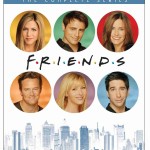 Friends is one of the most successful TV sitcoms ever and it's won a lot of awards. If you loved Friends when it was on TV you might be thinking about buying Friends the Complete Series so you can enjoy these great episodes all over again.
If you have never seen the show you don't know what you've missed! If you did watch it then you're probably smiling right now, remembering some of the classic episodes.
Who Created Friends?
The show was created by David Crane and Marta Kauffman, and it aired on NBC from September 22, 1994 through to May 6, 2004. Continue reading →
Other Posts You Might Like