potstickers
These chicken potstickers are so good. One is never enough. Ten is too many. Well maybe. They're just so tasty you'll want to keep popping them into your mouthy! Potstickers are an Asian delight, and these little snacks are usually filled with meat and vegetables, along with Chinese seasonings. Pork is often used, but here we are using chicken instead.
This chicken potstickers recipe is very simple to make and the potstickers make fantastic appetizers, whether you want to serve hot snacks with drinks, or a first course before your entree at dinner.
You can use turkey if you prefer it to chicken. Along with the poultry these potstickers include cabbage and green onions, along with ginger, sesame oil and garlic for flavor. First you make the filling for these chicken potstickers and then you will be dividing the filling between the gyoza or wonton wrappers to make the potstickers. They are then fried and then steamed, to give them the golden brown crust on the bottom and soft finish on top, the qualities they are famed for.
Continue reading →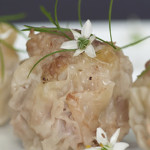 These easy potstickers or soft wontons are nice served with a homemade hot garlic potsticker sauce. You can make this by mashing 4 garlic cloves, ½ teaspoon of Szechuan hot oil and a teaspoon each of sherry and vinegar. Stir in 3 tablespoons of soy sauce and you will have a wonderful garlic sauce. Anyone who loves pork and Chinese cuisine is going to enjoy this pork potstickers wonton recipe because it's so satisfying.
The Perfect Dipping Sauce
You can use a bottled garlic sauce if you prefer, or serve this pan-fried pork potstickers wonton recipe with sweet chili sauce. Chinese mustard or hoisin sauce are other options. Perhaps you would like to offer some of each at the table, to give everyone the option of choosing their own condiment.
Serve this pork potstickers wonton recipe garnished with cilantro (fresh coriander) or edible flowers if you like, or simply as they are. So, if you have never made a chicken potsticker recipe, potsticker soup or lobster potsticker recipe, let the following directions guide you. There is nothing difficult about making these tasty little snacks. They are so good. One is never enough so ensure you make a batch of them because they tend to disappear fast!!
Potstickers are similar to wontons because they are in a thin dough wrapper, but they are boiled first and then pan-fried to make them sticky. Continue reading →
Some More Hot Content For You
Other Posts You Might Like