turkish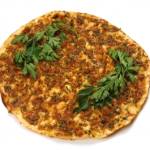 Everyone loves pizza but perhaps you are becoming a little bored with your usual pepperoni or meat feast option. In that case, it might be high time you try something brand new like our lahmacun Turkish pizza recipe. Just about every cultures has its own take on pizza. It really is a global phenomenon. In Turkey, lahmacun is a typical dish, and it is basically a pizza base topped with meat and Turkish flavors.
What Goes on Top of a Lahmacun Turkish Pizza Recipe
Also known as an Armenian pizza recipe, a lahmacun Turkish pizza recipe is usually topped with either lamb or beef, along with minced veggies and herbs, including tomatoes, onions and parsley. It is baked in the oven until done, and usually served with tomatoes, lettuce, garlic sauce, roasted eggplant (aubergine) and/or pickles.
A lahmacun Turkish pizza recipe is Turkey's answer to the thin and crispy kind we are familiar with in the West, and the flavors are very different from the Italian style of pizza. Whether you know it as pizza or flatbread (and the terms are pretty much interchangeable when talking about thin and crispy rather than deep-dish), there is no doubt this makes an exciting change. In our lahmacun Turkish pizza recipe we are making the dough but if you're in a rush you can use a regular pizza base or try to get some Turkish bread which you can top.
Next in our lahmacun Turkish pizza recipe you have a tasty topping which is based on ground lamb (or ground beef if you can't get lamb or don't like it). Add tomato, lemon, chili, paprika, garlic and sumac (a tangy, red-brown Middle Eastern spice) and your lahmacun will start to take on its characteristic flavors. Top it with a tahini and lemon dressing, then finish off with pine nuts and parsley, and your Armenian pizza recipe is complete.
Continue reading →
Other Posts You Might Like