Everyone loves pizza but perhaps you are becoming a little bored with your usual pepperoni or meat feast option. In that case, it might be high time you try something brand new like our lahmacun Turkish pizza recipe. Just about every cultures has its own take on pizza. It really is a global phenomenon. In Turkey, lahmacun is a typical dish, and it is basically a pizza base topped with meat and Turkish flavors.
What Goes on Top of a Lahmacun Turkish Pizza Recipe
Also known as an Armenian pizza recipe, a lahmacun Turkish pizza recipe is usually topped with either lamb or beef, along with minced veggies and herbs, including tomatoes, onions and parsley. It is baked in the oven until done, and usually served with tomatoes, lettuce, garlic sauce, roasted eggplant (aubergine) and/or pickles.
A lahmacun Turkish pizza recipe is Turkey's answer to the thin and crispy kind we are familiar with in the West, and the flavors are very different from the Italian style of pizza.
Whether you know it as pizza or flatbread (and the terms are pretty much interchangeable when talking about thin and crispy rather than deep-dish), there is no doubt this makes an exciting change. In our lahmacun Turkish pizza recipe we are making the dough but if you're in a rush you can use a regular pizza base or try to get some Turkish bread which you can top.
Next in our lahmacun Turkish pizza recipe you have a tasty topping which is based on ground lamb (or ground beef if you can't get lamb or don't like it). Add tomato, lemon, chili, paprika, garlic and sumac (a tangy, red-brown Middle Eastern spice) and your lahmacun will start to take on its characteristic flavors. Top it with a tahini and lemon dressing, then finish off with pine nuts and parsley, and your Armenian pizza recipe is complete.
How to Serve Lahmacun Turkish Pizza Recipe
Serve it by itself or, if you prefer, with some hot sauce and/or creamy garlic sauce. Iceberg lettuce, chopped fresh tomatoes and perhaps some kind of roasted vegetables (especially eggplant) are also good on the side. Offer pickles too if you have some. This makes a tasty dinner and it is a deliciously different change from your usual pizza recipe.
Print
Lahmacun – Authentic Turkish Pizza Recipe
This lamb-topped pizza is really unusual. The base is crisp yet chewy and the topping is fragrant with lemon, parsley, pine nuts, chili and more. This makes a tasty change from Italian pizza varieties.
Author:
Prep Time:

30 mins

Cook Time:

50 mins

Total Time:

1 hour 20 mins

Yield:

4

1

x
Category:

Entree

Cuisine:

Turkish
1

envelope dried yeast

⅓ cup

(80ml) warm water

1

egg

⅓ cup

(80ml) olive oil

2 cups

(

300g

) sifted all-purpose flour

1 teaspoon

white sugar
Pinch of salt
For the Topping
14 oz

(

400g

) ground lamb

¼ cup

(60ml) olive oil

2 tablespoons

tomato paste

1 teaspoon

dried chili flakes

6

chopped fresh tomatoes
Juice of

½

lemon

3 teaspoons

sumac

1 teaspoon

paprika

6

chopped garlic cloves

¼ cup

(

70g

) tahini
Salt and black pepper, to taste
For the Garnish
2 tablespoons

chopped parsley or a few parsley sprigs

⅓ cup

(

50g

) toasted pine nuts
Optional Sides
Iceberg lettuce
Chopped fresh tomatoes
Creamy garlic sauce
Hot sauce
Instructions
Dissolve the yeast in the water and let it stand for 10 minutes or until bubbly.
Whisk the egg into the olive oil.
Put the flour, sugar and salt in a bowl and use the dough hook of an electric mixer to knead it for about 6 minutes on a low speed.
Alternatively you could use some 'elbow grease' and knead it manually!
When the dough is elastic and smooth, cover it with a clean, damp towel and put it somewhere warm for an hour to rise.
Preheat the oven to 400°F (200°C).
Heat 2 tablespoons of oil in a skillet over a moderate heat then add the garlic.
Cook it for 2 minutes, stirring all the time.
Add the tomatoes and cook for 15 minutes, pressing down on them, or until the liquid has reduced a bit.
Add the sumac, tomato paste, chili and paprika.
Stir for a minute, then take the mixture off the heat.
Stir in the ground lamb and season with salt and black pepper.
Divide the dough into 4 equal parts and punch each one down, shaping it into an oval or round.
Brush olive oil over each one then spread the lamb topping over them.
Bake the pizzas for 20 minutes each, working in batches if you need to.
They are done when they are golden and crispy.
Whisk the lemon juice and tahini, then add some salt and black pepper.
Drizzle the tahini mixture over the cooked pizzas then pine nuts over them.
Scatter chopped parsley over the pizzas or add sprigs of parsley, as you prefer.
Serve right away, while they are still hot, with some or all of the optional side dishes.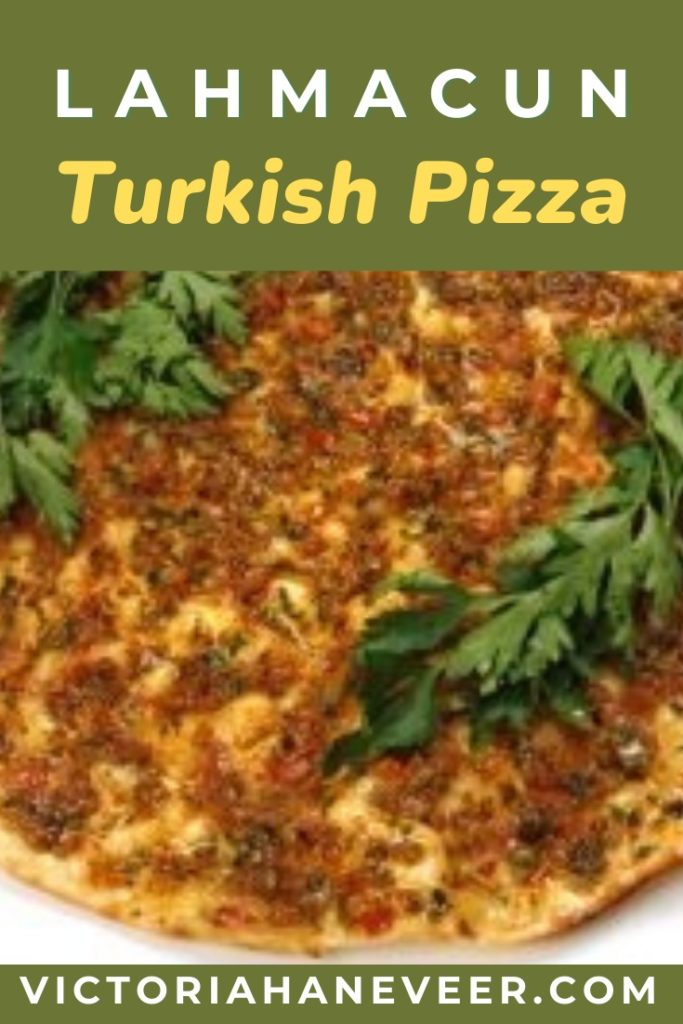 Photo by: Suat Eman, at FreeDigitalPhotos.net