wonton soup recipe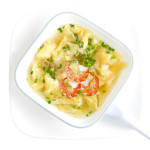 Some people make wonton soup by dropping their filled wontons into their prepared stock and letting them simmer in there but others prefer to cook the wontons in water and then add them to the soup, so as not to make the soup cloudy. Since you are the cook and the one who is going to be eating the dish, it is totally up to you. You can prepare your cilantro shrimp wonton soup however you prefer.
The first few times I made cilantro shrimp wonton soup I put the wontons directly in the soup mixture and let them cook in there, but then I experimented with cooking them in water and then lifting them into warmed serving bowls using a slotted spoon and ladling the hot soup over the top. Both ways are good, the second perhaps more authentic. You will just need an extra pot.
This cilantro shrimp wonton soup recipe features shrimp (both whole ones to garnish the soup and minced ones inside the wontons) as well as plenty of sesame oil and cilantro. The stock for this shrimp wonton soup recipe is made by infusing ginger, cilantro and more in a basic chicken stock and then sieving out the additions. It is important to serve a tasty stock with your wontons. Continue reading →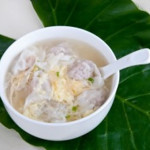 This flavorful chicken wonton soup with cabbage also has green onions, sesame oil and more. If you are looking for an alternative to pork wonton soup recipes you might enjoy this one. You can make the filling up to 2 days in advance if you like. This flavorful chicken wonton soup recipe makes a healthy dinner or a warming lunch and you can even enjoy it as a snack in the middle of the morning of afternoon, whenever you aren't ready for a meal but you want something more substantial than just a cup of coffee, which is not going to fill you up too much but still warm your belly and put a smile on your face.
Chicken wonton soup recipes are every bit as tasty as pork wonton soup, but ground chicken does make a change. This chicken wonton soup with cabbage is really good. Paired with flavorful Napa cabbage or another variety, as well as green onions and ginger, these wontons have an exciting filling which means you will enjoy eating it as well as putting the recipe together.
It is best to use a low-sodium broth for this chicken wonton soup with cabbage recipe, since the recipe also contains soy sauce and that can be quite salty too. It is easy enough to add a little extra seasoning to the soup afterwards but there is not much you can do if it is too salty to begin with. The soft wontons floating in the hot soup give it appeal and texture and anyone you serve this to is sure to love it. Kids like chicken wonton soup as much pork wonton soup too. Continue reading →
Some More Hot Content For You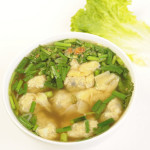 There are hundreds of different wonton soup recipes to choose from and you can even make your own variations by switching one kind of meat for another, using different vegetables or even using a different kind of stock or broth for the wonton soup.
The word "wonton" literally means "swallowing a cloud" and that is what the floating wontons are meant to resemble in the soup. You can serve wonton soup recipes for lunch or dinner, or serve small portions as an appetizer.
One of the more unusual wonton soup recipes is duck wonton soup and the following recipe shows you how to make this delicious dish. You can make this duck wontons recipe up to 6 hours ahead, if you keep them covered in the refrigerator. You can freeze the soup stock if you like.
Feel free to change the ingredients. This recipe calls for garlic chives and Chinese broccoli, ingredients which not every home cook will be able to locate nearby. The main ingredients are the wonton soup stock and the wontons themselves, so just use whatever you have. Continue reading →
Other Posts You Might Like