If you aren't sure what to give as a gift, then a gourmet food gift basket is a wonderful idea. Giving the gift of food never gets old. Everyone loves to eat and there are gift baskets for every budget and taste. Choose from the best gourmet food gift baskets to find the perfect one for the occasion.
Ask someone what they'd most like it gift baskets food is the logical choice! Gift baskets with food never fall flat.
You can get themed gift baskets, perhaps with a range of delicious cheeses and some crackers, or you might prefer something offering nuts, cookies, preserves, wine and more, so there is definitely something for everyone in there.
Best Gourmet Food Gift Baskets: Some Ideas
Give a gift hamper to a family, couple or individual and personalize it by adding a special message. You could make your own food gift hamper but then you would need to purchase the hamper, all the items to go inside plus some straw, shredded paper or other stuffing, and then shrink wrap plastic around it and attach bows or ribbons.
It is far easier and quicker to simply order one online, and you can check other people's gift basket reviews before you buy, to help you make a good choice about the best gourmet food gift baskets.
Art of Appreciation Gift Baskets Small Classic Gourmet Food Basket

Order this gift basket and write your own personalized message to go with it. When you buy this small classic gourmet food basket you get:
Ghirardelli Milk Chocolate Caramel Squares
Angelina's Butter Cookies
Brie Cheese Spread
Focaccia Cracker Crisps
Premium English Breakfast Blend Tea
Almond Roca Toffee Candy
Pepper blend Water Crackers
Classique Cocoa Dusted Chocolate Truffles
Silk Chocolate Crunch Cookie and
An Oval Willow Basket
Small Classic Gourmet Food Basket, on Amazon
This one is well priced and contains plenty of different foods, so there is definitely something which will appeal. I fancy all the contents of this one. It sounds one of the more appetizing choices!
Art of Appreciation Sweet Sensations Gourmet Food Snacks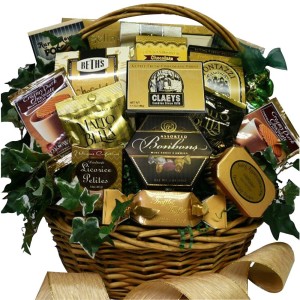 This gift basket is large, and it is beautifully packed with a gold ribbon and various greenery. If you choose this one, this is what is included:
Angelina's Sweet Butter Cookies
Chocolate Silk Crunch Cookies
Light and Crispy Chocolate Wafer Cookies
Chocolate Cream Puff Cookies
Double Chocolate Raspberry Cake
Beth's Chocolate Chip Cookies
Butter Toffee Pretzels
Walkers Chocolate English Toffee
Creamy Buttermints
Decadent Chocolate Truffles
Almond Roca Candy
Double Chocolate Meltaways
Fudge Chocolate Drenched Caramel Corn
Reusable Willow Basket with Handle
Mrs. Prinable's Caramel Apple Confections
Petite Fruits Bonbon Candy
Java Bon Caramel Cappuccino Coffee Candy
Large Sweet Sensations Gourmet Food & Snacks, on Amazon
So if you are shopping for a family gift basket with a variety of foods for the whole family this one is sure to thrill because it contains a huge array of treats. This makes it one of the best gourmet food gift baskets.
Everyone loves food, which is why giving a gourmet hamper full of food is such a fantastic idea! There is something in there for everyone and the food will be top quality. Food is a staple of the holidays and all other times too.
Hole in One Golf Themed Gourmet Snack Food Basket – Fathers Day Gift Idea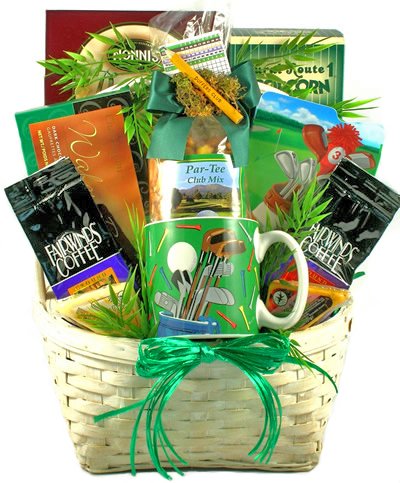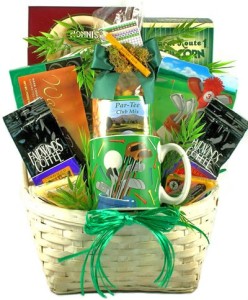 This is perfect for any keen golfers you know. Buying a gift for a golfer does not limit you to golf balls or golfing clothes you know.
Instead you could get this excellent golf-themed gourmet food basket!
You will get:
A ceramic golf-themed coffee mug, Colombia Supreme Coffee, Breakfast Blend Coffee, Turtle Pecan Biscotti and Hazelnut Biscotti drizzled with Chocolate, "Par-Tee Club Mix" (snack mix), Popcorn mixed with Almonds and Luscious White Fudge, assorted Crackers, Wisconsin Swiss Cheese, Tomato & Basil Cheese, gourmet Pretzels in a golf themed container, Parmesan Crisps, Gouda Cheese Crisps and Chocolate Mint Cookies.
Put a smile on a golfer's face, and get this fantastic golf gift basket.
Golf Gift Basket, on Amazon
Wine.com Something Sweet & Savory Gift Basket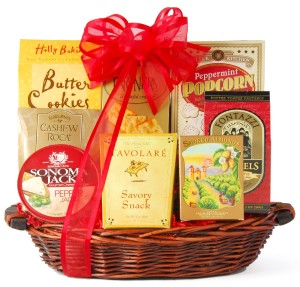 Ideal for wine lovers this is one of the best gourmet food gift baskets. This one features all kinds of delicious snacks which are nice paired with your favorite tipple. When you get this one, here's what to expect:
Cashew Roca
Peppermint Crunch Popcorn
Sonoma Jack Pepper Jack Cheese
Smoked Almonds
Tavolare Snack Mix
Toasted Sesame Crackers
Butter Toffee Pretzels
Traditional Butter Cookies
Combining sweet, savory, chewy and crunchy, there is always a great snack in here depending what you're in the mood for. This is a great Christmas gift basket for pretty much anybody.
Savory Snack Gift Basket, on Amazon
Ideas for the Best Food Gift Baskets
Buying gifts for your friends and family can be harder than you might imagine. Some people feel pressure to buy just the right gift and they may actually become too caught up in the commercial parts of the holidays.
However, this is not to say that buying the right kind of gift isn't important, because it is. There is plenty on the market that would make for a perfect gift. So how on earth are you going to choose just one?
Something you may not have thought about before is buying a gift basket for that hard-to-buy friend or family member. The best gourmet food gift baskets can be a wonderful thing to buy and many people enjoy buying these each year. You can get different types each year for each person too.
Ready-made gift baskets are not your only choice when looking into this type of gift. It is also a good thing to add your own style to the gift and make it unique, so creating an actual gift basket is something that a lot of people choose to do too.
Even though you may have trouble deciding what to put in the gift basket, here are some ideas for future holiday gifts:
Stocking Stuffers at Christmas
Small stocking stuffer gifts are always good and even though you may have the majority of the gift basket filled with treats to eat and enjoy, you may be left with a pretty empty void for the spaces in between.
So what goes there? Stocking stuffers like lottery tickets, playing cards, pens, pencils and other stationery items are great to put in your gift basket alongside the foods in there. You don't need to spend a fortune on the best gourmet food gift baskets if you get creative!
Breads and Baked Treats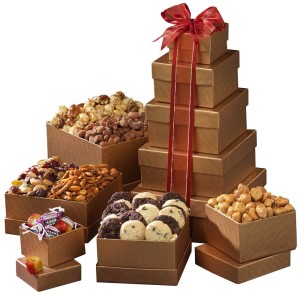 Many people love bread and there are various kinds of holiday breads that you can fill your gift basket with. Your gift basket could possibly be a variety bread basket, but chances are the person you're buying it or preparing it for will love it all the same. But if you're going to make a variety gift basket filled with breads, like pumpkin or spice, one gift basket suggestion would be to actually fill the rest of the basket to the brim with other types of gifts, so add some gourmet cheese, some preserves (homemade maybe) or some candies or nuts perhaps.
Sweet Tower of Candies Gift, on Amazon
Of course, there are many other options available to you when creating the best gourmet food gift baskets and you are certainly not limited to bread or stocking stuffers. However, these suggestions definitely are some of the better ones for your gift basket, but you may also have other ideas for your friend or family member that you're buying for. If that's the case then one is always free to purchase a whole variety of other small gifts and put those in their gift baskets instead. Match the gift basket to the recipient's taste and you can't go wrong.
Amazon = Convenience
Order one of the best gourmet food gift baskets from Amazon and have it delivered wherever you want it to go. Or order it to come to your house, then add a few extra personal bits and pieces, then deliver it yourself! For example, you could order a gourmet cheese basket then add a bottle of vintage port plus a hand-written card for example. Yum!
How to Make a Gift Basket
Buying a gift basket online is the easiest way of doing things but if you end up with more time on your hands than you expected to have, or you are feeling especially creative, why not try making your own gourmet gift basket?
This video shows you what to choose and how to get a professional-looking result, and of course you can have lots of fun putting it together for the intended recipient.