There are different kinds of ovens on the market but which is the best oven to buy? A single stove or range with a cooking top on top and an oven underneath is space conserving and affordable and found in most houses. However, if you are looking for a new oven, there are a few other options available.
Some people who like to cook have stoves with up to eight burners instead of four, grilling and basting functions and built in warmers. Is this the best oven to buy? Well it depends on your requirements.
Other people like modular cook-tops which let you add downdrafts, burners, griddles, steamer and deep frying units, rotisseries, broilers and woks. Ceramic stoves are a popular add-on. There are also more features to choose from with this style of oven.
Modular Cook Tops
A lot of people are happier with modular cook-top options. You can separate wall ovens and cook-tops so you can have more than one working station. Maybe you want to get a double wall oven (one on top of the other) so you can get twice the baking or roasting space.
Stacking them one on top of the other also saves space. You can also get two-oven stoves which has one oven below the cook-top and one at cabinet height, out of the way. That might be worth considering when thinking about the best ovens to buy.
Best Ovens to Buy: Electric vs Gas
The first thing you need to think about, when considering the best ovens to buy, is whether you want electric or gas. A lot of cooks like gas because it is cheaper to use, easy to control and provides instant heat. Others like electricity because it costs less initially and gives a more even heat.
If you like both or you aren't sure, you can get a dual fuel range, meaning you can combine electric and gas, perhaps with a ceramic stove gas cook-top and an electric oven.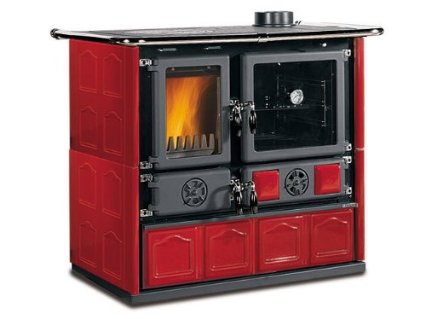 Convection ovens are usually electric. They use heated air to cook twice as fast as non-convection ovens. You might want to get a combination microwave and convection oven.
The most common and least expensive type of electric burners are the coiled type.
Smooth top cooking surfaces are controlled with either halogen burners, magnetic induction element or radiating electric coils below the surface.
Gorgeous Woodburning Stove, on Amazon
With all of these types you need thick, flat bottomed cookware. If you are using gas, sealed burners are easy to clean.
A pilot-less ignition system means no hot spot when the burners aren't on. A commercial-style glass stove come in stylish designs with high BTUs (British thermal units, which are used as measures of cooking heat). These need good ventilation systems.
A gas freestanding double oven might suit your requirements if you do a lot of cooking. If you want a gas free standing double oven, those are also available.
Best Ovens to Buy: Oven Controls
Controls on the side or front of the oven are useful but what about universal access? Think about this when considering the best ovens to buy. This means that the controls are equally accessible to adults, people in wheelchairs and curious toddlers. If you have young children, you might want an oven with the controls on the backsplash.
Oven controls should be easy to operate and understand. Some top of the range ovens offer electric temperature readouts and touchpad controls rather than buttons or dial controls.
Some people prefer to blend large appliances such as dishwashers and refrigerators into the cabinetry by using matching fronts but a lot of people like to keep their ranges visible these days. If you do not want this, you might like to think about getting an under-counter type. Bear in mind that not all ovens are suitable for this.
You can install a cook-top above the oven but you might prefer it somewhere else in the kitchen. A cook-top situated over an oven works the same way as a range but without the range backsplash. The controls are located on the countertop so it looks integrated.
Cleaning Ovens
Cleaning baked-on spills from the stove is not many people's favorite job and there are some new options to help you with this.
Ranges with ceramic glass and one piece of shaped metal for the top and blacksplash are easier to clean because there are no grooves for the spills to lodge into.
You can get two kinds of self-cleaning ovens. One types has a continuous clean function and the other type uses a high heat cycle to turn the spills to ash which you simply wipe off.
Imperial Range, on Amazon
What About a Range Hood or Cooker Hood?
Unless you have a ventilation fan above your cook-top you will need a range hood. Vaporized grease can ruin kitchen surfaces and some types of cookery create strong smells.
Also, moisture can compromise home insulation. All these are strong arguments as to why a good range hood is important. An updraft range hood will funnel smoke and cooking grease into one area where the fan can draw it outside, via a duct.
A filter is useful to capture other odors and grease. Look for one when browsing the best ovens to buy. Try to find a range hood in stainless steel, copper or some other easy-clean material which also looks good. You can also customize a hood with ceramic tile to match the rest of the kitchen décor.
Down-draft ventilation is another option and this is usually part of the broiler or cook-top. This also has a duct and fan arrangement. The best units for venting are ones that rise above cook-top level.
Oven hoods for a gas or electric oven are very popular and you can get some great ones second hand. If you are looking for a range cooker such as a Neff range cooker, they are a popular choice.