Nothing beats a stew on a chilly day, and even if you do not eat meat or chicken, you can still make the most wonderful flavored chunky vegetable stew with potato rosti. This dish is made with vegetables instead of meat so it is also nutritious.
The onion and garlic are fried first, just to turn them golden brown and bring out their wonderful aromas, then all the other ingredients go into the pot and the stew really starts to take shape.
The seasonings for this stew are cumin and orange juice, and then of course you have the garlic taste. This might not sound like much but don't forget how great the veggies taste just by themselves and you will see the seasonings are to bring out the veggie flavors not replace them.
Chunky Vegetable Stew with Potato Rosti: How to Make this Side Dish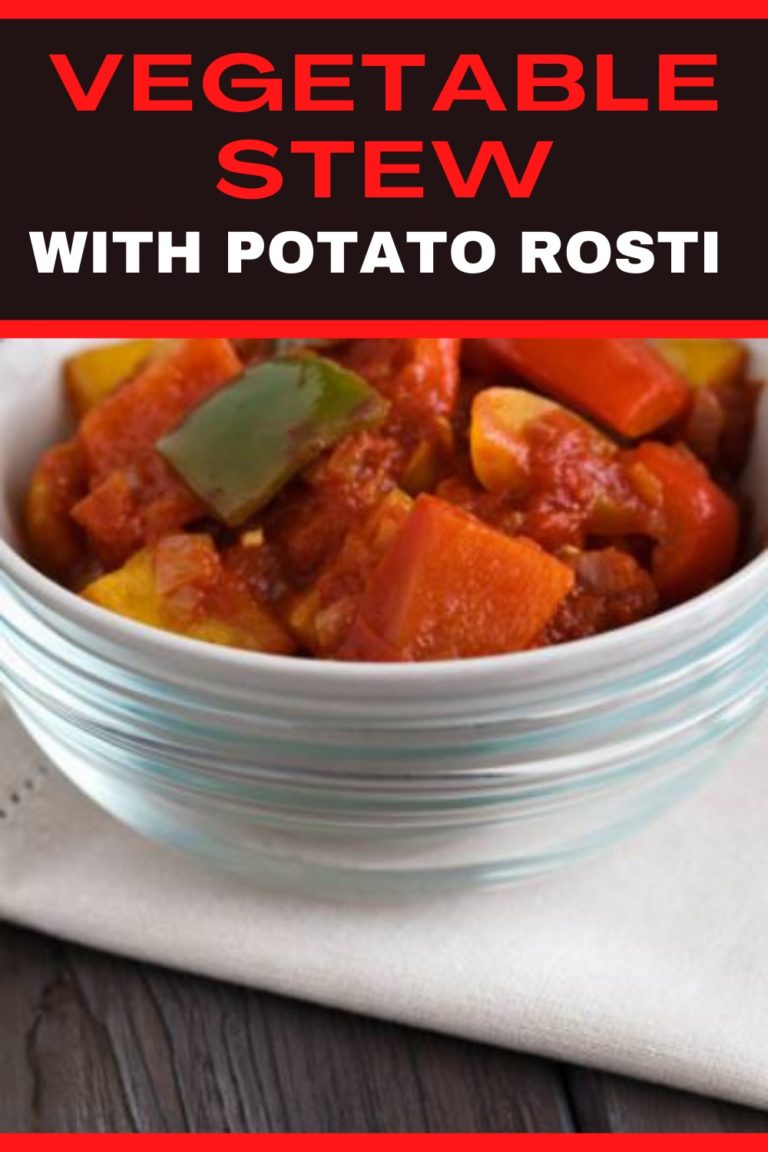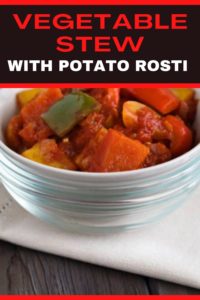 So what goes nicely with stew? Well a lot of people like to have some kind of potato side dish if potatoes are not in their stew, and there is also a rosti recipe here so you can make delicious rosti with potatoes, flour and seasonings.
This is a Swiss style of potato dish and it is so simple to prepare.
If you don't fancy rosti then you can have mashed potatoes, rice, noodles or boiled potatoes instead. It's your stew so pick out which side dish you personally prefer.
You will find this chunky vegetable stew with potato rosti really warming and satisfying, and the hearty flavors will make your stomach purr with contentment!
Print
Chunky Vegetable Stew with Potato Rosti
This chunky vegetable stew with potato rosti is a real winter warmer of a dish for chilly evenings. The stew is rich in nutrients and the rostis are delicious – made with potatoes, flour and seasoning.
Author:
Prep Time:

20 mins

Cook Time:

35 mins

Total Time:

55 mins

Yield:

2

1

x
Category:

Entree

Cuisine:

USA (Traditional)
1

onion cut into wedges

2

crushed cloves garlic

1

diced zucchini

6

quartered button mushrooms

1

diced bell pepper

1

sliced leek

1

sliced carrot

½ tsp

ground cumin
Juice of

½

orange

1

can chopped tomatoes
Spray oil
For the Rösti:
14 oz

(

400g

) peeled, grated potatoes, squeezed dry in towel

1 tablespoon

all-purpose flour
Approx

1 teaspoon

of seasoning for the flour (salt, pepper and any herbs or spices you want)
Instructions
For the stew, heat the spray oil and gently fry the onion and garlic until beginning to brown.
Add the remaining stew ingredients.
Bring to boil then lower the heat and simmer for 15 minutes.
For rösti combine the potato, flour, onion and seasoning.
Fry 1/3 cupfuls of the mixture in the spray oil, spreading each to 3 inch (8cm) rounds.
Cook for 3 minutes on each side.
Keep warm until all the rösti are made.
Serve with fresh basil.
This chunky vegetable stew with potato rosti is a well-balanced dish which the whole family will love.