Broccoli is a healthy ingredient, and works well in many recipes. However, boiled or roasted broccoli can soon get a little boring. I love making keto broccoli cakes to go with anything from chicken to fish, beef, pork, or simply as a snack. Learning how to make broccoli fritters is really simple. You don't need many ingredients either.
You need fresh broccoli to make these keto broccoli cakes, along with almond flour, an egg, cheese, onion and garlic, and salt and pepper, or any other spices you'd like to add.
If you want to use frozen broccoli make sure it's well thawed and drained. You can also use any kind of cheese you want, or switch up the spices. I've made broccoli fritters with paprika before. Other options would include chili powder, dried mixed herbs, or oregano.
Tips for Making Keto Broccoli Cakes
It's best to work with finely grated or shredded broccoli. Although you could cook it to tender, then use a potato masher, I find it quicker and easier to use a food processor. Another option would be to grate the broccoli. Some stores sell riced broccoli which would also be a time-saving shortcut.
You can use ready shredded cheese or grate your own. If you are counting your carbs, grating your own is better, since the ready shredded kind has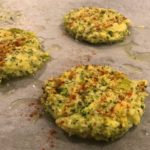 starches in, to stop the shreds from sticking together too much. If not, then just use whichever kind of cheese you prefer. Alternatively you can use a blend of different cheeses. I can't think of any which wouldn't work!
Typically, I like to make these half an hour ahead and refrigerate them before cooking. The reason for that is I just find it helps the broccoli cakes hold together better.
You can fry these in oil in a skillet or else bake them in the oven. They will need to be flipped halfway through cooking, to ensure they crisp up nicely on both sides. These broccoli fritters keto style can then be served hot with whatever dipping sauce you prefer.
I've tried mine with sour cream, mayonnaise, and also with a low carb sweet chili sauce. They'd also go well with ketchup, barbecue sauce, or pretty much anything else I expect! Why not serve them alongside a keto Mississippi pot roast?
Print
Keto Broccoli Cakes
These tasty, crispy keto broccoli cakes are made with cheese, almond flour, egg and seasonings, as well as the broccoli. They make a wonderful low carb side dish or else you can enjoy them as a snack.
Author:
Prep Time:

15 Minutes

Cook Time:

30 Minutes

Total Time:

45 minutes

Yield:

8

1

x
1

fresh head of broccoli

1/3

 

cup

(30g) almond flour

1/3

 

cup

(80g)

shredded cheese

1

 

large egg

1/2

 

teaspoon

salt

¼

 

teaspoon

 

black pepper

Cooking spray, as needed
Optional Ingredients
Garlic powder, onion powder, paprika, chili powder, dried herbs etc
Instructions
Preheat the oven to 400°F (200°C).
Line a pair of baking sheets with parchment paper.
Chop the broccoli into florets and discard the base of the stem.
Put the broccoli in a food processor and pulse until chopped.
Now add the almond flour, cheese, egg, salt, pepper, and any other herbs, spices or seasonings you want to use.
Pulse a few times to blend.
Shape the mixture into 8 equal sized rounds on the parchment paper covered baking sheets.
Make sure they don't touch one another.
Spritz with a little cooking spray.
Bake for about 15 minutes on each side or until golden brown.
Serve the cooked keto broccoli cakes hot with your favorite sauce or dip.
Notes
If you prefer to pan-fry, just fry these in batches in oil in a skillet until golden on each side.
You can make them any shape you like. A typical 'tater tot' shape would be fine too.
Keywords: broccoli, keto, low carb