Slavink is a Dutch meat recipe you will spot in grocery stores in the Netherlands, nestled in the pork area. These can best be described as a rectangular meatball wrapped in bacon. Go back in history and you will find a Dutch slavink recipe was originally a small songbird wrapped in bacon.
In the south of Europe you can still find such a dish despite many people trying to outlaw the dish, but the modern Dutch version used ground beef and/or pork instead. In fact many of them use a half beef/half pork mixture to create a Dutch slavink recipe which is popular locally.
More about Dutch Slavinken
Butchers in the Netherlands make their own slavinken, which is the Dutch plural of slavink. We suggest you make a batch of them too because they freeze well. If you want to do this with your Dutch slavink recipe , wrap them individually in plastic wrap and then put them all in one large Ziploc bag. Let them thaw overnight or for at least 12 hours before using.
The size you make the slavinken is up to you. Some people make them big, like one per serving, while others prefer smaller ones – several per serving. Because these Dutch meatballs are wrapped in bacon which releases fat in the pan, you will not need to add much, if any fat to the pan. Serve them with mashed potatoes, mushrooms and onion, for a traditional Dutch recipe.
Different Types of Dutch Slavink Recipe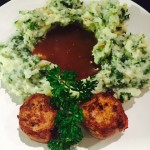 The regular kind is the main one you find in the Netherlands but there are other variations including meatballs
which are slavinken without the bacon wrapping, 'blinde vink' (blind finch) which comprises a ground beef filling and wafer-thin beef slices instead of bacon, or 'kalfsvink' where the beef and bacon are swapped for ground veal and wafer-thin veal slices. Now you can see how it's possible to get creative with a Dutch slavink recipe.
You can also tweak the original Dutch slavinken recipe, using any kind of ground meat or even seafood. Try hare, pike, tuna, lamb, or salmon.
Wrap them with prosciutto, smoked salmon, eggplant, or zucchini, and use any herbs or seasonings you want. These of course are not traditionally Dutch but it's fun to experiment in the kitchen!
If you want to try more Dutch delicacies, I recommend trying my stamppot with kale recipe, especially if you want something hearty!
Print
Authentic Dutch Slavink Recipe
A seasoned ground pork filling is enclosed in bacon. These bacon wrapped meatballs are then pan-fried and served with a quick and easy homemade gravy, for an authentic Dutch dinner.
Author:
Prep Time:

25 mins

Cook Time:

10 mins

Total Time:

35 mins

Yield:

8

1

x
Category:

Main Dish

Cuisine:

Dutch
2

lbs (900g) ground pork

1

egg

48

streaky bacon strips

12

crustless slices white sandwich bread
Black pepper and nutmeg, to taste
Salt, if needed
Butter or lard, for frying, if needed
Dried parsley (optional)
Instructions
Soak the bread in cold water for 5 minutes.
Break the egg into a bowl and beat in the nutmeg, pepper and a little salt with a fork.
If your bacon is very salty, omit the salt from the filling mixture.
Squeeze the water out of the bread and mix this into the egg.
Combine this mixture with the pork and mix well by hand.
Put a bacon strip on the worktop then lay another bacon strip next to it, long edges touching. Thread a third strip over the first strip and under the second, so you end up with a square.
Repeat until you have 16.
Shape the ground pork mixture into 16 large rectangular meatballs.
Put a meatball on each trio of bacon strips, then fold the ends of the bacon strips over the filling and press them tightly closed.
If you like, you can dip the 2 short ends in dried parsley for a festive look.
Fry the slavinken in butter or lard if necessary (depends how fatty the bacon is) for about 5 minutes.
Flip them over and cook for 5 minutes on the other side or until the core temperature is 160 degrees F (70 degrees C) then serve hot.
Notes
If you want to make a tasty gravy for the slavink recipe, add a little milk (or water) to the fat left in the pan after cooking and heat it up, scraping the stuck-on bits from the bottom of the pan into the gravy, then you can ladle some of this over them to serve. For a thicker gravy dissolve a little cornstarch in the milk first.
This slavink recipes makes enough for 6 to 8 servings with side dishes, but you could serve 16 people 1 each as a hot appetizer if you prefer.
Keywords: dutch slavink recipe, dutch slavinken recipe, how to make slavink, what is slavink dutch