Dutch kale stamppot is a dish I make often, first because my husband is Dutch and grew up with it, and second because it's hot, comforting and delicious! Perhaps you have tried other Dutch recipes such as a slavink recipe, or maybe you are new to this cuisine. Either way, you will find Dutch kale stamppot with sausage very simple to prepare.
You will need mashing potatoes (I use low GI Carisma potatoes because my husband is diabetic) along with kale. Those are the main two ingredients in kale stamppot, known in Holland as boerenkool stamppot.
In addition, I recommend some smoked sausage, known locally as rookworst. This has a similar texture to a thick frankfurter. Use another kind of sausage if you prefer, or even franks if that's all you can get where you are, but look out for the typical Dutch rookworst sausage, because I can't imagine a better match than stamppot and rookworst! Yes, the sausage really makes the Dutch kale stamppot what it is.
Some crispy bacon makes a nice garnish too, although that's optional in this Dutch kale stamppot recipe. The potatoes and kale are drained and mashed with butter, salt, pepper and a splash of vinegar if you like. I like to add raisins too but that's optional.
Other Types of Stamppot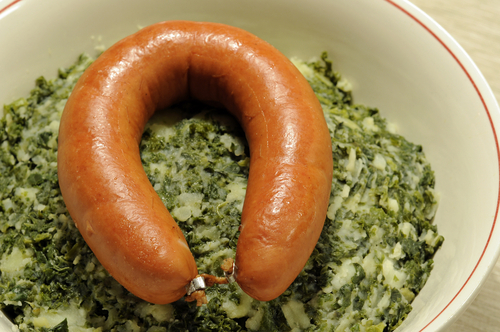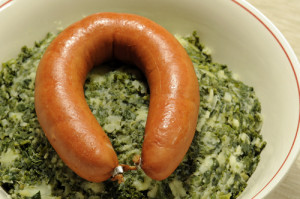 Sometimes I make another kind, perhaps with zuurkool (sauerkraut) instead of the kale, or with chopped cooked beets instead. Another version, known as hutspot, is made by mashing potatoes with carrot and onion. This is really hearty food and if you like Dutch kale stamppot you should enjoy it.
Although if you are used to spicy food you might find it a bit plain, you can serve spicy mustard on the side to liven the flavor of this Dutch kale stamppot up a little. I like ketchup with mine which is very un-Dutch, but then again so am I. Take this recipe, make your own tweaks and adjustments and see what you come up with.
Be careful not to get the mash too wet though when making Dutch kale stamppot. You shouldn't need to add any cooking water or milk to it, just a couple of tablespoons of butter. Last time I made this recipe I didn't peel the potatoes either. Carisma are thin-skinned so you can't taste it in the finished dish, but that is different with other potato varieties so use your own judgment.
Why You Should Make Dutch Kale Stamppot Today
This is a very easy Dutch kale stamppot recipe and if you know how to mash potatoes, you can make stamppot. I use a potato masher to combine the ingredients because it leaves a few vegetable chunks in there. If you don't mind a more pureed result you can use an immersion blender or food processor instead.
Print
Dutch Kale Stamppot with Sausage
Potatoes and kale are mashed together in this Dutch recipe. This is traditionally served with crispy bacon and smoked sausage. It is a real winter warming, offering comforting, heavy flavors.
Author:
Prep Time:

20 mins

Cook Time:

30 mins

Total Time:

50 mins

Yield:

4

1

x
Category:

Entree

Cuisine:

Dutch
2

lbs (1 kg) peeled, chopped mashing potatoes (Yukon Gold or similar)

1

lb (450g) ready-to-cook chopped kale

1 oz

(

30g

) butter

1 oz

(

30g

) raisins (optional)

2

–

3

tablespoons white vinegar (optional)

2 oz

(

60g

) chopped bacon (optional)
Salt and black pepper, to taste

8 oz

(

230g

) smoked sausage

1/4 cup

(

60

ml) brown gravy (optional)
Instructions
Put the potatoes and kale in a big pot and add enough water to cover by an inch.
If you want to use raisins put them in a little dish and cover them with water now.
Bring the potatoes and kale to a boil, then add a little salt to the cooking water.
Turn the heat down and simmer for 25 minutes or until the potatoes are tender.
Meanwhile, fry the bacon in a pan until very crispy, then drain the grease off and either discard it or keep it for another use.
You can either put the sausage directly on top of the potatoes while they cook if there is room in the pot, else warm it in another pot or in the microwave (see the packaging for reheating directions).
Drain the potatoes and kale and return them to the pot.
Add the butter, salt, black pepper and vinegar (if using) and then mash it all using a potato masher.
If you are using raisins, drain the water and use a wooden spoon to stir them into the mash.
Divide the potato mixture between 4 warmed plates.
Make a well on the top and add some gravy if using, or some butter if not.
Cut the sausage into slices and arrange them around the potato, then add the bacon if using.
Serve immediately with ketchup and mustard on the side.