Egg foo yung, also known as Chinese omelet, is a popular dish that originated in China. It is a savory egg-based dish that typically contains vegetables, meat or poultry, and sometimes seafood.
The term "foo yung" in Mandarin Chinese means "lotus," which is a symbol of purity, harmony, and perfection. However, the dish doesn't actually contain lotus, but rather refers to the way the ingredients are mixed together to form a harmonious combination.
Egg foo yung is a versatile dish that can be customized with a variety of ingredients. Some popular options include shrimp, chicken, pork, mushrooms, onions, beansprouts, and carrots. But you can throw pretty much whatever you want in there. Whatever you'd add to an omelet you can add to this Chinese omelet recipe.
To make the dish, the ingredients are first chopped into small pieces and mixed together with beaten eggs. The mixture is then poured into a hot frying pan and cooked until golden brown on both sides. It is often served with a savory brown gravy or sauce and steamed rice is always good served on the side.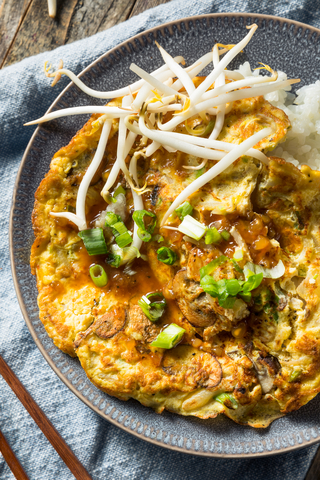 Cantonese Foo Yung vs. Mandarin Foo Yung
Now Cantonese foo yung and Mandarin foo yung are two of the most common types of foo yung, each with their own unique flavor and preparation method. While Cantonese foo yung is typically made with shrimp, pork, and bean sprouts, while Mandarin foo yung often includes chicken, mushrooms, and bamboo shoots.
Other variations may include additional ingredients such as water chestnuts, green onions or carrots. Regardless of the specific ingredients used, the basic preparation of foo yung involves whisking eggs and mixing them with the chosen ingredients before cooking in a non-stick skillet or frying pan.
To cook foo yung, start by heating a small amount of oil in a non-stick frying pan over medium heat. While the pan is heating, whisk together the eggs and other ingredients in a bowl.
Once the oil is hot, pour the egg mixture into the pan and let it cook for a few minutes until the bottom is set. Carefully flip the foo yung over and continue cooking until both sides are golden brown and cooked through.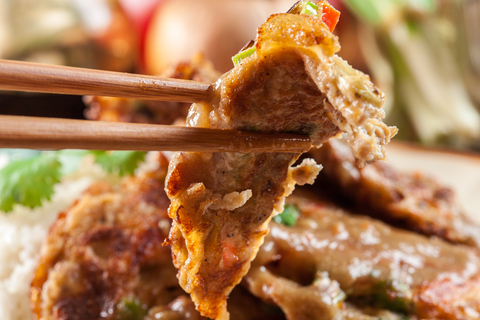 Print
Egg Foo Yung Recipe
Egg foo yung is not only a popular takeout dish but also a delicious and authentic Chinese recipe using eggs, vegetables and whichever protein you wish to use.
Author:
Prep Time:

10 minutes

Cook Time:

10 minutes

Total Time:

20 minutes

Yield:

2

1

x
Category:

Main Dish

Method:

Stir Fry

Cuisine:

Chinese
5.5 ounces

(

150g

) protein (maybe raw shrimp, cooked char siu pork or chicken)

2 tablespoons

oil, for frying

1

small onion or

2

shallots, cut into strips

1.5 ounces

(

40g

) sliced mushrooms

1.5 ounces

(

40g

) peas

5

beaten large eggs
Salt and pepper, to taste
Optional Seasonings:
Soy sauce
Sesame oil
Garlic puree or minced fresh garlic
Ginger puree or minced fresh ginger
Cilantro (fresh coriander) leaves
Shaoxing wine
Red pepper flakes or chili pepper flakes
Instructions
Heat a skillet over a moderate to high heat.
Add the oil, warm it up, then add your protein and cook, stirring often, until golden.
Add the onion and cook for 2 minutes.
Add the mushrooms and cook until tender.
Add the peas and some salt and pepper.
Add whichever other seasonings you want to use.
Cook for a minute then add the eggs and stir briefly to incorporate.
Continue to cook, swirling the eggs around, rather than stirring them.
When the eggs are set, take the pan off the heat and serve.
Keywords: egg foo yung, chinese omelet, egg recipe chinese, chicken foo yung, pork foo yung