Shrimp or prawns are a very popular wonton filling and who can resist a wonton appetizer recipe – crisp wontons stuffed with a juicy shrimp and water chestnut mixture? The following easy fried shrimp wontons with water chestnuts recipe shows you how to make gorgeous little dumplings which taste amazing.
Replace the sugar with sweetener if you prefer, or just leave it out. You can make these fried shrimp wontons with water chestnuts as sweet or otherwise as you personally prefer. A touch of sweetness in a wonton recipe appeals to a lot of people but not to everyone.
The other flavors – the sesame oil, ginger, chili and soy sauce – also add plenty of charm to this lovely, crunchy fried wontons recipe. Soy sauce makes a nice dipping sauce, or you could serve these with oyster sauce if you prefer. Either would work as a tasty dip for these shrimp wontons.
How to Serve Fried Shrimp Wontons with Water Chestnuts
Another option would be making your own dip for the fried shrimp wontons with water chestnuts, but the main thing is getting the wontons just right. You can serve any dip with them.
This recipe is simple enough for a wonton recipe beginner, yet the results are every bit as delicious as what you would expect to get in a Chinese restaurant.
Making your own wontons is sure to impress your family. Serve these as a snack, an appetizer, or as part of a Chinese dinner. They are beautifully crunchy and the filling is really good. This is one of the best recipes with water chestnuts too.
Print
Fried Shrimp Wontons with Water Chestnuts
Shrimp, ginger, water chestnuts and green onions are all typical Chinese ingredients and although you can use non-authentic ingredients like cheese to make wontons, it is especially nice to make authentic ones.
Author:
Prep Time:

15 mins

Cook Time:

2 mins

Total Time:

17 mins

Yield:

3

1

x
Category:

Wonton

Cuisine:

Chinese
1 tablespoon

vegetable oil, plus more for shallow frying

4 tablespoons

finely chopped water chestnuts

2 tablespoons

finely chopped green (spring) onions

2 tablespoons

soy sauce, plus extra for dipping

1 tablespoon

minced ginger

½

pound (250g) raw shrimp, shelled and finely chopped

1 teaspoon

white sugar

½ teaspoon

sesame oil

½ teaspoon

chili oil

1 tablespoon

cornstarch (cornflour) mixed with 1 tablespoon water

12

wonton wrappers
Instructions
Saute the ginger and green onions in a tablespoon of oil in a wok over a moderate heat for a minute, then add the shrimp and water chestnuts and cook for another minute. Add the sugar, sesame oil, chili oil and soy sauce, and stir.
Combine the cornstarch and water in a small bowl, then add this to the shrimp mixture. Transfer the mixture to a plate and let it cool.
Spoon a tablespoon of filling into the center of each wonton wrapper and fold the corner over the filling, tucking the point underneath, to make triangle shapes. Pinch the wrapper around the shrimp filling to enclose it, making sure you squeeze out any air bubbles. Pull the side corners under the filling and use a little water to seal the edges.
Put the wontons on a baking sheet and cover them with a damp cloth as you prepare the remaining ones. You can freeze them at this point for up to 2 months if you want.
Heat a pot of oil to 375 degrees F (190 degrees C) and fry the wontons in batches for about 2 minutes or until they are golden brown. Drain them on paper towels and serve with soy sauce for dipping.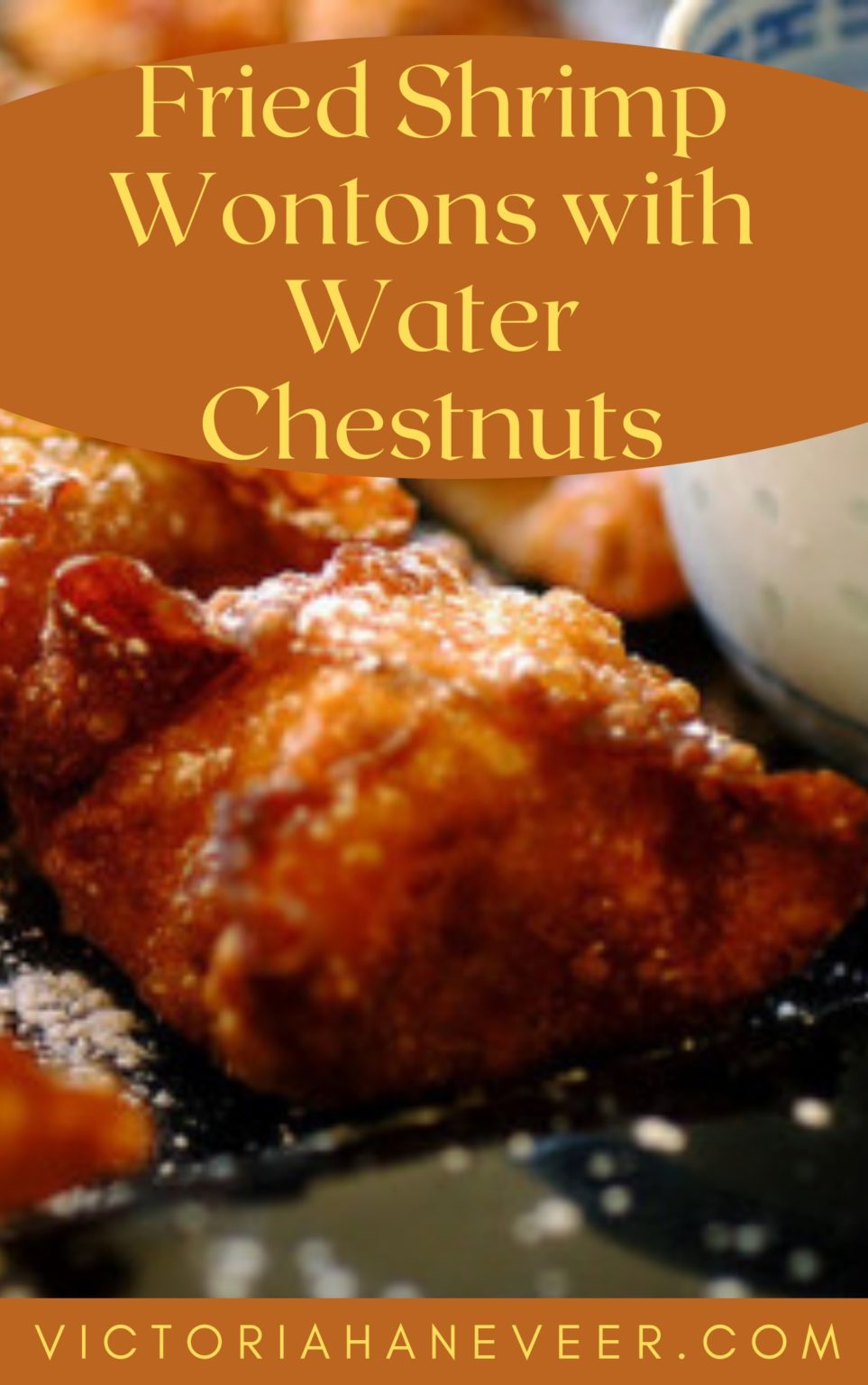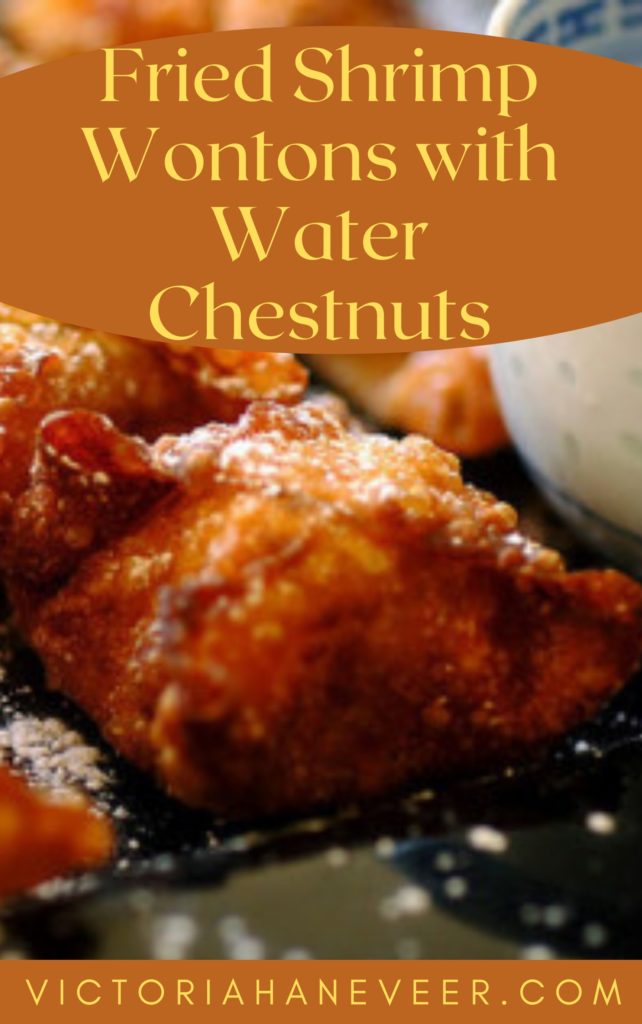 From this picture you can see how lovely and crunchy these fried shrimp wontons with water chestnuts come out. Although steamed, simmered and baked wontons are also good, many people love fried wontons the best. The crunch is just so satisfying.
Fried wontons are perhaps the least healthy so they might not be your first choice if you are watching your weight but, to be honest, eaten in moderation they aren't going to do you any harm.
Crunchy fried wontons always make an amazing treat and once you have tried this recipe for fried wontons you are definitely going to want to make it again.