Ideas for starters (known as appetizers across The Pond!) are many! You might already have some thoughts in your mind of which recipe you want to make, and some clever ideas for starters for your next meal or dinner party.
Perhaps you fancy making a hot chicken or beef dish. What about chicken sate, mini beef rissoles or something spicy? Maybe you were thinking about summer starters like making vol-au-vents or a fruity salad, in which case they are good, wholesome and classic dishes too. But what about if you are totally stuck for inspiration and starter ideas?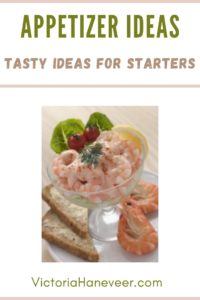 The best way to decide which ideas for starters to go with is to ask yourself a few questions. If you don't already have ideas for starters, think about your abilities, your guests and your main course. You will know whether you are a total newbie, a beginner cook or a chef who can hold their own. You will have some idea about your guests, at least how many you are expecting and what kind of food they like.
Ideas for Starters: Narrow Down Your Choices
What are you making for the main course? You should decide that before considering ideas for starters. The reason is that the main course is the main event. Starters are good for giving your guests something to nibble on and starting off the evening in style but you need to decide on your main meal before planning your appetizer recipes.
Once you have answered those questions, you can start to think about starters. Narrow it down even further – meat, poultry, fish or vegetarian. Then narrow it down again – hot or cold. We have our recipes arranged in category order so if you are looking for something special, maybe a special diet starter or a fish one, you can browse through our lists and find the perfect dish.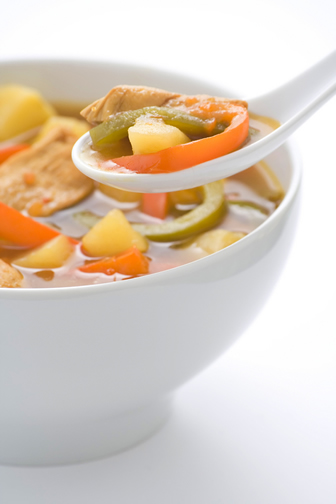 Ideas for Starters: Something Quick and Easy
Quick and easy snacks can really save the day. If you have been planning the main course but totally forgot about what to serve beforehand, don't worry. You can combine a few basic ingredients to make really good appetizers.
Slices of prosciutto or Parma ham draped over honeydew melon wedges is a classic starter and you only need two ingredients.
A basic salad can be made with a bag of mixed salad leaves, some chopped fresh fruit and some cooked prawns or chicken tossed in salad dressing.
Add a few walnut halves and cubes of blue cheese or goat's cheese and you have a gourmet salad.
These quick dishes take minutes to make but they are delicious and impressive enough to be successful.
Ideas for Starters to Impress
What about if you really want to impress? You can make remarkable dishes without being a gourmet chef. Perhaps you want to use some shop-bought ingredients and some homemade ones.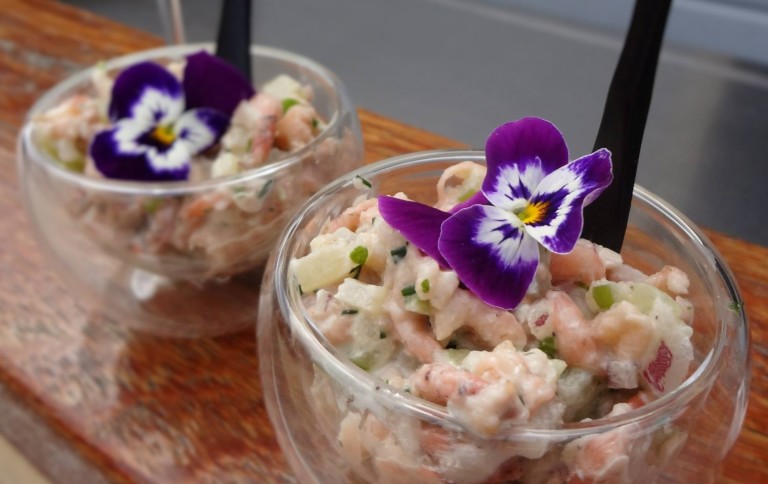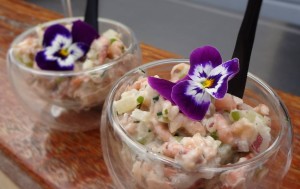 Buy some vol-au-vent cases and make a delicious vol-au-vent filling. Buy a package of mixed salad leaves and make your own salad. Buy some mini spring rolls and make a really good authentic Chinese dipping sauce.
The sky is the limit with starters and you can combine pre-made ones with your own dipping sauces, fillings and other touches. On the other hand, if you want to really impress people, make everything from scratch.
Choose some make-ahead starters, get yourself organized and you can do a lot of the prep work hours before your guests arrive, putting everything together at the last minute.
As long as you put love and care into your dishes, you won't go wrong. Cooking is a learning experience and the more you do it the better you become. If you are new to cooking, try some of our easy recipes and we guarantee your guests will be in heaven, right from the first bite.
My Favorite Go-To Dishes
I have a lot of favorites but if I had to pick my top few then prawn cocktail would have to be one of them. There is just something magical about this dish, not least because it reminds me of childhood Christmases and Christmas starter recipes always bring back beautiful memories don't they?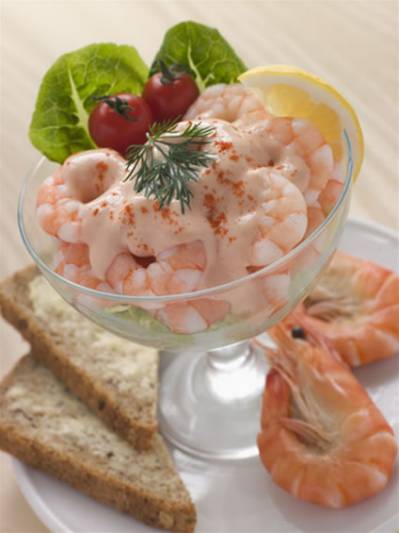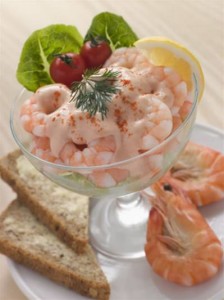 I like my prawn cocktail with juicy prawns, a homemade Marie Rose sauce (the bottled kind is too vinegary and often way too sweet). And I like iceberg lettuce in there and wafer-thin cucumber slices. I find a prawn cocktail satisfies my desire for starters without being too filling and detracting from the beauty of the main course.
Something else I especially like is soup, although different types of soup suit starters than say lunch. What I mean is I like something light and fragrant as a starter but something thick and heavy if it's going to be for lunch.
Chinese and Thai soups are always nice, or you could serve a chilled bowl of gazpacho if you are looking for summer appetizers or starter recipes for a particularly warm day or evening.
How to Please Everyone
I like to contrast my starter with the other courses sometimes, or have them complementing one another other times, so I might serve a bowl of Asian soup followed by an Asian dinner.
Or I might mix things up by serving Mexican starters and then a roast chicken with all the trimmings British style. Use your imagination to find your own clever combination.