This low carb tortilla pizza is incredibly good and it takes about 10 minutes to make and the same again to cook. Whether or not you have made pizza before, you will find this low carb tortilla pizza incredibly simple, and the sky is the limit as far as toppings are concerned.
Use a low-carb tortilla to make your pizza. I recommend the Mama Lupe ones because they're so good and only 3 carbs (and 60 calories) each. And they are the closest in flavor to regular tortillas. I also tried the La Tortilla brand for my low carb tortilla pizza because those are only 50 calories each but… nope not as good as the Mama Lupe ones.
This low carb tortilla pizza recipe makes a fabulous dinner, and it is also quick enough to make for lunch. Whatever meal you are making this pizza for, you are sure to find it filling and delicious.
Keep some low-carb tortillas in the refrigerator (they keep for weeks in there) and rustle one of these up whenever you're in the mood for some comfort food!
Low Carb Tortilla Pizza Topping Ideas
Next you will need to add some sauce, and that might be tomato paste, pesto, minced garlic, cream cheese, or anything else you wish. On top of that goes your meat, fish or veggies, then you can add mozzarella, dried oregano and any other seasonings you fancy.
This is something you can make for the whole family, even if only one of you is low-carbing. Everyone will love pizza for dinner, and using tortillas is far easier than making your own pizza crust from scratch.
Different Pizza Crusts
The first time I made a pizza crust I was at school (and I remember the same recipe was used the following week, with a few extra ingredients, to make scones!) but I prefer thin-crust pizza over the soggy, doughy kind, so this really appeals to me.
Cook your low carb tortilla pizza in the oven for about 12 minutes and you will be able to pick the whole thing up between your thumb and finger and it won't break or fold. This is super-crispy!
Low Carb Tortilla Review
My favorite tortillas for making low carb tortilla pizza are Mama Lupe Low Carb Tortillas because they are low in carbs (well, hence the name!) and also only 60 calories each.
Even if you're not watching the carbs these are low enough in calories to make a diet pizza crust, plus the flavor, the most important part, is really good! These aren't gummy or weird tasting. I like them as much as regular flour or corn tortillas.
Mama Lupe tortillas keep for ages in the refrigerator too, like weeks, without going moldy. Just take out what you need, reseal the top and pop them back in the refrigerator.
Buy Mama Lupe Low Carb Tortillas
I have also tried the ones from Publix but they are very gummy, and the La Tortilla brand of tortillas which are similar in price and similar in carbs/calories but honestly the Mama Lupe tortillas are much better, and a lot of other reviewers agree (I checked them out extensively online before my first order). So that is definitely the brand I would recommend above all others if you want to make low carb tortilla pizza.
If you are using gummy or thin ones though, I recommend using a double layer, else they tend to crisp right up, which is good for making nachos but not so satisfying for pizza since a chewier crust is more authentic. You can use the tortillas whole or cut out small rounds to make appetizer size pizza 'bites'.
More Tempting Toppings for Low Carb Tortilla Pizza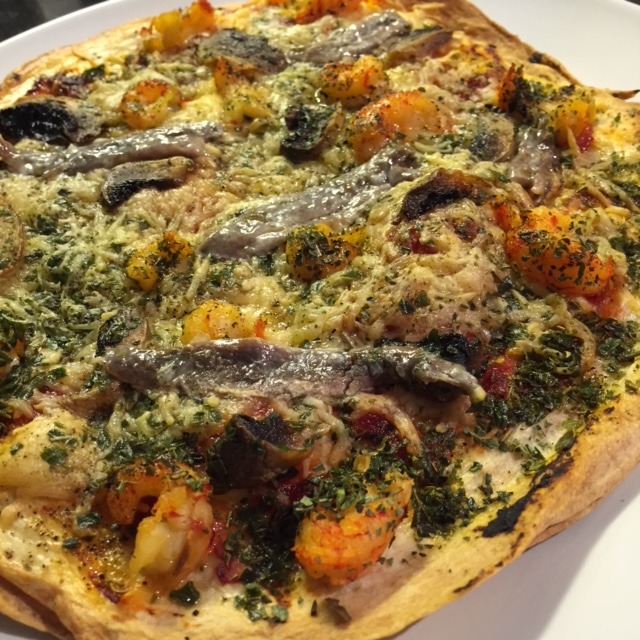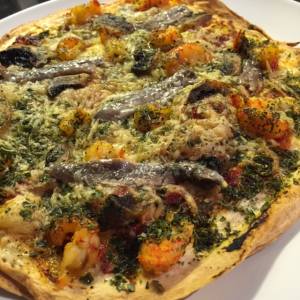 Mozzarella is quite high in calories (especially if you end up adding as much as I do!) so you might prefer to use cream cheese or even tomato paste and some shredded low-fat cheese on top, if you are watching calories that is. I love cheese!
When it's cooked I like to add black pepper. I just grind some over the top of my low carb tortilla pizza. I also like to add chilies or chili powder but take care not to add too much because this kind of ingredient can overwhelm the other flavors.
I like to use anchovies (or try anchovy paste, it tastes just like anchovies but keeps for months in a metal tube) but I know people who detest them, so use your own imagination and pick out your favorite toppings.
A Few Tips for Low Carb Tortilla Pizza
First, it is very important to drain any ingredients which are watery. This is very important so don't skip it!
For example, if you're using canned tuna, drain in using a fine sieve and use the back of a wooden spoon to mush it against the sieve, just to ensure you get every last drop out. Extra liquid might make your tortilla soggy and that is the last thing you want!
A successful low carb tortilla pizza is all about the balance, so you might like to ensure your toppings contrast with your sauce.
If you are using a tomato-based sauce, what about cheesy toppings and perhaps some pepperoni or ham? If your sauce is cream cheese, you might like to add some spicy or meaty toppings, so you get all kinds of flavors in every bite.
Print
Low Carb Tortilla Pizza
With a tortilla as your base, you can be ensured of a crispy pizza. Top the tortilla with your preferred sauce and toppings, as well as cheese, and bake to crispy, delicious perfection. This low carb tortilla pizza or keto tortilla pizza is super thin crust (of course!) and makes a filling lunch.
Author:
Prep Time:

5 mins

Cook Time:

12 mins

Total Time:

17 mins

Yield:

1

1

x
Category:

Main Dish

Method:

Oven

Cuisine:

Italian
1

low-carb or flour tortilla

2 teaspoons

sauce (tomato paste, pesto, cream cheese etc)

4 oz

(

100g

) shredded mozzarella cheese
Chopped raw vegetables (bell pepper, mushrooms, onion or anything you like)
Pepperoni, anchovies, cooked chicken, ham, tuna (or anything else you like)
Pinch of dried oregano
Salt and black pepper, to taste
Instructions
Preheat the oven to 400 degrees F or 200 degrees C.
Spread the sauce over your tortilla, keeping it 1/4 inch from the edges.
Sprinkle on your vegetables, then add the cheese, then finally the seasonings.
Bake for 10 minutes or until the cheese is melted and the tortilla is crispy enough to pick up between your thumb and finger.
Notes
If you are using meat, poultry or fish, ensure it is cooked first.
Experiment with different cheeses – mozzarella is classic, cheddar is gorgeous, goat's cheese works well, and blue cheese is amazing.
To make a fruit pizza, use butter as your sauce, then add granulated sweetener and cinnamon. When it's done finish off with fruit (maybe peach or raspberries) and whipped cream.
Keywords: low carb tortilla pizza, keto tortilla pizza, pizza using tortilla
If you want to see someone make a low carb tortilla pizza from scratch, why not take a look at this video, and find out just how easy this is? Seriously once you have made your first pizza with tortillas you will want to make this dish again and again because you get to enjoy a pizza which is not only really yummy but low in carbs and calories as well. What's not to love?