Pulled pork slow cooker recipes or pulled pork crockpot recipes are popular for a reason – actually more than one reason!
They're simple to make and are often a case of throwing the ingredients into your slow cooker or Instant Pot with the slow cooker setting and leaving the machine to work its magic.
Pulled Pork Slow Cooker Benefits
Pork is still comparatively cheap (well, compared to some other proteins these days!) So try one of the following pulled pork slow cooker recipes and experience the amazing flavor of this tasty dish.
Using a slow cooker is one of the simplest ways to cook pretty much any kind of pork cut, so get yours out, grab some pork and get ready to make a delicious pulled pork crockpot recipe. Once the pork is tender you can easily 'pull' it with a pair of forks and then proceed with your pulled pork slow cooker recipe.
Print
South of the Border Pulled Pork
If you prefer your crockpot recipes to have a bit of a kick, this is one of the best crockpot meals for you. The green chilies spice up this pulled pork recipe and the cumin, oregano and cinnamon add flavor.
This delicious pulled pork is great served with split buns or tortilla wraps and you can serve a salad on the side or some homemade coleslaw, which will contrast nicely with the spicy flavor of the pork.
Easy crockpot recipes are ideal for busy families and this one is very simple to follow, even if you are new to crockpot cooking. Even though all pulled pork crockpot recipes are different, they all have something special about them.
Some pulled pork crockpot recipes will call for clove-studded onion slices or BBQ sauce but this recipe has a south of the border feel, using chilies, oregano, cilantro and other typical Mexican ingredients, which give the pork a mouthwatering flavor without making it too spicy to enjoy.
The following dish takes about 9 hours to cook to perfection. The exact time depends on your slow cooker and also on the dimensions of the pork roast itself.
Letting it cook for slightly longer, when it is done, won't do any harm, so if you are expecting company but aren't sure of the exact time, this is a good meal to make, as long as you remember to start it early enough in the day so it's ready by dinnertime.
You can make sandwiches with this or serve it with some homemade coleslaw or potato salad.
Author:
Prep Time:

15 minutes

Cook Time:

8 hours

Total Time:

8 hours 15 minutes

Yield:

8

1

x
Category:

Main Dish

Method:

Slow Cooker

Cuisine:

Mexican
1

onion, thinly sliced

1 cup

(250ml) thick BBQ Sauce

9 oz

(

250g

) canned green chilies, diced

1 teaspoon

dried oregano

1 teaspoon

ground cumin

¼ teaspoon

ground cinnamon

½ cup

chopped cilantro (

20g

chopped fresh coriander)

3

lbs (1350g) boneless pork shoulder roast, trimmed
Instructions
Combine everything except the pork and cilantro to make the sauce.
Put the pork in the crockpot and pour the sauce over it, lifting the pork a bit so the sauce will go underneath.
Cover and cook on a low heat until the pork is very tender.
This will take 8 to 10 hours.
Pull the pork apart or shred it with forks.
If the sauce is very liquid, you can cook it on the stovetop for a while.
Pour the sauce into a serving bowl and stir in the shredded pork and cilantro.
Serve with split sandwich buns or flour tortillas garnished with cilantro for a splash of color.
Notes
If you enjoy typical Mexican flavors, this is one of the best pulled pork crockpot recipes to make because the oregano, cilantro, chili, and other ingredients give it a wonderfully authentic Mexican taste.
Pork is used in a lot of traditional Mexican recipes and using a crockpot means that the flavors will combine extra well and the meat itself will come out breathtakingly juicy and tender.
If you want to make something special but hassle-free, this recipe is ideal.
Keywords: pulled pork mexican slow cooker, pulled pork crockpot mexican
Print
BBQ Pulled Pork Sandwiches
Pulled pork crockpot recipes are great because they are usually simple to make. The pulled pork goes beautifully with the BBQ sauce in this crockpot recipe and the cloves and onion give a delicious flavor.
If you are using a very thin BBQ sauce in this pulled pork crockpot recipe you can use less water but if it is a thick sauce, use all the water stated in the ingredients and check it often to make sure it is not drying out.
This pulled pork recipe is nice served with homemade coleslaw either on the side or in the bun with the pork, but you can serve it with a green salad instead if you like.
Everyone will love the juiciness of the meat and this is such a versatile dish because pulled pork crockpot recipes can be served with any side dishes you want. If you love pork you will really love making pulled pork crockpot recipes because they are so simple and the results are great every time.
You can serve this pulled pork recipe however you like and for any occasion. Kids usually love it so it might be nice as a weeknight dinner or even if you have friends coming over at the weekend.
You can make a big pot of this and let people help themselves to buns, salad and pulled pork. If you are eating outside, paper plates and plastic cutlery make cleanup easy and the pulled pork crockpot recipe is already easy!
Author:
Prep Time:

15 minutes

Cook Time:

11 hours

Total Time:

11 hours 15 minutes

Yield:

8

1

x
Category:

Main Dish

Method:

Slow Cooker

Cuisine:

American
4

lbs (1800g) pork roast

2

onions, sliced

1

onion, chopped

5

whole cloves

2 cups

(500ml) water

16 oz

(475ml) BBQ sauce
Salt and black pepper

10

big crusty buns
Coleslaw, dill pickle spears and raw onion slices to serve
Instructions
Put one sliced onion in the crockpot.
Stud the pork roast with cloves and season it with salt and pepper.
Put the pork in the crockpot on top of the onion and cover it with the second sliced onion.
Add enough water to come two thirds of the way up the crockpot.
Cover and cook on a low heat for about 10 hours.
Remove the pork. Remove and discard the bones, fat and cloves, as well as any onions, grease and water left in the crockpot.
Pull the pork apart until it is all shredded and then put it back in the crockpot with the BBQ sauce and chopped onion.
Cover and cook for between 1 and 3 hours, until the onion is soft.
Serve on big crusty buns with crisp coleslaw, dill pickle spears and thinly sliced raw onion.
Notes
This juicy, mouthwatering pulled pork is so good. The onions go nicely with the flavor of the meat and the cloves add a special flavor.
BBQ sauce gives the pork a smoky flavor and this succulent treat is sure to be enjoyed by anyone you serve it to.
Pulled pork crockpot recipes are not difficult at all and even a beginner can make them. As you can see from the picture, the pulled pork is served in a bun, which has been toasted on the grill. Toasting the bun stops the juices from the pork from soaking through the bread and dripping out.
Some colorful homemade coleslaw completes the meal.
Keywords: pulled pork slow cooker sandwiches, pulled pork sandwiches crockpot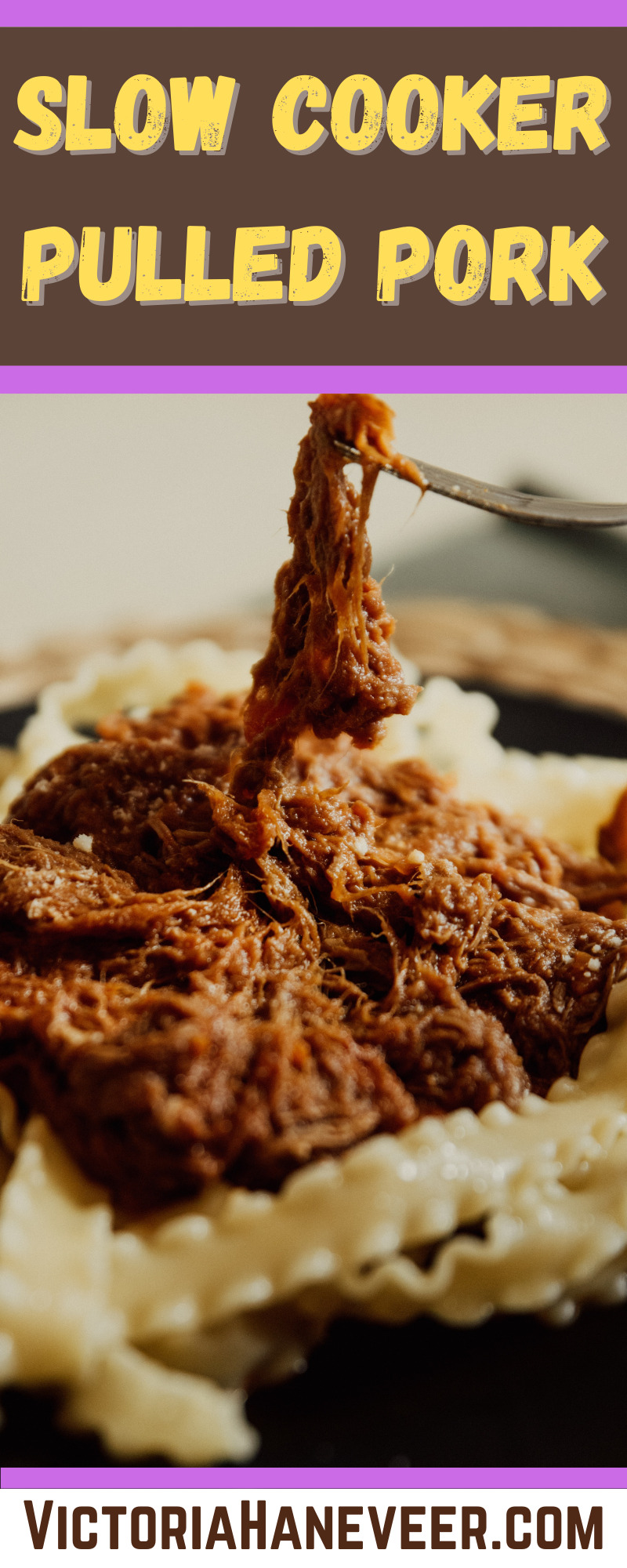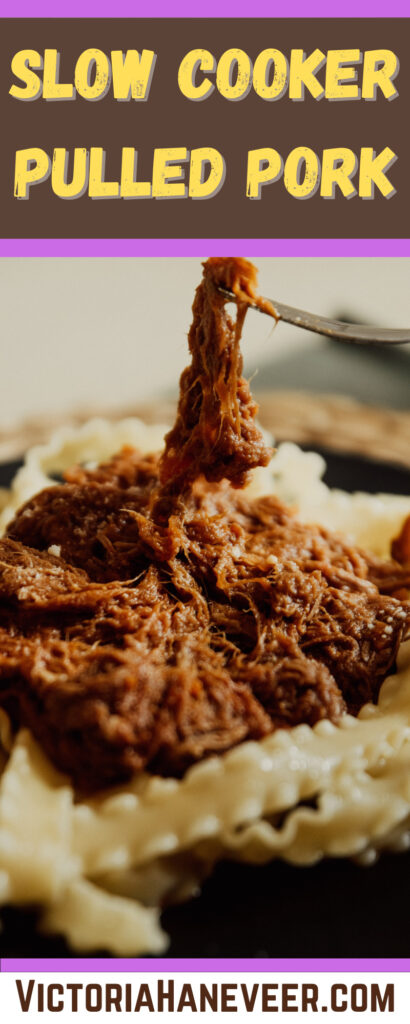 Photos from Unsplash and Pexels