The first time I saw a photo of Vietnamese summer rolls I just thought 'wow'! I love spring rolls (egg rolls) because of their wonderful crispy exterior, but summer rolls are slightly different, still oozing Asian character but featuring a very different coating and a more subtle, fragrant characteristic which you will love.
These are lovely in the summer (hence the name) but perfect served as an appetizer or light meal any time of the year.
What are Vietnamese Summer Rolls?
A summer roll is a Vietnamese dish made by enclosing a filling in a soft rice paper wrap. Typical ingredients used to make the filling include shrimp, pork, rice vermicelli, and vegetables.
Vietnamese summer rolls are served chilled or at room temperature and they are not fried like egg rolls are, which means they are soft and squishy on the outside and then the filling is, well, it depends on the ingredients used. Try to incorporate a few different textures for more appeal.
A popular appetizer at Vietnamese restaurants, these delicious Vietnamese summer rolls are popular in Vietnam's neighboring countries and their popularity is spreading all over the globe. If you enjoy egg rolls but fancy something lighter, you will probably enjoy summer rolls. No, you definitely will!
Tips for Sensational Vietnamese Summer Rolls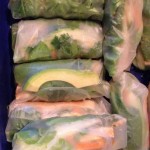 You will need a bowl of warm water to soak your dried rice paper. You should also prepare all your filling ingredients before you start, with each item chopped, shredded or whatever and in its own little dish, or at least spaced out on a clean counter top. I am quite pushed for space here so I just have little rows of ingredients then work on a chopping board, making one summer roll at a time.
You can buy a package of Vietnamese rice paper at any Asian food store worth its salt, or some grocery stores. These will be thin, opaque, rigid white disks but they do soften after soaking in water for about a minute, and that is when you add the filling and roll them up. Summer rolls are nice served with hoisin sauce, satay sauce or any other Asian sauce which complements the filling.
Photo courtesy of: Average Jane, on Flickr
The Results of My Vietnamese Summer Rolls Recipe
My first summer roll recipe wasn't so great because I wasn't organized (see the above pointer about having all your ingredients ready before you begin.
That includes cooking your shrimp, dicing your green onions etc) and also because I rolled them too loosely!
You might need to practice a bit first. Basically they should not be rolled too tight (else they split) or too loose (so the filling moves around). Try to find a happy medium.
How to Serve Vietnamese Summer Rolls
Vietnamese summer rolls are a wonderful appetizer and you can also just serve them as a snack. Sometimes I make a batch of these (it really isn't worth just  making 1 or 2!) and then have a couple in the evening while watching the TV instead of something higher in calories or fat.
These are surprisingly low in fat and calories but oh so satisfying! Try some new ingredients if you want to get creative. Avocado would work, or you could swap the shrimp for shredded chicken breast.
Print
Vietnamese Summer Rolls with Shrimp and Mango
Boasting shrimp, mango, salad leaves and more, these summer rolls are typically Vietnamese and so easy to make. Serve them chilled with a dipping sauce.
Author:
Prep Time:

25 mins

Cook Time:

6 mins

Total Time:

31 mins

Yield:

8

1

x
Category:

Appetizer

Cuisine:

Vietnamese
12

large shell-on shrimp

2 tablespoons

white sugar

1

pound (450g) mangoes, peeled, pitted, cut into

1/8

inch matchsticks

8

rice paper rounds plus more in case some split (

8

inch diameter)

3 ounces

(

85g

) vermicelli rice noodles

3 tablespoons

rice vinegar
Leaves from

1

bunch of cilantro
Leaves from

1

bunch of mint

1/2 teaspoon

salt

1/2

peeled, cored cucumber, cut into

1/8

inch matchsticks
Handful of shredded lettuce

3

julienne-cut green onions
For the Dipping Sauce
3 tablespoons

Asian fish sauce

2 1/2 teaspoons

brown sugar

3 tablespoons

fresh lime juice

2 tablespoons

cold water
Instructions
Boil the shrimp in water for 3 minutes or until pink then chill in ice water to stop them cooking.
Peel them, pat them dry and cut each in half lengthwise.
Remove the vein.
Boil the noodles for 3 minutes or until just tender, then rinse under cold water.
Stir the vinegar with the salt and sugar, then toss the noodles with this mixture.
Fill a shallow dish with warm water and soak a rice paper round in here until pliable.
This will take roughly 45 seconds.
Remove it from the water and sit it on a double thickness of paper towels, then add an eighth of your filling ingredients, so 3 shrimp halves with the cut side facing up, 1/4 cup noodles, a few cilantro and mint leaves, 8 pieces of cucumber, an eighth of the lettuce, 6 strips of green onions and 10 of the mango pieces.
Now it is time to close them, so fold the bottom of the rice paper over the filling then roll it up tightly to the halfway point. Add more mint and cilantro in the crease, then roll up until done.
Put the finished summer roll on a paper towel lined plate and start making the next one.
Repeat until you have made 8 summer rolls.
Combine the dipping sauce ingredients to make the sauce.
Serve the summer rolls either as they are or cut in half on the diagonal, along with the dipping sauce.
Notes
Make these up to 3 hours ahead, then cover them with damp paper towels and plastic wrap. Let them come to room temperature before serving.
Feel free to adapt the ingredients, leaving out anything you do not like and replacing it with anything you want to add.
Ensure you read the recipe through before beginning and have all your ingredients ready before you begin to assemble the summer rolls.
Work fast and you can be assembling one which the rice paper for the next one is soaking – this is good practice if you are doubling or tripling the recipe because it saves time.
Fancy a different sauce? No problem, you can use chili-infused peanut oil or make a simple satay dipping sauce if you prefer. Even bottle hoisin sauce will worth with this recipe.
Nutrition
Serving Size:

1/8 of the recipe

Calories:

320

Fat:

1g

Saturated Fat:

0g

Carbohydrates:

70g

Protein:

10g
Keywords: vietnamese summer rolls, summer rolls recipe, summer roll recipe, what are summer rolls