This warm duck breast salad is one of my favorite recipes, and my husband especially loves this dish! It is really easy to make too, and a good introduction to the joys of working with duck breast. It does not take long to make. In fact you can have it ready in under half an hour, including both cooking and prep time.
This warm duck breast salad is filling enough to be the main dish, but if you were looking for an appetizer duck salad then simply use this recipe to serve 4 and it will make a tasty, filling appetizer dish, or even 6 if you don't want such large appetizer servings.
Any leftover duck can always be refrigerated then used the following day to make tasty sandwiches. It will keep for a few days in the refrigerator actually, in a covered container. Chop it and add it to a risotto, pasta dish, pilaf, or something else.
The dressing is a simple 4-ingredient mixture which brings out the beauty of the duck flavor, while the salad can be anything you like, although keeping it simple with salad leaves, tomatoes and green onions is a good idea.
What to Add to the Warm Duck Breast Salad
I've added cooked snow peas to my warm duck breast salad before and they went very nicely, or you could try mixed baby leaves with baby spinach, or your favorite lettuce. Romaine would work here, or use whatever you want, perhaps pairing both red and green leaves for visual impact.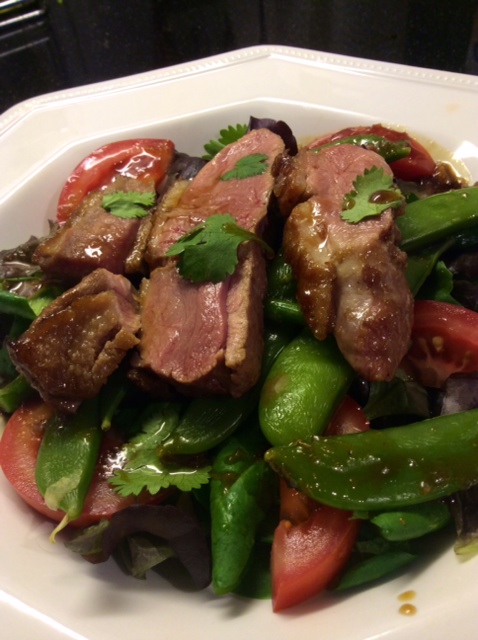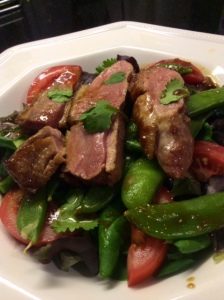 Try arugula (rocket) and watercress if you fancy that. Or add some cooked green asparagus, keeping it lovely and al dente.
Just go with what you fancy and what you have, and toss your favorite salad ingredients together, then add the duck and dressing, and you can be sure of a dish which is sure to impress. This warm duck breast salad is always good and it's nice you can play with the other flavors in there.
I like to garnish the finished warm duck breast salad with cilantro (coriander) leaves for added color and it goes nicely with the ingredients in the dressing too. Some chiffonade-cut basil would be nice with the tomatoes in the salad.
To make that, simply pile some basil leaves and then roll into a cigar shape, then you can cut it thinly across and you will end up with lots of slivers which you can toss with the tomatoes. If you prefer to use fresh basil as a garnish though, just add some baby basil leaves on top. That would also be very nice.
Differences Between Wild Duck and Domestic Duck
There are some differences between wild and domestic duck. Domestic ones are bigger than wild ones and they are fatter too. Wild ducks vary – some are fatter than others. Domestic duck breasts need you to render out the fat, which you can then save for a later use (it's nice for roasting potatoes!) and when you cook domestic duck, prick the skin all over to let the fat come out or else crisscross cut it (like we do in this duck salad recipe) to aid the rendering process.
A whole domestic duck yields enough meat to serve 2 people, maybe 3. Wild duck is denser and more filling than domestic duck, so take that into account too. You can use either kind for this warm duck breast salad recipe but you will probably be using the domestic kind from the grocery store, and that definitely needs the fat rendered out of it, but pan-frying it fat side down until the fat comes out and it crisps up.
Warm Duck Breast Salad: Tips for Cooking Duck Breast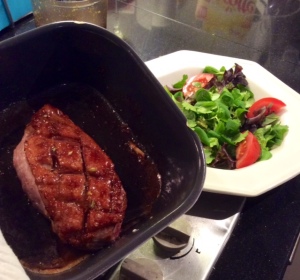 Duck breast is not difficult to cook but there are a few tips to bear in mind before you go ahead and start making your warm duck breast salad.
First you should get the oven to 400 degrees F or 200 degrees C, the reason being you are going to cook the duck breast on the stove and then finish it off in the oven.
Pat your duck breasts dry and use a sharp knife to crisscross-cut the skin. Don't cut right through the fat, but cut very close to the lean.
Heat up a skillet on the stove and then put the duck breasts skin side down in the skillet. You won't need oil because fat is going to come out of the duck.
Cook the duck breast for a few minutes or until the skin is golden, then flip it over and give it another minute or so, skin side up. It then goes in the oven for another few minutes or until it is done to your liking. Then you need to let it rest for 5 minutes uncovered before slicing and serving with a fruit sauce, such as pear, blackberry, orange or raspberry sauce.
How Much to Cook the Duck
I like my duck very pink, both in warm duck breast salad and other duck recipes, because it's more juicy that way but some people prefer their meat to be cooked for longer. This is going to be your warm duck salad recipe so it's up to you how much you cook the duck. Just bear in mind the longer it's cooked the less moist it will be.
Print
Warm Duck Breast Salad
The beautiful flavor of duck breast is showcased in this fantastic recipe which is easy to make. A simple salad is topped with juicy cooked duck breast, and the 4-ingredient dressing goes perfectly.
Author:
Prep Time:

10 mins

Cook Time:

15 mins

Total Time:

25 mins

Yield:

2

1

x
Category:

Salad
2

duck breasts with the skin left on

8 3/4 oz

(

250g

) halved cherry tomatoes

3 1/2 oz

(

100g

) mixed salad leaves
Bunch of green onions (spring onions), chopped on the diagonal
Salt, to taste
For the Dressing
1

minced garlic clove

2 tablespoons

soy sauce

3 tablespoons

honey

1 teaspoon

grated fresh ginger root
Instructions
Preheat oven to 400 degrees F (200 degrees C).
Score the skin of the duck in a crisscross pattern, using a sharp knife.
Season the duck breasts with a little salt.
Heat a non-stick skillet over a high heat.
Add the duck skin-side down.
Cook for 4 minutes or until the skin is crisp.
Flip the duck breasts over and quickly brown the underneath.
Drain off the fat that has rendered out and save it for another use.
Transfer the duck breasts to a baking tray.
Whisk the dressing ingredients together and spoon all except 2 tablespoons of it over the duck.
Roast the duck for 10 minutes for medium-rare (or longer if you prefer).
Remove it from from the oven and let it rest for 4 minutes, then slice it into strips.
Toss salad leaves, tomatoes and green onions with the duck slices.
Drizzle over the rest of the dressing and serve right away while the duck is warm.
Nutrition
Serving Size:

1/2 the Recipe:

Calories:

558

Fat:

37g

Saturated Fat:

10g

Carbohydrates:

25g

Protein:

34g