Fish Recipes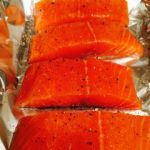 There are plenty of ways to cook salmon filets, which is good news if you love this tasty, healthy fish. Salmon is one of the most popular choices when it comes to fish, along with tuna and cod. These 3 fish are often known as 'the big 3' because they are so popular. Salmon has a distinctive flavor which pairs well with just about any cuisine, whether you are adding teriyaki and sesame seeds, hoisin or soy sauce for an Asian feel, lemon and parsley along with white wine for a Western European dish, or even barbecue sauce, avocado and tortillas for a Tex-Mex feast.
So what are some of the ways to cook salmon filets? Well salmon can be baked, broiled, grilled, pan-fried, poached, deep-fried, microwaved, steamed, or cooked on the barbeque. It can be cooked in a pressure cooker or crockpot, and you can even eat it raw as carpaccio or sushi perhaps. A salmon filet is a beautiful ingredient to use, regardless of which recipe or cooking technique you are opting for.
The biggest mistake you can make is overcooking the salmon. Regardless which ways to cook salmon filets you prefer to use, avoid overcooking at all costs! A lot of recipes say when the fish flakes easily it is done but actually if it flakes easily it is slightly overdone! I cook salmon filets until the center is still ever so slightly glossy and the rest is opaque, because it keeps cooking after being removed from the heat, and this ensures the moistest result. If you prefer your salmon more done, then go ahead and cook it a little longer.
Continue reading →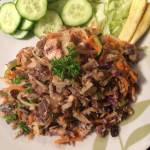 Pasta con le sarde is a typical Sicilian dish. The name translates to mean 'pasta with sardines' and the sardines along with fennel are the main 2 ingredients in there, those which give it the characteristic taste. Saffron, currants or raisins, pine nuts, and toasted almonds or capers also enrich the dish, offering a unique and special flavor in the finished meal.
There are different pasta con le sarde recipes, some of which include tomato pulp and others which do not. Some are finished off in the oven for a few minutes so the pasta can finish cooking in there.
When to Make a Pasta con le Sarde Recipe
Make this pasta con le sarde whenever you want, but I would recommend March to September as the ideal window just because that's the best time to get harvested wild fennel and fresh sardines at the market. Prepare the dish then add some toasted breadcrumbs to finish it off. You might want to use macaroni rather than bucatini or spaghetti, and in fact that would be more traditional in Sicily.
Continue reading →
Some More Hot Content For You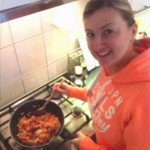 I love trying new ways of making crackslaw, and fish makes a nice, light alternative to meat. Of course, it is carb-free just like meat is, and you can choose anything between sole for a light flavor or cod for a richer flavor. I really enjoyed this fish crack slaw and want to make it often.
There are plenty of other types of fish you can use in fish crack slaw as well and examples that come to my mind include tilapia, snapper, halibut, monkfish, dogfish, basa fish, and haddock. As long as it's skinless and boneless it will work.
Don't use imitation seafood in fish crack slaw though, like those imitation crab pieces or crab sticks you can get, the reason being they usually contain either sugar or some kind of filler with carbs. If you aren't watching your carbs it doesn't matter but if you are, choose fresh, thawed or canned fish with no added ingredients. Go for 100% fish or seafood and the crackslaw will be low in carbs.
Make It on the Cheap
Because crackslaw is a spicy dish, you might like to use an economical kind of fish, because a lot of the flavor will be overpowered by the spices used to make the dish. Of course, this is your fish crack slaw recipe, so if you prefer to tone down the spice factor so you can taste the fish better, by all means go ahead.
Continue reading →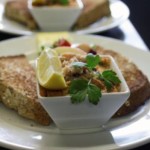 If you are in a hurry it's good to know that you can make this quick mackerel pate recipe in a matter of minutes. Smoked mackerel fillets are used for this pate as well as soft cheese, onions, lemon and tabasco. Serve this pate with melba toast or crackers and perhaps some grapes or basil leaves for garnish.
Homemade is Always Best
Buying pate from the shop is easy but homemade pate is always in a league of its own. In fact there is no comparison between the two. If you want to make a nice starter recipe for a dinner party then consider mackerel paté and you will be very tempted.
Soft cheese, spring onions and lemon work harmoniously with the mackerel and this quick mackerel pate recipe will have a good, firm texture as well as a pleasing flavor. You can make this in literally 3 minutes, but make it ahead so you have time to chill it. That way the flavors will all blend together. Continue reading →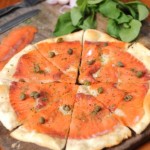 If you are looking for new ideas for pizza, something other than the meat feast or tomato and cheese pizza you usually have, consider this brand new take on the Italian favorite. Topping with smoked salmon and capers, this offers a fresh, light flavor, and a gourmet appeal. If you are looking for an elegant Italian recipe which is easy to prepare rather than fussy, consider this smoked salmon pizza with capers and enjoy the smooth texture of the salmon and the salty little bursts of flavor in the capers as well as the satisfying pizza crust.
The smoked salmon pizza with capers takes a while to make, especially since the dough is homemade and needs to chill overnight. If you are short of time or not bothered about making the dough from scratch, you can either buy dough and roll it out yourself or use a readymade pizza crust. Either of these would be fine and nobody has to know you didn't make your own dough. Roll out some readymade dough into a 'non quite symmetrical' shape and it'll look homemade!
The ingredients for the topping are adaptable, so swap the red onion for white if you want, leave off the capers if you aren't keen, or swap them for anchovies for extra seafood appeal. You can also add some thinly sliced mushrooms, pineapple chunks or anything else you want to put on there, or keep it simple with just the salmon and capers if you would rather. Continue reading →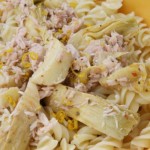 This tuna pasta salad with artichokes recipe is right up your street if you are looking for something new to do with pasta and tuna, and you would prefer something cold to hot.
This dish can be eaten by itself, paired with mixed salad leaves, taken to school or work as a box lunch, or made in bulk for a potluck supper, gathering or special event. It is simple to prepare and you can use canned tuna and artichokes for ease of preparation.
This lovely tuna pasta salad with artichokes recipe is usually served chilled but, for a change of pace, you might want to serve it warm, while the pasta is hot and the tuna mixture is cold. Combine all the ingredients well and the resulting dish will be warm. This might be nicer if the weather is chilly. Continue reading →
Other Posts You Might Like