Meat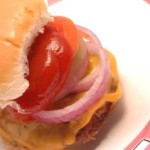 Sometimes nothing can beat the comfort food appeal of a juicy, freshly cooked hamburger. If you make cheeseburgers at home, you might be interested in learning a few handy cheeseburger tips to ensure your burgers always come out perfectly.
One of the most important parts of your cheeseburger is the meat you use for the patty. For the best results, you should choose 80/20 ground meat. That means it is 80% lean and 20% fat. If you use lean, or worse still extra-lean, meat, you will end up with a dry burger, and that is never attractive. Fat isn't the enemy. Serve your burger with some salad or a vegetable side dish to balance out the meal.
One of the best cheeseburger tips: the cheese is just as important as the meat, but there is no reason why you must use American sliced cheese. Experiment with some different kinds, like halloumi, feta, white cheddar, fontina, Asiago, or a Mexican cheese blend, to add a brand new taste. Blue cheese can be really good in there too. Continue reading →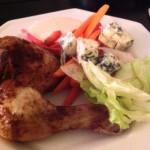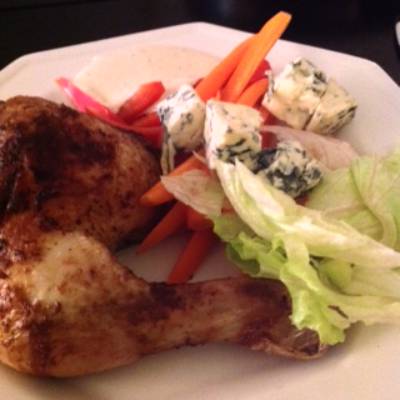 Being an English girl, I wasn't quite sure what buffalo chicken was when I first heard the term. Of course I knew what a buffalo was and what a chicken was but didn't see how you could combine them. All became clear when I tasted this delicacy Stateside and fell in love with it! Keep reading for the best buffalo chicken recipe I have found.
So much so in fact that I have added it to our regular meal rotation because I adore the combination of crispy, spicy chicken, fresh vegetable sticks, creamy dressing and of course don't forget the blue cheese!
This best buffalo chicken recipe, like most of mine, is really easy to make. You have the choice of using any kind of chicken. The first time I made it I used chicken breast but now I usually use chicken legs. Not only are they cheaper here but they are also more flavorful, plus I like to crisp the skin up in the oven. Crispy chicken skin on a best buffalo chicken recipe is always good! Use drumsticks if you like because they are also good in this recipe. Continue reading →
Some More Hot Content For You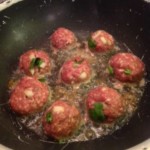 This is a wonderful recipe and it is also low in carbs. I love this Asian meatballs with sweet chili sauce recipe because I never get tired of the taste. I used to own the site Crackslaw.com where you could find out how to make all kinds of crack slaw recipes, something else that offers a wonderful Asian flavor. I've since moved them all on to this blog, so look at our low carb category and you will find plenty more ideas.
Anyway, back to the Asian meatballs with sweet chili sauce. I had some ground beef to use up and some other bits and pieces and I asked my sister for inspiration and she came up with the idea to make these delicious meatballs. Luckily I had all the ingredients I needed.
What Meat to Use
The meatballs can be made using ground pork, beef or even chicken or turkey if that is what you have. You can add as much or as little flavoring as you wish. Some people just like to roll the ground meat into balls and fry those, but I like to add a few seasonings to them. Continue reading →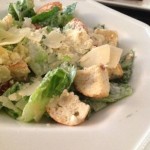 This is an amazing recipe and something I make often. In my opinion this is definitely the best chicken Caesar salad you can make. Sometimes I roast chicken legs and then make this without the chicken, and serve the two together. Caesar salad is something I love and it is one of my favorite salads. I always have Caesar dressing in the refrigerator and serve it with buffalo chicken sometimes since ranch dressing is something unheard of where I live.
Although this best chicken Caesar salad recipe uses mayonnaise in the dressing rather than raw eggs, it is still really nice. A lot of people don't like using raw eggs in recipes or can't eat them for a health reason, so this recipe is a good compromise.
This recipe combines chicken, ciabatta bread croutons and romaine lettuce with a delicious dressing and other ingredients like bacon and Parmesan cheese.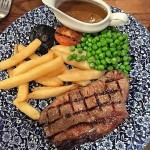 Steak is one of the most popular cuts of meat but unfortunately a lot of people are rather clueless about how to transform a raw steak into something flavorful, tender and perfectly cooked. Perhaps it is your first time cooking steak or maybe you are keen to find out some griddle tips, because this ridged pan is so handy in the kitchen. Either way, read on for my foolproof recipe and learn how to griddle steak like a pro every time you make it.
Barbecuing is one of the best ways to cook this cut of meat, because you can't beat the lovely smoky flavor, but what happens if you can't barbecue and you don't want to pan-fry? The answer is using a ridged griddle pan. Not only can you cook the steak without adding any fat, but you can make crisscross marks on it and they add a certain charm to the meat. See how knowing how to griddle steak means you can rustle up something really amazing?
Continue reading →
Other Posts You Might Like