italian meatball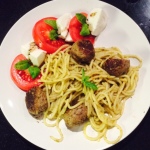 This is a great pesto spaghetti recipe to make if you are in the mood for Italian but also looking for something you can just throw together and have on the table half an hour after you thought of making it!
Spaghetti and meatballs is a typical Italian dish which combines pasta and meat in a simple way, and although a tomato sauce is often served with such a dish, pesto spaghetti is also nice and it is what we are using here, although you can switch one for the other if you like.
We are making baked meatballs and you can prepare the pesto spaghetti while the meatballs are baking, then have everything together at once. Make sure you have some extra fresh basil sprigs for an attractive garnish and consider what you want to serve on the side, or whether you want to omit a side dish and instead serve a tasty side dish such as this delicious Italian bruschetta recipe.
Pesto Spaghetti & Meatballs: Which Meat to Use
Here in Holland you can't get ground pork for whatever reason (don't ask me, I only live here!) so we use half and half (which is half beef and half pork) and that seems to work just fine, but you can use beef or pork if you prefer, or even ground turkey if that is what you like.
Continue reading →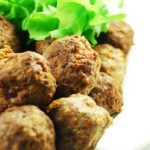 These delicious and authentic Italian meatballs with basil can be served hot or cold and they make a really nice starter recipe. Serve them with a tomato-based dip or a creamy dip for the best results. You can use a shop-bought tomato salsa or garlic mayonnaise dip if you want to, or put something together yourself.
Different Kinds of Meatballs
There are lots of meatballs recipes to choose from and you have probably tasted Swedish meatballs, pork meatballs or other meatballs recipes before. This recipe for authentic Italian meatballs with basil is very simple and the meatballs are steamed rather than fried or baked, to keep them juicy and succulent.
For a different flavor in this authentic Italian meatballs with basil dish, you could replace the basil with parsley or cilantro, but remember that fresh herbs will give the nicest taste. You can also try using minced pork or minced lamb. Fresh mint is nice if you want to use lamb and any herbs are good with minced pork. Continue reading →
Some More Hot Content For You
Other Posts You Might Like