moussaka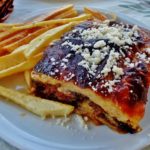 I have to say this moussaka with potatoes and eggplant is one of my absolute favorite dishes. Moussaka is popular in countries of the former Ottoman empire. There are lots of regional and local variations. This dish might be made with potatoes or eggplant, or both, and usually with ground lamb too.
Moussaka is eaten cold in Arabic countries, sauteed and served casserole style in Turkey, and layered and served hot in the Balkans. A lot of moussaka variations have an egg-thickened milk sauce on top, or a bechamel (flour-based) sauce.
Origin of the Word Moussaka
The word moussaka comes from mousakás, a Greek word, which came from the Turkish musakka and the Arabic musaqqa'ah, meaning chilled. The dish is usually based on ground meat, sauteed eggplant and tomato.
The Greek version has meat, eggplant and a bechamel sauce and it is baked in the oven. It is thought the Greek version dates back to the 1920s. The sliced eggplant layer on the bottom is topped with a ground lamb and tomato layer, and then you also have onion, garlic, allspice, cinnamon and black pepper in there for flavor. On top is a bechamel sauce layer. Continue reading →
Other Posts You Might Like