omelet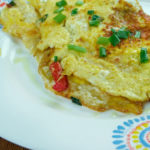 This omelet makes a great side dish for a curry if you don't want to serve rice or naan bread or if you are looking for low carb side dish ideas. You can also eat it by itself as a meal or snack. This is the best Indian omelet recipe to choose if you are looking to spice things up a little and enjoy a brand new flavor.
What is in the Best Indian Omelet Recipe
Along with the eggs which are of course the main ingredient in any omelet, we are using spinach, shallots, cilantro, turmeric and chili.
You can omit the spinach if you want, or replace it with sliced mushrooms. You can also swap the shallots for a small yellow onion or omit the chili pepper if you don't want it spicy.
Making the best Indian omelet recipe is simply a matter of combining the ingredients then cooking the omelet in a skillet. I like to wilt the spinach first but you don't have to do that unless you want it really soft. It cooks in the omelet anyway. Continue reading →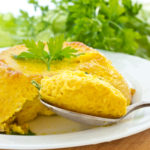 There are lots of egg recipes to choose from if you want to enjoy eggs for breakfast, and this delicious, filling ingredient can be prepared in various ways. This cheese baked omelet is just one of your options.
Boiled, scrambled or fried eggs are always good, or you can make an omelet, either conventionally on the stove, or, if your stove is crowded with other breakfast delights such as bacon, sausage and mushrooms being fried, you can make an omelet in the oven.
Keep things easy using just eggs, milk or cream and a little onion to give the omelet some crunch. You can also add extra vegetables like bell pepper, mushrooms or even some snipped chives or fresh basil.
More Cheese Baked Omelet Tips
The following cheese baked omelet recipe offers four servings, but this omelet keeps for several days in the refrigerator, so enjoy it the next day, maybe with fried or grilled mushrooms on the side or some wilted spinach. Consider this too: halve a tomato and bake that along with the omelet.  Continue reading →
Some More Hot Content For You
Other Posts You Might Like