risotto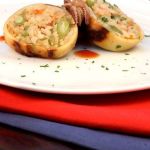 This Italian-inspired risotto stuffed squid recipe makes a delicious dinner and it is impressive enough to serve at a dinner party. Calamari is often battered and deep-fried but in this recipe it is stuffed with tasty risotto and cooked on the grill or griddle, then served in slices for a beautiful presentation.
What Kind of Squid to Use for Risotto Stuffed Squid
You can use whatever size squid you like. Use smallish ones (the width of your palm) and each person can eat 2 or even 3, or use larger ones and 1 per person should be sufficient.
The size of the squid affects the cooking time (bigger squid take longer to become tender) but not the flavor. You might want to garnish the plates with some pan-fried baby squid. Otherwise consider a small salad or your favorite steamed veggies – maybe asparagus.
Continue reading →
Other Posts You Might Like