tex-mex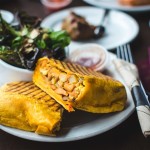 A beloved Mexican and Tex-Mex food, a burrito makes a great lunch, dinner or snack. And this is the best breakfast burrito recipe I ever tried! One modern trend is all about presenting this hearty delight first thing in the morning and calling it a breakfast burrito. So you can have your breakfast all rolled up neatly burrito-style. A breakfast burrito recipe will contain typical breakfast ingredients like potatoes, bacon, eggs, mushrooms, whatever else you like. These fillings will be hot and cooked, enclosed in a soft flour tortilla.
Burritos are wrapped or folded to enclose the filling, unlike a taco which is usually folded in half around the filling. Some people like to steam or lightly grill the tortilla to softed it, so it wraps around the filling more easily. Order a regular burrito in Mexico and you can expect meat and refried beans to be your typical filling. Head north of the border into the US though and you will find a wider variety of fillings like rice, beans, lettuce, salsa, cheese, sour cream, guacamole and, where breakfast burritos are concerned, even bacon, eggs and hash browns – hey, why not!
The word burrito translates from the Spanish to mean 'little donkey' and it is thought the name comes from the look of the bedrolls and packs donkeys used to carry. Try this best breakfast burrito recipe when a bowl of cereal simply isn't enough to prepare you for the day ahead. Continue reading →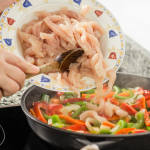 Here in this excellent chicken fajitas recipe, we are pairing spiced chicken with delicious veggies, soft tortillas and whichever condiments you want to add. It makes a lovely dinner for any occasion. Although a lot of people assume fajitas are Mexican they are actually Tex-Mex.
The word 'fajita' refers to barbequed meat which is served on a tortilla. Onions and bell peppers usually feature in these recipes, along with lettuce, sour cream, salsa or pico de gallo, tomato, and/or guacamole. Skirt steak is the original meat used to make a chicken fajitas recipe, and this tough cut of beef which is amazing when slow cooked has soared in price in recent years, but if you spot some on sale grab it, because this recipe is too good not to make.
Beef was frequently butchered to feed cattle hands during the cattle roundups in Texas ranchlands in the 1930s and the head, entrails and trimmings of the beef was giving to Mexican cowboys as part of their payment. Each carcass does not yield a lot of skirt. This cut was not sold commercially either, so you can see how fajitas would be unknown outside of Mexican cowboys and their families, along with butchers and their families.
Continue reading →
Some More Hot Content For You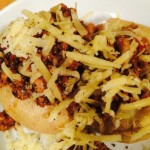 To sum up the answer to 'what is Tex-Mex food', Tex-Mex cuisine refers to primarily American dishes found in the state of Texas. This cuisine is a blend of American and Mexican foods. Some of these recipes might not be the same as the authentic Mexican version but it is still referred to as 'Mexican' in Texas. People in other states sometimes refer to Tex-Mex as 'Southwestern' food.
Tex-Mex is thought by some people to be the oldest original cuisine in the US. It was named in 1875 and began when the Texas-Mexican Railway was called Tex-Mex for short. This term was also used for Mexicans who were born in the state of Texas (they were also known as Tejanos). Actually more than 60% of the population of Texas has ancestors who were born south of the border, so it is no surprise that Tex-Mex recipes gained popularity so fast.
Written records of Tex-Mex food date back to the 1940s when Mexican and Spanish recipes blended with Anglo food, and the first Tex-Mex restaurant appeared in a part of the Southwest region with plenty of Mexican residents. Gourmet Tex-Mex dates back to the 1970s and was especially popular with the younger generation. So, what is Tex-Mex food? Now you know. Continue reading →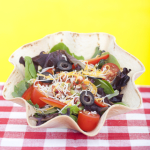 As much as I love salad (and I really do!) I do find myself getting bored with the same old salad recipes over and over, which is why finding a new recipe or learning a new salad tip or trick is always so great. Take this taco salad for example. Not only can you expect the flavorful flavors of Mexico, but you also get a crunchy taco bowl to serve the salad in. I love to present my taco salad in tortilla bowls because it looks so impressive but is actually easy!
Tortilla bowls are very easy to make and you can do them in the oven. Use cooking spray and you add only a few calories to the tortillas themselves. You can serve any kind of salad in these tortilla bowls but Mexican or Tex-Mex ones are the obvious choices.
Feel free to tweak the recipe, changing any ingredients you want. All kinds of things work when making salad, so go for plenty of flavor add texture in there, and create a real masterpiece for everyone at the table to enjoy. This easy taco salad recipe has a gourmet look because of the tortilla bowl, making it a candidate for a dinner party.
Continue reading →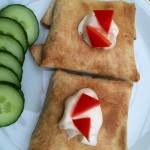 Baked chicken chimichangas might change your whole idea of deep-frying! Chimichangas are gorgeous although they are often considered an indulgence because they are deep-fried. Saying that, it is perfectly possible to oven-bake this tasty snack and that cuts down on fat and calories, offering up a healthy meal which is just as good as its deep-fried cousin! If you want to know how to bake chimichangas read on for a great recipe.
We have chosen to use chicken in this baked chicken chimichangas recipe but feel free to use beef, pork, beans, cheese – anything you want really. The filling is up to you. Some people like to make a vegetarian chimichangas recipe with their favorite fresh, canned and/or thawed vegetables, and that certainly makes a change of pace from the beef or pork varieties.
What really makes chimichangas stand apart is the lovely crispy exterior. It is believed a chef dropped a filled taco into hot oil by accident and uttered the cuss 'chimichanga!' (which isn't really a swearword) but then when she tasted the crunchy tortilla snack, the word stuck, and thus chimichangas were born. Swap the deep frying for the oven though, and try this baked chicken chimichangas alternative.
What to Serve with Baked Chicken Chimichangas
This is a very easy recipe to make and you can serve them with your favorite Mexican side dishes, perhaps Mexican fried rice, cornbread, cheese stuffed chilies, homemade guacamole and/or pico de gallo, or a 7-layer salad.
Continue reading →
Other Posts You Might Like