There are plenty of ways to cook salmon filets, which is good news if you love this tasty, healthy fish. Salmon is one of the most popular choices when it comes to fish, along with tuna and cod. These 3 fish are often known as 'the big 3' because they are so popular.
Salmon has a distinctive flavor which pairs well with just about any cuisine, whether you are adding teriyaki and sesame seeds, hoisin or soy sauce for an Asian feel, lemon and parsley along with white wine for a Western European dish, or even barbecue sauce, avocado and tortillas for a Tex-Mex feast.
So what are some of the ways to cook salmon filets? Well salmon can be baked, broiled, grilled, pan-fried, poached, deep-fried, microwaved, steamed, or cooked on the barbeque. It can be cooked in a pressure cooker or crockpot, and you can even eat it raw as carpaccio or sushi perhaps. A salmon filet is a beautiful ingredient to use, regardless of which recipe or cooking technique you are opting for.
Don't Overcook It!
The biggest mistake you can make is overcooking the salmon. Regardless which ways to cook salmon filets you prefer to use, avoid overcooking at all costs! A lot of recipes say when the fish flakes easily it is done but actually if it flakes easily it is slightly overdone! I cook salmon filets until the center is still ever so slightly glossy and the rest is opaque, because it keeps cooking after being removed from the heat, and this ensures the moistest result. If you prefer your salmon more done, then go ahead and cook it a little longer.
How to Pan-Fry Salmon Filets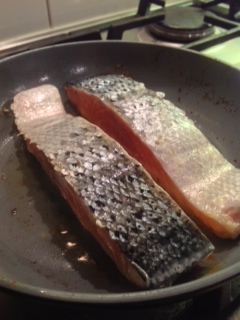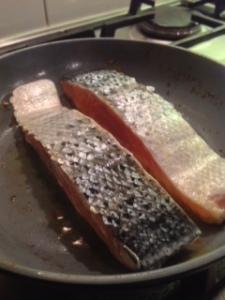 This is one of my favorite ways to cook salmon filets because it's fast. Put a skillet over a high heat and let it warm up. It should get quite hot but not start to smoke. You can add a tablespoon of olive oil or some cooking spray to the pan before you start heating it but if you marinated the salmon or brushed oil over them you don't need to do this.
Put the fish in the skillet and cook it for 3 minutes, then flip it over and cook for 3 or 4 more minutes, or until done.
Don't use tongs to flip it because it will fall apart; use a fish spatula instead. You will see the fish change from translucent to opaque as it cooks. Let the filets rest for 5 minutes at room temperature then serve.
How to Grill Salmon Filets
Preheat a charcoal or gas grill. If you're using a charcoal grill spread a layer of coals along the bottom and light the barbecue. Let them burn and smolder for half an hour. If you're using a gas grill preheat it to 450 degrees F (232 degrees C). I prefer a charcoal grill although both ways to cook salmon filets, charcoal and gas, would work. I just love the smoky flavor!
Wrap your salmon filets in aluminum foil by putting a filet in the center of the foil and bringing the sides up. Scrunch the packets closed. If your foil isn't nonstick add a little cooking spray first, else put the fish on the nonstick side. Put the prepared packages on the grill and cook for 15 minutes, flipping halfway through. Check for doneness then let the salmon sit in the foil for 5 minutes at room temperature.
How to Poach Salmon Filets
Poaching is a popular cooking method for salmon filets because it keeps the fish really juicy and moist. It is also incredibly easy to do. Bring a pan of water to a boil then add a pinch of salt. If liked, you can also add rosemary, dill weed or other fresh herbs, and maybe a chopped green onion or shallot, even a splash of white wine.
Add the salmon to the pan, skin side-down if it has skin. Cover and cook for 5 minutes then check. It might take up to 10 minutes depending on thickness. Use a slotted spoon to remove the salmon from the cooking liquid and let it rest for 3 minutes before serving. Serve with a Monterey corn salad.
How to Bake Salmon Filets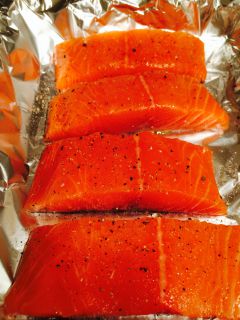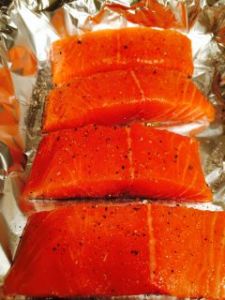 Preheat the oven to 400 degrees F (200 degrees C) and cover a baking sheet with nonstick foil, for easy cleanup. If you don't have any just spritz on some cooking spray. Put the salmon on the tray skin side-down (if it has skin) in one layer.
You can squeeze lemon juice over the fish, or lime juice, add salt and black pepper to it, or a dot of butter, or simply bake it plain, as you prefer. Bake the fish for about 15 minutes, with the tray positioned on the middle oven rack. You can then serve it warm from the oven or else let it cool to room temperature, depending what you're making.
How to Broil Salmon Filets
This is another of the fastest ways to cook salmon filets. Preheat the broiler (broiler is called 'grill' in the UK) and let it heat up for 5 or 10 minutes. If yours has a high/low setting choose high. Spritz the broiler pan with some nonstick cooking spray.
Put the salmon filets on the rack in the broiler pan, skin side-down if it has skin, in one layer. Broil it 5½ inches (14 cm) from the heat for 10 minutes or until done. Flipping it is not necessary unless you especially want to brown both sides.
How to Make Oven-Fried Crispy Salmon
Put the oven rack in the middle position and preheat the oven to 400 degrees F (200 degrees C). Line a baking sheet with parchment paper. Combine a cup of panko breadcrumbs with a tablespoon of olive oil, ½ teaspoon of dried thyme (or another herb) and ½ teaspoon of garlic powder (or 3 minced garlic cloves if you prefer) in a skillet and toast until golden brown, then let this mixture cool.
Cut a pound (450g) of skinless salmon filet into 2 inch (5 cm) x ½ inch (2½ cm) pieces and sprinkle salt and black pepper over them. Put ¼ cup of all-purpose flour in a shallow dish and dredge each piece of fish through it, patting off any excess.
Beat an egg and dip the fish into that next. Press it into the toasted panko mixture, then arrange the fish on the baking sheet and bake for 20 minutes or until cooked through. These are great served hot with ketchup or tartar sauce, and lower in fat that if you were to deep-fry them.
How to Marinate Salmon Filets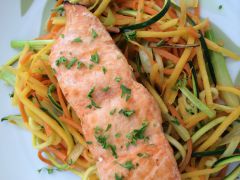 Yes there are more ways to cook salmon filets and marinated salmon is amazing. Mix together ½ teaspoon of garlic salt with 2 tablespoons of olive oil and 3 tablespoons of lemon juice (freshly squeezed if possible) then transfer the mixture into a Ziploc bag. If you don't have one, just use a glass dish.
Add 4 salmon filets and make sure they are well covered in marinade. Marinate it for 20 minutes in the refrigerator then 10 minutes at room temperature.
You can then cook the fish with your favorite cooking method, perhaps baking, broiling or pan-frying it. Grilling is another good option.
If you want to try different ingredients in the marinade, you will need a blend of oil, something acidic and some herbs and/or spices. Vinegar, lemon juice and lime juice are acids, and you can use wet or dry seasonings.
Try a readymade vinaigrette which already contains a blend of vinegar, oil and seasonings, or combine soy sauce, olive oil, brown sugar, and rice vinegar to make an Asian marinade.
If you plan to pan-fry or bake the fish and you're in a rush, forget the marinade and just coat the salmon with fresh herbs such as basil, dill and parsley instead.
Make double the marinade if you like, using half to marinate the fish and the other half as a glaze, brushing it on to the salmon halfway through cooking. If you want to serve it as a sauce, boil it on the stove until it is thick and reduced. Whichever of these ways to cook salmon filets you choose, you're sure to love the result.