Authentic nasi goreng recipe – ah, a true taste of Indonesia! Nasi goreng means 'fried rice' in Indonesian as well as Malay, and it can be fried rice, a meal with stir-fried rice, or a salted dried fish mixture with rice.
The main ingredient in an authentic nasi goreng recipe is always the rice, so if you are looking for something to make with leftover rice, keep reading and discover this wonderful Indonesian dish.
Authentic Nasi Goreng Recipe Ingredients
Known as the national dish of Indonesia, the best nasi goreng recipe is whichever mixture you like, perhaps rice with kecap manis (sweet soy sauce), egg, chicken, shrimp, garlic, and shallot, or perhaps you favor mushrooms and peas, or even beef and chilies.
Take a look in the refrigerator and cupboards before making an authentic nasi goreng recipe. If you have rice and some kind of vegetables you can make this. You can even switch the seasonings to make it fit what you have. There is no set recipe because it is a dish of various leftovers.
Beginning life similar to Chinese fried rice – a good way to use up leftover cooked rice – it was discovered that frying it could kill any microbes (which was important before the days of refrigeration).
Nasi goreng is traditionally made from rice leftover from the evening before, and served for breakfast in Indonesia, although in the West we tend to prefer rice-based recipes for lunch or as an evening meal.
What Else is in an Authentic Nasi Goreng Recipe?
In addition to the rice, you will find ingredients like chicken or beef scraps, tomato, peppers, chili and shallots. It might have originated from Southern Chinese fried rice because other Indonesian dishes are similar to Chinese ones, a good example being mie goreng, which is fried noodles.
You will find nasi goreng all over Indonesia as well as Singapore and Malaysia, and it is also popular in the Netherlands because of colonial ties with Indonesia. You can even find it frozen in 7-Eleven and other convenience stores, but for the best nasi goreng authentic recipe, nothing beats making your own. That applies to most recipes actually!
If you want a Dutch recipe rather than a Dutch adopted recipe, try slavinken or stamppot!
Authentic Nasi Goreng Recipe: So Distinctive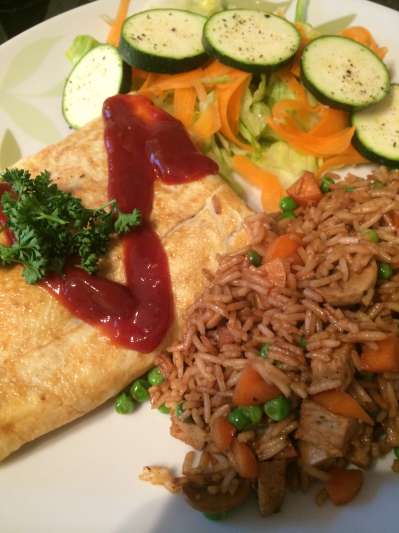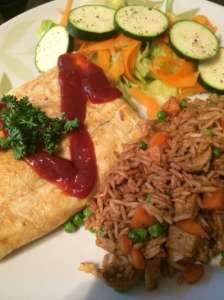 The unique ingredient in nasi goreng recipes, and something that makes it stand apart from similar fried rice dishes, is the kecap manis, or sweet soy sauce. You can get it in Oriental food stores.
What is kecap manis? Well, it is spicier, thicker and stronger than regular soy sauce but otherwise similar. You can use regular soy sauce if you can't find kecap manis.
An authentic nasi goreng recipe is often served wtih fried onions, fried shallots and/or crispy prawn crackers to offer a texture contrast.
In addition to the above-mentioned ingredients many nasi goreng recipes feature shrimp paste, black pepper, eggs, ginger-garlic paste, turmeric, nutmeg, green onions, salt, and/or fish sauce, depending on what the cook likes and/or has on hand.
Different Recipes Everywhere!
Every recipe is different because in Indonesia it is made with the leftovers of the previous evening's meal, so it depends what was left over, then herbs and spices are selected to complement the other ingredients in the dish.
You will need to use leftover cooked rice to make an authentic nasi goreng recipe because freshly cooked rice is too moist and soft and you will end up with a mushy texture if you try using it. It is possible to cook the rice ahead if you then let it chill for 2 hours before using, so the texture is right.
Other Types of Nasi Goreng
You will find this dish served in Asian fusion restaurants as well as in Indonesian restaurants all over the globe.
It might be served with chicken or pork satay skewers, eggs (in fried, boiled or sliced omelet form), mixed vegetables, or other meats or fish. It is often sold with meatball noodles when you buy it from street vendors, and you might get a pickle with it too.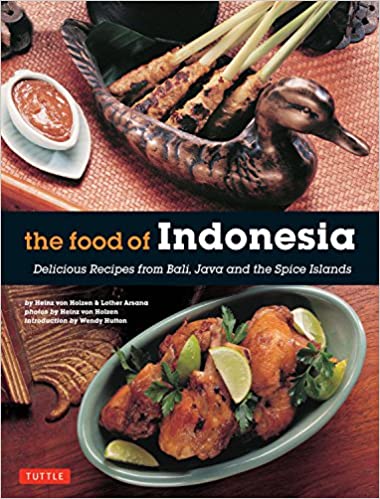 Nasi goreng is a popular dish in the Netherlands because of Indonesian colonial ties.
There are plenty of Indonesian restaurants in the Netherlands which are owned and run by Indonesian migrants and their family.
You can also get take-out style nasi goreng in the grocery stores, along with the prawn crackers and other condiments to go with it.
In Flanders, Belgium, the term nasi goreng (or simply nasi) applies to any fried rice dish.
Our authentic nasi goreng recipe is tweak-able. This means if you want to swap the chicken and shrimp for other proteins, or make it vegetarian.
Another idea is to swap any of the vegetables or condiments – go right ahead and personalize it!
Serve nasi goreng hot, as soon as it is done, and enjoy the wonderful delicious Indonesian flavors in every mouthful.
Print
Authentic Nasi Goreng Recipe
Leftover rice is combined with meat, vegetables and Indonesian seasonings to make this fantastic and authentic dish, which you can serve hot as a snack, side dish or main meal.
Author:
Prep Time:

15 mins

Cook Time:

35 mins

Total Time:

50 mins

Yield:

4

1

x
Category:

Entree

Cuisine:

Indonesian
1 cup

(

200g

) uncooked white rice

2 cups

(

1 pint

) cold water

1 teaspoon

ground coriander

1

chopped yellow onion

4

sliced button mushrooms

1/2

sliced carrot

1/2

lb (225g) thinly sliced skinless, boneless chicken breasts

1/2

lb (225g) peeled, deveined shrimp

3

beaten eggs

1 1/2 tablespoons

vegetable oil

2

chopped green chilies

1

minced garlic clove

1 teaspoon

ground cumin

3 tablespoons

sweet soy sauce (kecap manis)
Handful green peas (optional)
Instructions
Put the rice in a pot and add the water.
Bring the mixture to a boil then turn the heat down and simmer for 20 minutes or until the rice is tender.
Spread it over a baking sheet and chill for 2 hours or until cold.
Alternatively you can use leftover cooked rice instead of doing the above (eyeball it and use enough for 4 servings).
Heat a wok over a moderate heat and add 1/2 tablespoon of oil.
Pour the eggs in there and cook for 1 minute or until they start to set, lifting the edges for even cooking.
Flip the omelet and cook another 30 seconds or until cooked, then slice into ½ inch (1 cm) strips and put it to one side.
Heat the rest of the oil in the wok over a high heat, then add the onion, garlic, carrot, chilies and mushrooms.
Cook for 4 minutes or until the onion is tender.
Add the shrimp, chicken, cumin and coriander.
Add some peas too, if using.
Cook for 5 minutes more.
Mix in the cold rice, sweet soy sauce and reserved omelet slices.
Cook for another 5 minutes or until the chicken and shrimp are cooked through.
Notes
If you prefer, instead of making the omelet and stirring it into the nasi gorgeng mixture, you can fry 4 eggs and top each portion of nasi goreng with a fried egg.
Serve with extra ketcap manis on the side and maybe regular soy sauce too, so people can add some more if they wish.
This is really good with prawn crackers too.
Don't forget the sambal manis either – this Indonesian chili sauce is a great condiment.
Nutrition
Serving Size:

1/4 of the recipe:

Calories:

440