Pasta con le sarde is a typical Sicilian dish. The name translates to mean 'pasta with sardines' and the sardines along with fennel are the main 2 ingredients in there, those which give it the characteristic taste.
The dish often includes anchovies too. Saffron, currants or raisins, pine nuts, and toasted almonds or capers also enrich the dish, offering a unique and special flavor in the finished meal.
There are different pasta con le sarde recipes, some of which include tomato pulp and others which do not. Some are finished off in the oven for a few minutes so the pasta can finish cooking in there.
When to Make a Pasta con le Sarde Recipe
Make this pasta con le sarde whenever you want, but I would recommend March to September as the ideal window just because that's the best time to get harvested wild fennel and fresh sardines at the market. Prepare the dish then add some toasted breadcrumbs to finish it off. You might want to use macaroni rather than bucatini or spaghetti, and in fact that would be more traditional in Sicily. Bucatini is long like spaghetti but hollow like macaroni.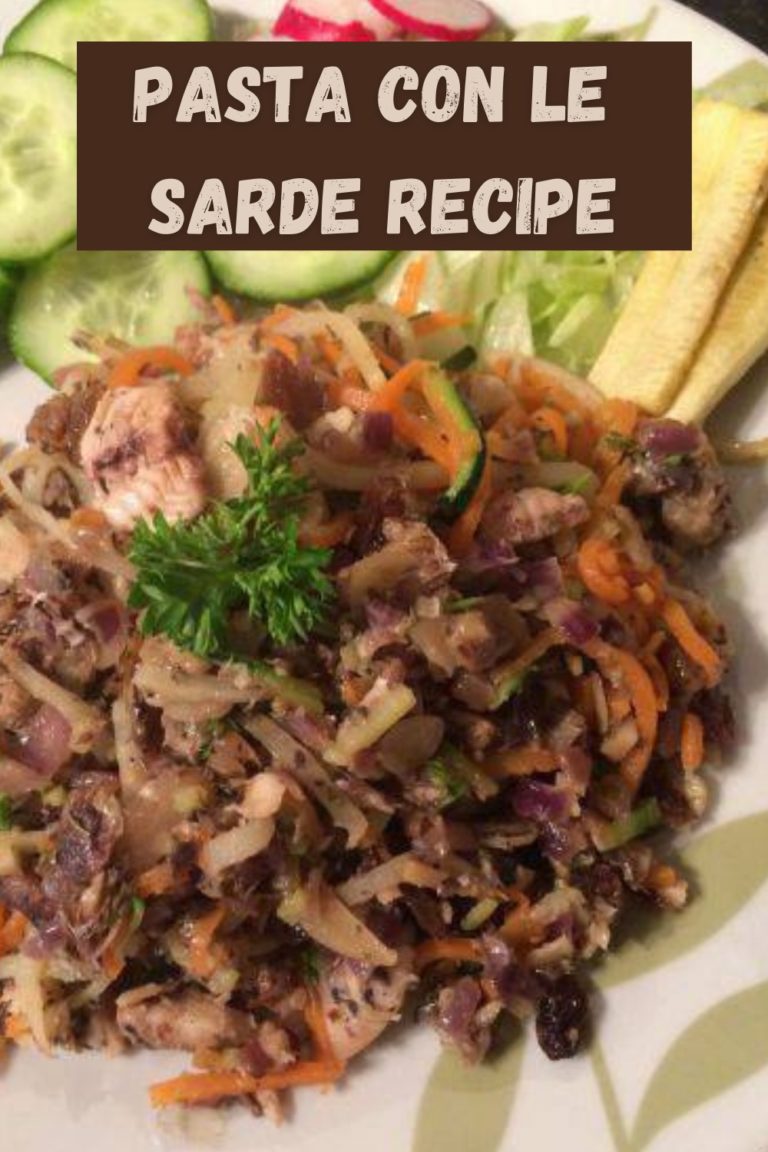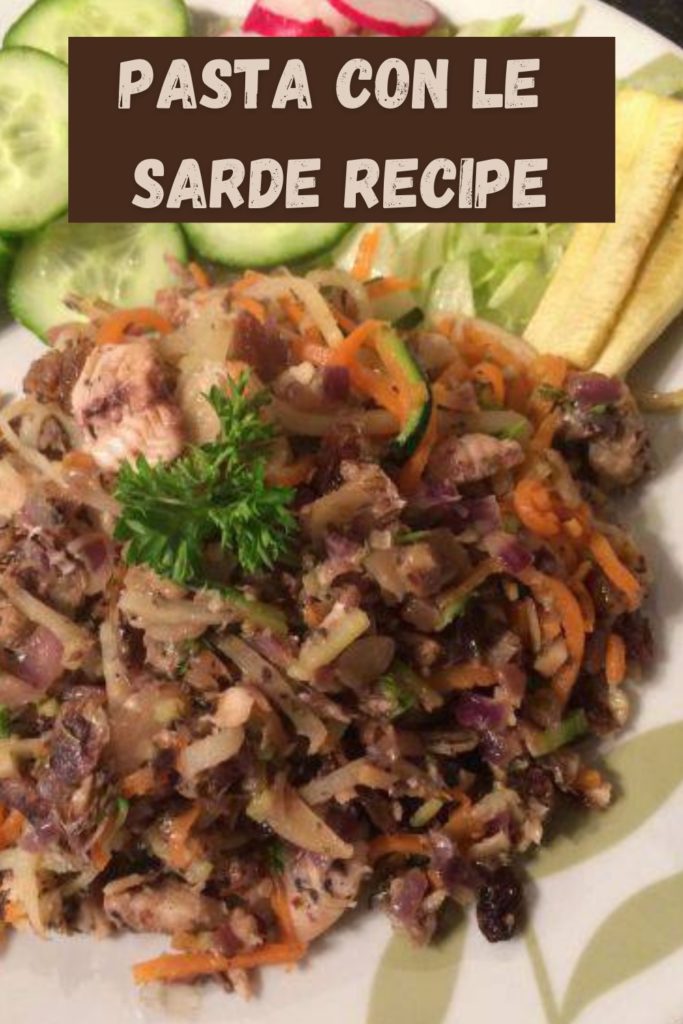 My pasta con le sarde recipe uses bucatini pasta but you can swap some or all of the pasta for zucchini (courgette) noodles or julienne-cut vegetable strips. These have a shorter cooking time and will add more color to the dish while keeping the carb and calorie count down.
The choice is yours, but consider making it an authentic pasta con le sarde first, so you can taste it how it is made in Sicily, Italy, then experiment the next time you make it perhaps.
History of the Pasta con le Sarde Recipe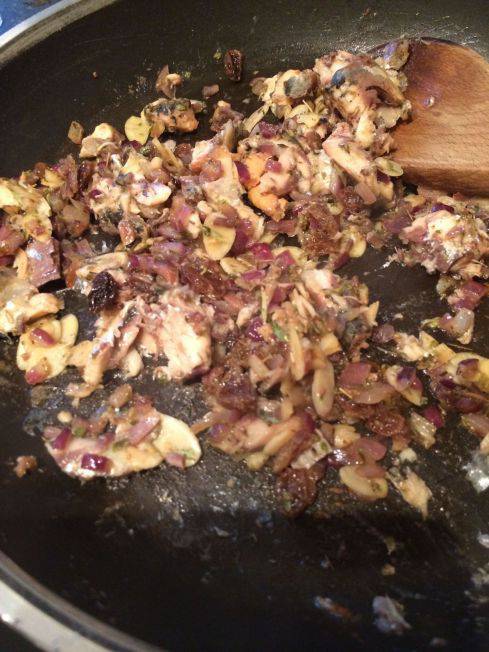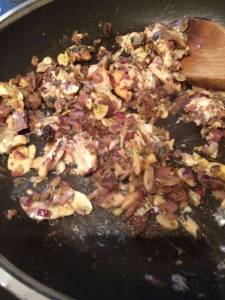 Sicilian food is well worth discovering because it offers a unique flavor. Perhaps you are more familiar with Sicilian pizza when it comes to Sicilian cuisine, or even involtini of thinly pounded swordfish with a caper and semolina breadcrumb filling, or pasta with artichokes with anchovies and pasta sauce. This cuisine offers plenty of highly flavored delicacies.
The delicious sardine and wild fennel dish known as a pasta con le sarde recipe is a great recipe to sum up this cuisine, offering a harmonious blend of aromatic ingredients and textures.
The salty flavor of the sardines is typically Mediterranean, while the slight bitterness of the fennel is a good contrast. Currants or raisins add sweetness while nuts add crunch to this pasta con le sarde recipe, then you have the fragrant saffron in there too, so all in all this is a dish of contrasts.
The Arab General Eufemio conquered Sicily and wanted to feed his troops with something tasty and satisfying, which is how pasta le sarde was created.
The saffron and pine nuts were the Arab touch that combined with local Italian ingredients to balance it all out. The sauce does not cling to the pasta like other sauces, which is why some people put the dish in the oven for a few minutes at the end, to finish cooking the pasta and also to encourage the sauce to stick better.
Keep Your Pasta con le Sarde Recipe Traditional for the Best Results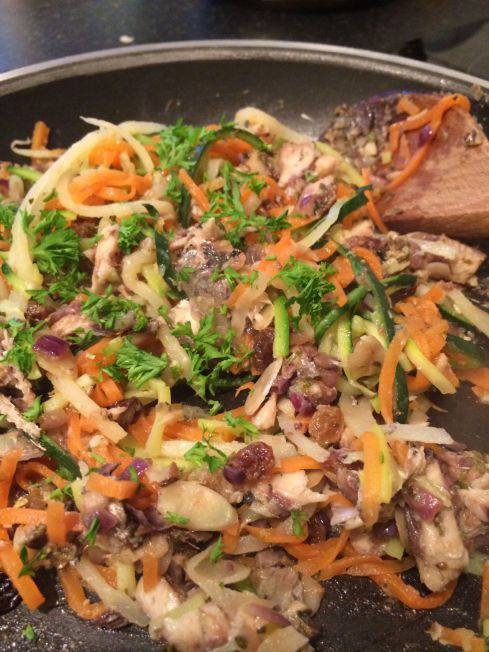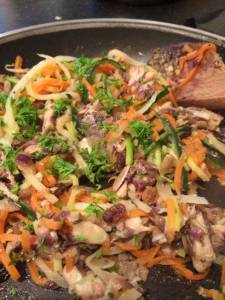 Stick to the original pasta con le sarde recipe and you will be pleased you did. Although some people like to swap the currants for bolder-tasting raisins or add extra nuts, or even dump half a jar of tomato sauce in there, I implore you to make it the original way, at least the first time, just so you can appreciate the incredible balance.
Pasta con le sarde is not topped with cheese, which is the norm with pasta and fish recipes, but crushed almonds and/or toasted breadcrumbs on top work beautifully. Fresh whole sardines are used as a topping in some variations of the dish.
Pasta con le Sarde is Not Such a Well Known Recipe
So if this dish is so good how come it's not more popular outside of Italy? The fact of the matter is not all the ingredients are widely available. Can you get wild fennel at your local market, or fresh sardines? Not everyone can, at least not during the cooler months of the year.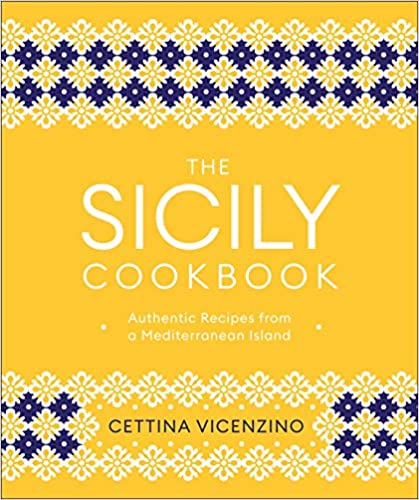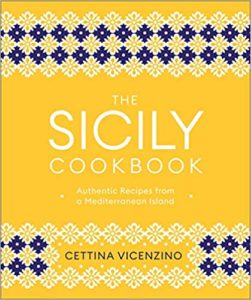 Sardine Pasta: Where to Get the Fennel and Sardines
You can pick your own wild fennel in southern California all year except the winter, and you can also pick it up from some New York greengrocers.
Even if you can't though, try regular fennel and perhaps add some fennel seeds and dill, and you can still make a very good pasta con le sarde recipe.
If you can't get fresh sardines, well-drained canned ones which have been packed in oil are probably a better bet than thawed ones which have lots a lot of their flavor and texture.
There is another dish though called pasta con le sarde a mare which is sardine-free. The name of the dish translates to 'pasta with sardines at sea'.
Print
Authentic Pasta con le Sarde Recipe
Fresh sardines, wild fennel and pasta pair with currants, pine nuts and more, to create this wonderful example of fine Sicilian cuisine. This recipe makes a very special and tasty dinner.
Author:
Prep Time:

20 mins

Cook Time:

50 mins

Total Time:

1 hour 10 mins

Yield:

4

1

x
Category:

Entree

Cuisine:

Sicilian
½ cup

(

75g

) currants

¼ teaspoon

red pepper flakes

1 tablespoon

butter

1

finely chopped yellow onion

½ cup

(

60

ml) dry white wine

¼ cup

(

45g

) rinsed capers

2

lbs (900g) fresh sardines or 1 lb (

450g

) canned sardines

1

lb (450g) bucatini pasta

½ cup

(

45g

) unseasoned dry bread crumbs

½ cup

(

125

ml) plus 6 tablespoons extra-virgin olive oil

1

lb (450g) fennel

1 tablespoon

crushed fennel seeds

2

minced garlic cloves

½ cup

(

70g

) toasted pine nuts
Salt and black pepper, to taste
Instructions
Finely chop the fennel bulb, and chop the fronds.
Trim and de-bone the fresh sardines – you should get about 1¼ pounds (560 grams).
Bring a pot of water to the boil.
Mix the currants with the wine and red pepper flakes, and set to one side.
Melt the butter in a small skillet, then add the breadcrumbs.
Cook, stirring, until they are golden brown.
Transfer them to a bowl, then stir in a couple tablespoons of oil and set to one side.
Heat ½ cup of olive oil in a heavy skillet over a low-moderate heat.
Add the onion, garlic, fennel seeds, and fennel bulb, plus a little salt.
Cook for 25 minutes until the fennel is tender, stirring occasionally.
Stir in the sardines and wine mixture, using a fork to break the sardines into pieces.
Bring the mixture to a boil then simmer for 10 minutes.
Add some salt to the boiling water, enough to give it a salty flavor.
Boil the pasta for 8 minutes or until al dente, then drain it.
Return the pasta to the pot and have the heat on low.
Fold in the sardine and fennel mixture, then 4 tablespoons of oil.
Add ¾ of the fennel fronds, capers and pine nuts.
Stir in ¼ of the breadcrumbs, and season with salt and black pepper.
Divide the mixture between 4 warmed serving plates.
Sprinkle the remaining breadcrumbs and fennel fronds on top.