A wine cooler for home use is something you might want to consider. Wine coolers are becoming popular additions as more people include wine with every social gathering. Even if you do not enjoy a daily tipple you can still store your bottles in a cooler until required, then you know it will be the perfect temperature to serve.
Not only is wine served for events and parties but as an everyday drink, which is enjoyed throughout the day. Storing the bottles can be a challenge, as you need to ensure that it is chilled correctly and the contents remain in perfect condition. This is why a wine cooler for the home could help.
If you do not store the wine correctly it can spoil quickly, which can cost you money and ruin your party. Therefore, choosing the right wine cooler for the home for your needs is essential, and will guarantee that you have a perfectly chilled bottle for every occasion.
Home Wine Coolers: What to Consider Before Purchase
Choose the right machine for your needs and budget, because they come in different shapes, sizes and styles. Consider where you are going to put it and whether you have a small or large area available. It helps to know the exact dimensions too and bear in mind you will need room for the door to open.
Also think about how many bottles you wish to chill and what kind of style cooler is going to fit in with the rest of your appliances, something modern, steel or chrome, black or gray etc. A wine cooler for the home can come in any color you want.
Wine Coolers for Home Use: Styles to Choose From
Which Would Look Best in Your Home?
There are various different styles, sizes and designs of coolers available which will ensure that your wine is stored in the perfect conditions. So take your time choosing the right wine cooler for the home after learning about the different kinds.
The vast variety of different coolers will guarantee that you purchase one that is perfect for your home and budget. The different styles of coolers for the home include:
Built in
This style is the most expensive, and considered to be far more luxurious than other styles available.
Counter top
These are the most common type of wine cooler that is chosen for average households, and they can be incredibly affordable. You can find this style in various different sizes, although the most common one holds 24 bottles.
Tower units
These are a fantastic space-saving device which will allow you to store wine in a tall, narrow fridge. Ideal for small areas.
Freestanding
These are fantastic freestanding units, which can move freely with no need for fittings in the room.
All of the above are available with different features, and unique enhancements, which ensure that your wine is in perfect condition. If you are willing to spend more, you will find that there are distinct features such as multi-zone areas, and sliding shelves.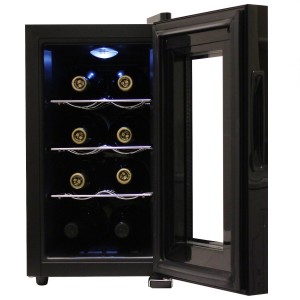 One of the Most Popular Wine Coolers
Looking for a top rated wine cooler for the home? Well this is one of the best rated ones on Amazon.
You can fit 8 bottles in there and choose the temperature between 44 and 64F, depending what you are storing.
If you are having friends over, 8 bottles is enough. If it is an especially big party, just top the refrigerator up as the bottles get drunk, and you will have perfectly chilled wine all night.
View the temperature on the LED display. There is soft interior lighting and you have an on/off switch for that, and the dual-pane glass door features a recessed handle.
This refrigerator is loved by many because it works really well and runs quietly.
8 Bottle Electric Wine Cooler – See Price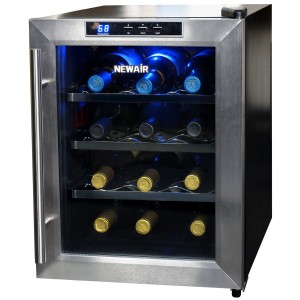 A 12-Bottle Option for the House
If you are looking for something a little larger, how about this 12 bottle wine refrigerator?
Thermo-electric cooling is free of vibrations and silent too, so this one could go on your kitchen countertop or somewhere else in the kitchen, and it will run reliably and silently.
The soft LED illumination is stylish and the digital control panel is simple to use. The chrome shelves slide out easily. The temperature ranges from 50 to 66 degrees F to keep your wine chilled to perfection.
12-Bottle Electric Wine Fridge – See Price
Best Wine Cooler for the Home : What Else to Bear in Mind
Due to the high numbers of choices available, the selection process might be daunting. However, if you consider several different factors, you will find a wine cooler for the home which is suitable for your needs and budget.
You will need to consider the space you have available for the cooler, and how many bottles you need to store.
The variety that you drink will also need to be considered to ensure that you are storing it correctly. If you want to store several different bottles, you may need to select a cooler with a varied temperature range, so both red and white can go in there, maybe rose too.
Also consider how much you have to spend on your wine cooler for the home , and how much use you will get from it. Once you have researched well, and decided on the best one for your needs, you can have fun selecting the one for your home.