Curious how to freeze fresh corn on the cob? If you have a lot of corn to use up, it might be better to freeze some of it. If you have ever bought frozen corn and used it in meals you will know that the texture is good. Knowing how to freeze corn is a useful kitchen skill!
Thawed corn kernels and canned ones have a very similar texture actually. Knowing how to freeze corn is very helpful because if you eat corn it's likely you will want to freeze some at some point.
You can freeze cooked corn easily. I often use corn in pasta recipes and freeze the leftovers. These meals are fine when they thaw out.
If I am planning to freeze a pasta meal then I choose not to add cream, eggs or anything else that won't freeze well as part of the meal.
How to Freeze Fresh Corn on the Cob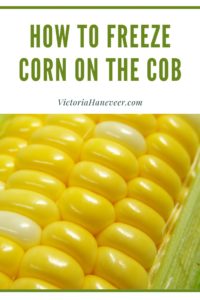 If you want to freeze corn on the cob, this is possible, although thawed corn on the cob can be rubbery and mushier than fresh corn. It also takes up a fair bit of room in your freezer.
Some people do not like the texture of any thawed vegetables, especially ones which are very
different after being frozen, such as carrots or broccoli. These tend to go mushy no matter how you cook them afterwards. If you are planning to puree the vegetables in a soup after thawing them then it does not matter so much. It's worth knowing how to freeze corn.
Other people do not mind the slightly mushier texture of thawed vegetables, so it is up to you whether or not to try freezing corn.
If you are not sure, you can just freeze one and see how that turns out, rather than freezing a lot and then finding out you do not like the texture.
So, what about the husks? There is no point in keeping the corn on the husks unless you are planning to grill it in the middle of winter which is not something that many people like to do for obvious reasons!
How to Freeze Corn: Simple Instructions
You should blanch the corn first and then it will keep for about eight months in the freezer.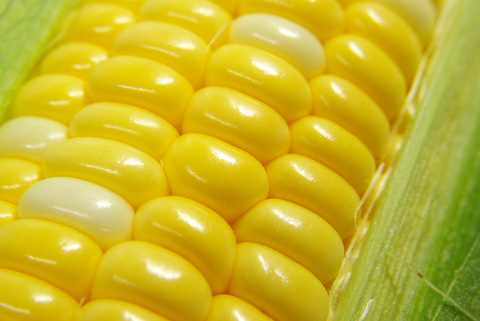 So what you need to do is shuck it off the husk, then boil it in slightly salted water for a couple of minutes and finally freeze it in freezer bags, remembering to squeeze out the air first and label the bags.
Cook the corn in the microwave, oven or pressure cooker from frozen. You should not thaw it first because this will just increase the mushy texture and that is not what you want because corn should be crisp and juicy, not mushy.
Using Corn in Recipes
You can use your corn to make corn chowder or Thai corn fritters, or you could add it to stews, pasta dishes or rice dishes. Corn is nice in salads too, perhaps teamed with seafood like tuna or shrimp. You can also add corn kernels to soups, either seafood or vegetable ones, and it adds a bright splash of yellow, as well as a juicy sweet flavor.
Corn is delicious and healthy, and so very versatile. If it's not already a big part of your diet you might want to consider making some tasty recipes with corn.
Health Benefits of Corn
Corn is high in fiber, especially insoluble fiber, making it good for tackling hemorrhoids and constipation. Learn how to freeze corn and you can always keep this vegetable in the freezer for quick thawing.
Corn absorbs water, which swells the stool and hastens its movement through the body. So if you have been feeling 'backed up' get some corn in your diet.
It is a good source of various vitamins including niacin, vitamin C and folic acid. The folic acid can help prevent neural-tube birth defects and also heart disease.
Now you know how to freeze corn you can use it in many more recipes! Try this pastel de Choclo recipe for a Chilean take on corn.