This potato wrapped fish filets recipe is something which is easy enough for the home cook to master but will give professional results. If you love fish and potatoes, why not combine them to make this delicious recipe?
Whether you are used to tasty stuffed squid recipes and other seafood dishes, or not, you will love this. The potatoes need to be thin enough to wrap around the fish, although you can choose any type of potatoes and any type of fish.
Perhaps you love the big flakes cod offers, the economical price of basa fish or tilapia, or the distinctive flavor of salmon. Whichever makes your mouth water would be an ideal candidate for this potato wrapped fish filets recipe, so take your pick.

Potato Wrapped Fish Filets: Make it Unique
Make this your own and pick out some great side dishes to serve alongside, such as asparagus, spinach or even your favorite green salad recipe.
You can also adapt the recipe, perhaps adding some cheese between the potatoes and fish, or spicing things up with some chili powder.
Fresh parsley is also great, or you can keep the recipe simple but serve a creamy sauce on the side. The possibilities are endless and limited only by your imagination and creativity in the kitchen.
Fish Wrapped in Potatoes
This potato wrapped fish filets recipe is so simple and all you need is fish (choose any firm white firm like cod, tilapia, haddock or catfish), potatoes and a little oil, salt and pepper. Perhaps make it simply the first time then next time experiment by adding different seasonings or maybe some cheese?
If the potatoes do not seem to stick to the fish, ensure your rectangle is large enough. If it is, then just make sure the fish is tightly wrapped and chill the potato wrapped fish for half an hour to get it stickier. Once it is in the hot oil this potato wrapped fish filets recipe will hold together just fine.
You might wish to serve this potato wrapped fish recipe with poached asparagus or what about sauteing some garlic and spinach until the spinach wilts? That would be nice. You can use your mandoline to cut the garlic thinly too!
What are the Best Seasonings for Fish?
Every type of fish, shellfish and seafood boasts its own distinctive and delicious taste, but you can add further flavors by using herbs, spices and other seasonings to bring out that wonderful flavor of the seafood you are using.
Whether you wish to spice it up, give it a subtle, aromatic touch, add a Mexican, Asian or other international flavor, or simply discover which herbs and spices to use with which kind of fish, read on and find out more about choosing the best seasonings.
Fish and seafood is really versatile, and may be served as a snack, appetizer or main dish. It can be used to make soups, stews, sandwiches, and canapés, or enjoyed by itself. Whichever type of recipe you are planning to make, or the occasion you are making it for, there is a perfect herb, spice or seasoning mix you can use.
So what are the most common seasonings for fish? There are certainly plenty of seasoning mixes you can either buy or make yourself, with Old Bay and Crab Boil being prime examples, or you might prefer to use fresh herbs, which need to be added at the end of cooking so they hold on to their subtle, fragrant flavors.
Basil, parsley and oregano are often used in seafood recipes, while dill and fish pair beautifully. If you are more interested in an Asian flavor, consider cilantro, which can be paired with chili, lime juice or other herbs, depending on the end result you are seeking. Chives, marjoram, cumin, and lemon verbena are also excellent pairings.
Coming Up with Your Own
Although if you are following a recipe it should tell you which seasonings to use and how much, there will come a time when you have some plain fish or seafood and you want to come up with your own herb or seasoning blend, in which case keep reading and discover some new ways to add new flavors to your favorite fish and seafood.
Because a lot of fish and seafood has a naturally mild flavor, you will want to take care not to overpower this taste with the seasonings. In many recipes just a little spice or seasoning is all you need to add an incredible flavor to your fish or seafood of choice.
Print
Potato Wrapped Filets of Fish
This recipe is so simple and all you need is fish (choose any firm white firm like cod, tilapia, haddock or catfish), potatoes and a little oil, salt and pepper.
Author:
Prep Time:

15 mins

Cook Time:

5 mins

Total Time:

20 mins

Yield:

6

1

x
Category:

Entree

Cuisine:

American
6

firm whitefish fillets – each about

1/2

to

3/4

inch thick and 4 oz in weight

4

unpeeled Yukon Gold potatoes
A splash of olive oil
Salt and black pepper
Instructions
Pat the fish dry and sprinkle it with salt and pepper.
Place a big sheet of parchment paper on the countertop.
Scrub the potatoes then cut each one in half lengthwise (don't peel them).
Using a V-slicer or mandoline, slice each potato half very thinly.
Arrange 5 or 6 potato slices on the parchment in a row, allowing the long sides to overlap.
Make another row which overlaps short ends first, so you have a 5 by 6 inch rectangle.
Sprinkle some salt and pepper over the rectangle then put a fish filet across the overlapped short end slices.
Fold the sides over the fish to make a package.
Press so it sticks and sprinkle salt and pepper over it.
Repeat with the rest of the fish and potatoes.
Heat a few tablespoons of oil in each of 2 skillets over a moderate to high heat.
Arrange 3 wrapped fish filets seam side down, in each skillet.
Cook for 3 minutes or until golden on the bottom.
Turn and cook for another couple of minutes or until the fish is opaque in the center.
If you only have one skillet you can make the first batch, keep them warm in a low oven, then do the rest (or just halve the recipe if you are only feeding 3 people!)
Kyocera Double Edged Mandolin Slicer
This is one of the highest ranked mandolines on Amazon and it cuts so fast! The sharp blade will give you paper thin slices so it is perfect for slicing potatoes, beet, apples or another kind of fruit or vegetable, and the double-edged ceramic materials mean it will last for years. Try it out on this potato wrapped fish filets dish.
Kyocera Double Edged Mandolin Slicer, Red
This mandolin is so versatile and you can cut potatoes paper thin, or garlic, onions, apples, or anything else you like! There are various mandolins on the market these days, since they are so versatile and handy, but the Kyocera mandolin always gets a great score in mandolin reviews which is why it is the perfect choice for home cooks. Forget the $5 mandolins which fall apart the first time you use them and invest in this one. You won't regret it.
Potato Wrapped Fish Filets: Different Types of Potatoes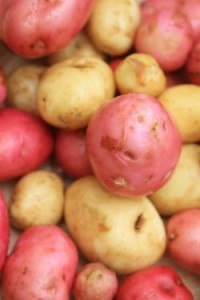 Potatoes are an ingredient that everyone uses on a day to day basis; however, not that many people know that there are different types of potatoes available. Far too often shoppers will grab the cheapest bag of potatoes, and not realize that this will affect the way that the meal tastes.
By taking the time to choose the right variety of potato, you will enhance your recipe. You will be able to find fluffy, waxy and floury potatoes, all of which taste different and have a variety of consistencies.
Waxy vs Floury Potatoes
Waxy potatoes are moister, and remain firm for longer, making them ideal for salads. Floury potatoes are perfect for mashing, and produce a light fluffy mashed potato for you to enjoy. I like using smooth waxy ones for potato wrapped fish filets.
Colored Potatoes
There are also several different colors of potatoes, and some recipes will ask for a specific color to be included. If you need red potatoes, you should choose Norland or Russets, which are ideal for boiling, steaming, roasting and mashing. Yellow potatoes are the most popular variety can be found in many shops. Regardless of the variety of potato that you choose to include in your recipe they are a fantastic addition to your diet.
Stainless Steel Fish Scaler
Always Handy to Have
Has your other half been out fishing and dumped a load of fresh fish on your kitchen table? Well get him to gut them and do the yucky bits but you can take the scales off yourself quickly and easily with a fish scaler.
And the good news is they are so cheap and will make prepping this potato wrapped fish filets recipe a breeze.
This scaler is simple yet functional. Make of stainless steel and measuring 9.5 inches, this fish scaler is made by Winco who always provide good quality gadgets and utensils.
Fish that you purchase in the store should already be scaled but if you have a keen fisherman at home then you will want to de-scale the fish with the minimum of fuss, and that is why the stainless steel fish scaler is perfect.
Already have one? This makes a great gift for anyone who likes to fish or who enjoys preparing fresh seafood such as this potato wrapped fish filets recipe.
Stainless Steel Fish Scaler – 9-1/2″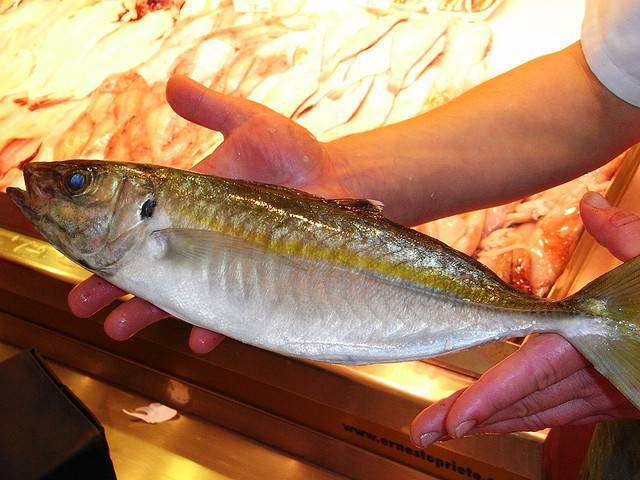 Image Credit: Jlastras, on Flickr