Fish Appetizers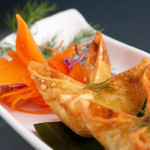 Crab rangoon wontons are always popular at buffets and dinner parties. They make a great appetizer before a meat or poultry main course. You can garnish them with fresh dill if you like. Since dill is traditionally served with fish, this will indicate to your dinner guests that the wontons contain fish or seafood. Crab rangoon wontons are known as crab puffs in Pacific northwest states. They might also be called crab meat cheese, cheese crab wontons, crab pillows or crab cheese wontons. Regardless of how you call them, these crab rangoon wontons are always amazing.
History of Crab Rangoon
Crab rangoon has featured on Trader Vic's menu since 1957. This San Francisco eatery claims the Polynesian-style dish came from an authentic Burmese recipe and was invented there, although modern crab rangoon wontons have evolved from the original spiced crab dish. Cream cheese is not used in Asian cuisine so the filling is unlikely to have Asian roots. Serve these delicious crab rangoon wontons with plum sauce, mustard, sweet and sour sauce or soy sauce, for dipping.
Crab Rangoon wontons are always great to serve as an appetizer or to liven up your buffet table. The combination of crab and cream cheese is simple yet magical and although this is not an authentic Chinese recipe, the use of wonton wrappers to contain the crab and cheese filling is genius, and you are sure to love both the texture and the taste of these magnificent little treats. The kids will love these and so will the grownups. Because the cheese keeps the wontons very moist, you do not need to serve a dipping sauce with these unless you especially want to. Continue reading →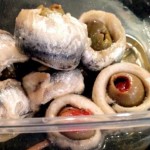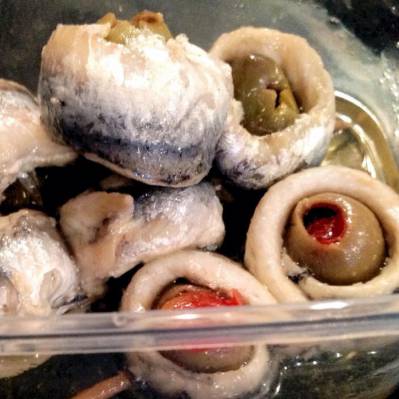 This anchovy wrapped olives recipe is very simple and shows you how to make anchovy wrapped olives.  The recipe is perhaps one of the simplest you have seen, since you only need two different ingredients to make it, and this basic salty snack is beautiful whether you enjoy it with a cold beer, a glass of wine, a soft drink or even a warm beverage.
Anchovies are salty, fishy and have an interesting texture, while olives are smooth, soft and the pimento filling is somewhat sweet.
Anchovy Wrapped Olives: Making Your Own
When paired, these two ingredients offer a beautiful savory flavor and a wonderful balance. These anchovy wrapped olives are just so delicious and they are one of the yummiest appetizers I can think of. Serve them with little crackers and some hard cheese perhaps, and don't forget the wine! They sell anchovy wrapped olives in the deli near where we live but they are cheaper (and fresher tasting) if you make your own. With an anchovy wrapped olives recipe this simple you can't go wrong. Continue reading →
Some More Hot Content For You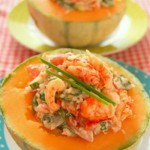 This dairy free cantaloupe and prawn starter recipe is also nut free and soy free, as well as dairy free. The delicious prawn salad is served inside a cantaloupe melon, making this a very attractive starter recipe as well as a delicious one. You can either cut the cantaloupe melons into wedges and serve them with the salad or use this recipe as the centrepieces for a buffet table. This is a colorful and appetizing starter recipe.
Cantaloupe and Prawn Starter: Tweaks You Can Make
You don't have to use the melon at all for this seafood starter recipe if you don't want to and a bed of salad leaves is fine instead. Use baby spinach, meslun, arugula or whatever mixture of crisp seasonal salad leaves you prefer. Continue reading →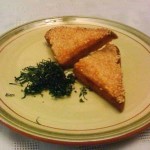 Chinese prawn toast, or Chinese shrimp toast, is very popular and makes a tasty hot starter. You don't have to serve Chinese food as the main course since this Chinese prawn toast recipe goes nicely as an appetizer before a Thai main course, Indian main course or anything else you like.
How Does a Chinese Prawn Toast Recipe Taste?
These little appetizers often have sesame seeds on but that is not essential. The toasts should be crispy without being burned, and taste fishy without being too fishy. Prawn toasts usually feature on Chinese restaurant menus because their wonderful crunch makes them very appetizing. Continue reading →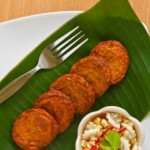 This lovely crab cakes recipe makes a great starter or lunch and you can imagine how beautiful they smell while they are cooking. Everyone wants to know how to make the best crab cakes and this recipe will show you how easy it is to make this popular dish.
Exciting Ingredients
The crab cakes recipe includes potato, flour and eggs, which are basil ingredients and used to give the crab cakes the right consistency, as well as aromatic ingredients such as chilies, lime and fresh coriander.
The flavor is really nice, and you are sure to appreciate they have a wonderful homemade charm. Yes could can buy crab cakes in the supermarket but they will have nowhere near such a fantastic taste! Here is a recipe for Western fish cakes if you want a simpler style. Continue reading →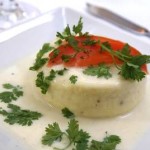 This delightful fish mousse starter recipe is simple to make and guaranteed to start your dinner off in style. If you want to learn how to make fish mousse, this is a great recipe to use because the mousse tastes fresh and flavorful, without being too strong. Serve it with crackers or bread.
A Great Starter Idea
Fish mousse goes nicely before any main course. This fish mousse starter recipe is made with smoked salmon but you can use any kind of fish – perhaps tuna, trout or something else.
This is a very basic recipe and it combines fish, cream, gelatin to make it set, a bit of dill and some lemon, so you can be creative. Continue reading →
Other Posts You Might Like