Recipes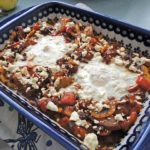 Shakshuka is a Middle Eastern tomato, bell pepper and egg dish. Sometimes it is spelt shakshouka. This Middle Eastern shakshuka recipe actually originated in Northern Africa and there are many different variations on the basic theme.
The feta cheese is not a traditional ingredient, for example, but I love to add it because the creamy tang goes so well with the dish. Leave it out if you prefer though.
How to Serve a Middle Eastern Shakshuka Recipe
It is often served for breakfast in Israel with challah or pita on the side. The dish is also good for brunch or lunch. I like it with pita bread, homemade hummus and other Middle Eastern/Israeli/Arabic dishes.
The sauce is made first and that's easy to prepare on the stove, and then the eggs are gently cracked into the sauce. Finally the skillet goes into the oven so the shakshuka can finish cooking. It is then served hot, with some kind of bread on the side to mop up all the tasty juices.
Good for You Too!
This shakshuka recipe is a healthy dish, boasting the protein form the eggs, the lycopene and antioxidants from the tomatoes, and the vitamin-C from the bell pepper. If you want to make this more substantial add some small lamb meatballs to the sauce. You can also swap the bell pepper for eggplant or grill the peppers first for a richer flavor. Continue reading →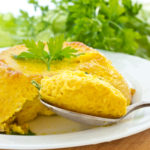 There are lots of egg recipes to choose from if you want to enjoy eggs for breakfast, and this delicious, filling ingredient can be prepared in various ways. This cheese baked omelet is just one of your options.
Boiled, scrambled or fried eggs are always good, or you can make an omelet, either conventionally on the stove, or, if your stove is crowded with other breakfast delights such as bacon, sausage and mushrooms being fried, you can make an omelet in the oven.
Keep things easy using just eggs, milk or cream and a little onion to give the omelet some crunch. You can also add extra vegetables like bell pepper, mushrooms or even some snipped chives or fresh basil.
More Cheese Baked Omelet Tips
The following cheese baked omelet recipe offers four servings, but this omelet keeps for several days in the refrigerator, so enjoy it the next day, maybe with fried or grilled mushrooms on the side or some wilted spinach. Consider this too: halve a tomato and bake that along with the omelet.  Continue reading →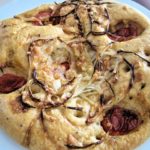 Focaccia is a tasty Italian bread which complements all kinds of dishes. Although you can buy it from the bakery or grocery store, making your own easy tomato and onion focaccia loaf is worthwhile because let's face it – you can't beat freshly baked bread! And this one is certainly no exception.
How to Serve Focaccia
You can serve this easy tomato and onion focaccia as an appetizer, either alone or with dips like sour cream dip or onion dip, or else have it with your main dish. If you are having beef, chicken or similar in a sauce, focaccia bread can be used to scoop up every last drop of those yummy meat juices, making it a worthwhile accompaniment to any Italian meal.
This recipe is simple to follow. Grab some yeast, flour, salt, oil, onion, tomato and oregano to make it, and allow an hour or so time for the dough to rise. This baked Italian bread is similar to pizza dough and is often served with appetizers or tapas in Italian cuisine.
Why Focaccia Rises More
Focaccia uses more yeast than pizza dough though, so it rises more. Serve this easy tomato and onion focaccia flat bread with your appetizers, alone with aperitifs, with dips (fusion style) or alongside your Italian inspired meat or fish dish, and you're sure to have a winner on your hands. Continue reading →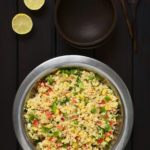 This is such a refreshing salad and it's easy to make. We are using regular couscous but if you like Israeli couscous that is also fine, or you could consider bulgar wheat for a result for like tabbouleh. This couscous salad with parsley and lime is zingy, refreshing and really tasty.
The key to making a good couscous salad is freshness. I find the more fresh ingredients it contains the better it is, so grab some tomatoes, cucumber, parsley and limes, along with the other ingredients, and you will be able to rustle up this delicious dish and experience all the amazing fresh flavors the way they are supposed to be enjoyed.
How to Serve It
Serve this as a salad or side dish (it's especially good with grilled fish or chicken) or consider taking it to work as a special lunch, served with pita bread or crusty bread on the side. This would also be great to take to a potluck buffet because it always goes down well and it's unlikely someone else will be making the same dish as you. I find that couscous salad with parsley and lime is something everyone is going to ask the recipe for!
If you have leftovers, keep the salad in a covered container in the refrigerator and use it within 2 days. You can swap the lime zest and juice for lemon if you prefer. Lemon is probably more authentic, although we like the special zing lime gives the salad.  Continue reading →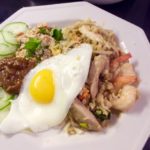 This cauliflower nasi goreng – low carb and tasty – might well earn a place on your regular meal rotation. It's just so special! Nasi goreng is a delicious dish from Indonesia, which I've enjoyed plenty of times since moving to the Netherlands, since the Dutch are very much into Indonesian foods.
Although this is a rice-based dish and you might think no way can that be low carb, swap the rice for cauliflower and it will be! Also, because this is a spicy dish (a dish with spices, not necessary 'hot' if you don't want it to be) you won't taste the cauliflower.
What is Nasi Gorgeng?
The name 'nasi goreng' means fried rice in Malay and Indonesian, and the term can refer to pre-cooked rice with a little cooking fat and kecap manis, which is a sweet soy sauce. Shallot, tamarind, chili and garlic are typical ingredients, along with egg, shrimp and/or chicken. Sometimes salted dried fish are used instead of the other proteins.
This recipe is known as Indonesian although it is also popular in Malaysia, the Netherlands and Singapore. Nasi goreng can be enjoyed everywhere from roadside stands in Indonesia to Jakarta buffet tables or fine restaurants. This is known as the national dish of Indonesia, although I'm not sure what the locals would make of this low carb cauliflower nasi goreng variation. This dish was developed as a way to avoid wasting cooked rice, since frying can stop dangerous microbes propagating especially before refrigeration was commonplace like it is today. Continue reading →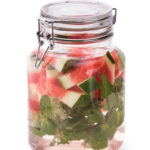 Detox water recipes are all the rage these days, and little wonder when the concept is basically about making plain water delicious so you want to drink plenty of it. Water is absolutely essential but a lot of people struggle to drink enough of it. Once you feel thirsty you are already dehydrated and in need of this watermelon mint detox water or something similar.
The obvious answer to this problem is flavoring regular water (tap water, bottled water, filtered water, whatever you like) with fruit, perhaps adding some kind of fresh herbs or spice to boost the flavor further. This recipe is one of my favorites. We are incorporating watermelon and fresh mint with chilled water to make a gorgeous drink.
What Nutrients Does It Offer?
Watermelon is rich in potassium and vitamin C, while lemon is full of vitamin C and can help cleanse the liver and aid with digestion. Mint stimulates fat digestion and is helpful in eliminating toxins. And as for water, well that's essential to life itself.
You can either make a glass of this watermelon mint detox water or a whole pitcher. You can also tweak the recipe, swapping the lemon for lime, the watermelon for canteloupe or even the mint for half a cinnamon stick. Get creative with your detox water recipes and you are sure to find your perfect blend! Continue reading →