meat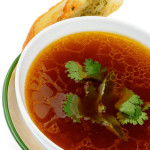 Bone broth is a slow-cooked soup made from animal bones which are filled with magnesium and calcium, along with collagen. This beverage is a great addition to any diet, especially if you have skin problems, immunity issues or digestive trouble, because it can help with those. There has been a lot of talk lately about how to make bone broth recipes, with people wondering not only how to get the ingredients and make it, but also why it is so popular and what nutrients it includes.
Combined with apple cider vinegar (to coax the minerals out of the bones) and seasonings or vegetables, bones make a tasty, nutritious broth which will keep for about 4 days. It will also freeze, so why not make a big batch of bone broth recipes for the whole family? The meaty flavor is nice and this is a snack or drink that you can have anytime for extra energy. Oh, and bone broth recipes taste pretty good too!
Bone Broth Recipes are Popular Everywhere
Broths and stocks made from bones are given emphasis in Asia, and they are also prized in Europe for being the foundation of cooking. Keep a slow cooker full of bone broth on low (it will only cost a few cents a day to let it run) and you can ladle some into a pasta or rice dish, use it as the basis of a gravy or sauce, or simply help yourself to a cup of it whenever you want a healthy drink. You are sure to love bone broth recipes, especially the homemade kind. Use bone broth to braise meats or veggies, or just use it whenever you need a savory liquid to add to cooking, or an energizing, nutritious drink.
Continue reading →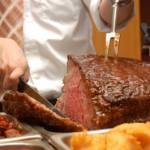 Prime rib is often called the king of beef cuts, and if you like your beef juicy, tender and delicious, you might like to learn more about how to cook prime rib yourself at home. Also known as a standing rib roast, prime rib is marbled with fat to keep it succulent, and it is very easy to cook too.
You just need to start it in the oven on a high temperature to brown it nicely, then turn the oven down so it can finish cooking without the meat drying out. The center of your prime rib roast should be pink or red while the thinner tail-ends will be brown and more done. This is good because people get to choose if they want their meat medium-rare, medium or well-done because you end up with all three.
How Many Does Prime Rib Feed?
A full rack of prime beef gives you 7 ribs and this is enough for about 15 people. A lot of people like to cut a roast in half to cook separately or in 2 ovens, and that's because a full rack is huge and might not fit in the oven unless you happen to have a big oven. The following recipe says 5 ribs but go ahead and choose the size that is best for your needs. Learning how to cook prime rib also involves planning how much you're going to need.
Although some people plan one rib feeding 2 people, that is a lot of meat, and 1 rib per 3 might be closer unless you are feeding a very hungry crowd of people with big appetites. Don't confuse the term 'prime rib' with the USDA term of 'Prime' because most 'prime ribs' are Choice quality not Prime quality. You can get prime rib in Prime quality (it's more marbled and costs about half as much again) but your butcher might have to order it specially for you. This is all part of knowing how to cook prime rib.
Continue reading →
Some More Hot Content For You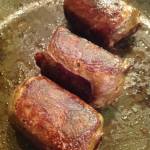 Slavink is a Dutch meat recipe you will spot in grocery stores in the Netherlands, nestled in the pork area. These can best be described as a rectangular meatball wrapped in bacon. Go back in history and you will find a Dutch slavink recipe was originally a small songbird wrapped in bacon.
In the south of Europe you can still find such a dish despite many people trying to outlaw the dish, but the modern Dutch version used ground beef and/or pork instead. In fact many of them use a half beef/half pork mixture to create a Dutch slavink recipe which is popular locally.
Butchers in the Netherlands make their own slavinken, which is the Dutch plural of slavink. We suggest you make a batch of them too because they freeze well. If you want to do this with your Dutch slavink recipe , wrap them individually in plastic wrap and then put them all in one large Ziploc bag. Let them thaw overnight or for at least 12 hours before using.
The size you make the slavinken is up to you. Some people make them big, like one per serving, while others prefer smaller ones – several per serving. Because these Dutch meatballs are wrapped in bacon which releases fat in the pan, you will not need to add much, if any fat to the pan. Serve them with mashed potatoes, mushrooms and onion, for a traditional Dutch recipe.
Continue reading →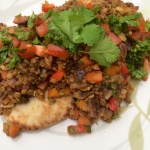 This Indian ground beef recipe is just amazing and I have made it 5 or 6 times. Despite beef not being the most popular meat in India (the Holy Cow and all that) it works beautifully with this recipe and these seasonings, so if you are into beef and you want to make something Indian, consider this recipe.
The ingredients in this Indian ground beef dish work amazingly together and the finished dish is just heaven on a plate.
You will cook the beef and onion, then add chickpeas, curry powder and stock. This mixture is served spooned over naan bread with a fresh tomato and cilantro salad.
Continue reading →
Other Posts You Might Like