superfood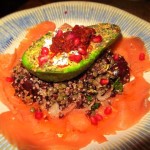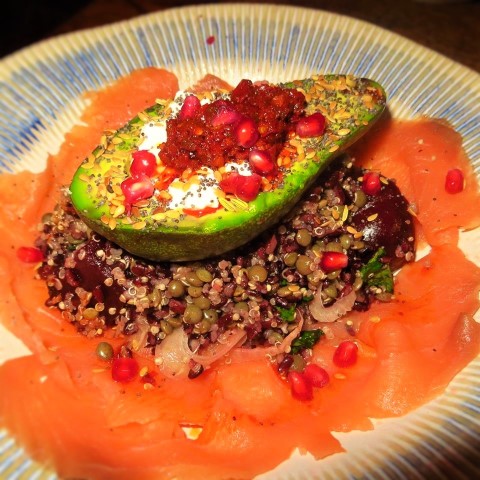 My husband and I had lunch at the Jamie Oliver restaurant in Cardiff last year and it was really good! I had the avocado superfood salad with smoked salmon and it really made an impression. I loved all those flavors and it looked gorgeous too. I wanted to recreate it so I came up with this Jamie Oliver superfood salad copycat recipe. It's not identical but pretty close!
What's in It?
The Jamie Oliver superfood salad copycat salad is made with avocado, beets, grains, kale, toasted seeds, and a tasty harissa and lemon dressing. On top of that you have avocado, pomegranate and poppy seeds. The following recipe is a copycat attempt, in case you wish to recreate some of this wonderful meal, but I can't say it is totally accurate since I'm just going by what I remember.
In the restaurant you can order free-range chicken or smoked salmon on the side, or some feta cheese if you want. I am all for tweaking recipes so take the following Jamie Oliver superfood salad copycat recipe and tweak it to your heart's content. Consider adding walnuts, olives, capers, cucumber, grated carrot, baby spinach, or anything else. Consider this recipe as a starting point and lovingly make this recipe your own. Continue reading →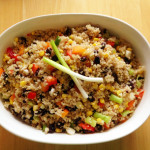 Quinoa is quickly becoming a popular food in America and throughout the world. The fast spread of this low-fat superfood grain has led to people wondering how to cook it at home. Chances are you've probably eaten it at a restaurant or at a friend's house. Now you're wanting to know how to cook this amazingly tasty food for you and your family and you want to know how to cook quinoa on the stove.
The good news is that quinoa (pronounced keen-wah) is really easy to cook at home. It's certainly no more difficult to cook than rice or buckwheat, which is good news for all of you that want a taste of this superfood without having to pay the high prices restaurants usually charge for it.
Prepare the Quinoa First
The first thing that you need to do is soak your quinoa in a large bowl of water for 15 minutes. The outside coating of quinoa has a bitter substance called saponin. This is the plant's way of ensuring that birds don't steal its precious nutrients. The bitter taste makes birds think twice about chowing down on it. Drain and rinse the quinoa using a fine mesh strainer after it has been soaked. You'll want to do this once or twice for a minute or two. This is the final process of getting rid of the saponins.
Some More Hot Content For You
Other Posts You Might Like