thai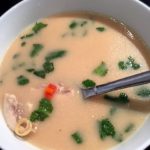 This delicious Thai tom kha gai soup recipe is made with 10 ingredients only plus a few optional extras for serving. We are using chicken and mushrooms to make this, along with typical Thai ingredients like galangal, lemongrass, lime, coriander, coconut, fish sauce and palm sugar to make it.
This is a tasty, filling Thai chicken soup recipe and it's also therapeutic if you're under the weather or suffering from a cold or the flu. The chicken and vegetables are nourishing while the steam from the soup helps with decongestion.
As for the garnish, we like to present this traditional tom kha gai soup recipe with cilantro, chilies, lime leaves and lemongrass but feel free to omit one or all of those, as you prefer.
How to Serve Our Tom Kha Gai Soup Recipe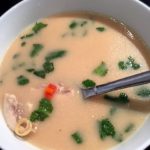 This makes a great lunch or evening meal, perhaps served with something crunchy as an appetizer. Egg rolls or spring rolls would be fine, or you might like to have something seafood-based to begin the meal instead. Because this is a spicy soup, consider following up with something creamy to cool the mouth, perhaps mousse or ice cream.
While the Spice is Nice in Thai Chicken Soup… Tweak as Needed
Feel free to alter the amount of spice in this tom kha gai soup recipe. Not everyone likes the chilies although they are popular in many Asian cuisines so those cultures are more accustomed to them.
A lot of traditional Thai recipes are quite spicy but when making your own you are in charge of what goes in there, so alter the recipe as you see fit. If you are a fan of Thai recipes, try our Thai fried rice or Pad Thai dishes. Continue reading →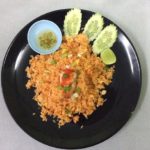 This is a wonderful side dish to have with chicken, pork or another kind of meat, or you could enjoy it by itself for lunch or a light evening meal. Thai fried rice with egg is similar to the Chinese egg fried rice you might be more familiar with. We are just including typical Thai flavors instead of Chinese ones.
This only takes about 5 minutes to make because you are warming up the rice, cooking the vegetables to al dente (which doesn't take long) and cooking shrimp (which doesn't take long either!) If you prefer to use chicken or another protein, shredded cooked chicken can be tossed in at the end with the green onions, and just warmed through. You can also omit the chicken for a vegetarian version of the dish.
What Else is in Thai Fried Rice with Egg?
Known as khao phat in Thai (since khao means rice and phat means stir-frying) this dish is often made with shrimp, chicken or crab, along with onion, garlic and perhaps tomatoes as well.
Traditionally Thai fried rice is made with Thai jasmine rice, but you can use any kind of leftover cooked rice to make it. Fish sauce and soy sauce are typical flavorings, and we also love a little oyster sauce in the mix. A pinch of sugar is good if you want to add sweetness. Continue reading →
Some More Hot Content For You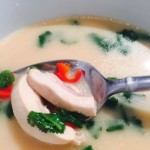 Yesterday I decided to get a Thai massage. I suffer from a stiff neck and shoulders. For some reason, I hold all my tension in there! I love a good hot oil massage but the Thai massage is, well slightly different. More 'painful' but today I can move really freely and feel great! The woman was literally walking up my legs and back, digging her knees and elbows into me and making me yelp! However, 'no pain no gain' as they say, and today I can honestly say I feel great after it. And yes, all that gave me the inspiration to make this authentic Thai chicken soup recipe.
Thai Food Inspiration
While I was having this massage, I was listening to Thai music, gazing around the room at Buddha statues, candles and Thai pictures, and afterwards sipping a Thai tea. So I guess I got a craving for Thai food! For this reason I decided to make tom kha gai, or Thai chicken soup, for lunch once I got home. I had most of the ingredients already, I just needed to grab some chicken and cilantro.
I found this authentic Thai chicke soup recipe quick and easy to put together and the flavor was wonderful. Making the chicken broth before sieving the 'bits' out and using it to make the actual soup is recommended. Just begin with all the ingredients laid out, plus one pot, one sieve and a serving bowl and spoon, and you will find this an absolute breeze to prepare.
Perhaps you are familiar with Thai tea, or maybe this drink is a new one to you. Whichever is the case, we are going to look a little closer at this beverage and find out some more about it. What is Thai tea exactly? Well let's have a look.
First of all, not all Thai teas are created equal – some have orange food coloring, others have no food coloring. Some are made with cardamom, vanilla and anise, some with just one or two of those. Chai tea is an Indian tea similar to Thai tea but not the same. Again, there are various recipes for that too.
How to Drink Thai Tea
Some people like theirs with Half and Half while others prefer condensed or evaporated milk, and many people like to add plenty of sugar or sweetener to the finished drink. Thai tea can be served over ice for a refreshing summer drink (and it is commonly known as 'Thai iced tea') or you can enjoy it hot. Personally I like it hot with a splash of 2% milk, but I'm English so perhaps that's why!
The first time I tried Thai tea was in a restaurant in Bedford. I had it cold and, wow, it was so good! I'm not usually into sweet tea or coffee (at all) but this one was sweet and the balance was perfect. If you want to experiment with Thai tea recipes, try some in a Thai restaurant first to see whether you like it (it's quite different from Chinese tea, black tea, green tea, jasmine tea etc) then choose from loose Thai tea or Thai teabag sachets. I prefer the latter, since it's just easier.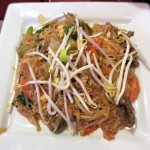 I never get tired of this wonderful dish – it really is the best traditional Pad Thai recipe. The rice noodles, shrimp, tamarind, nuts, lime juice and other ingredients work together in perfect harmony and the flavor is simply wonderful.
The full name of pad thai (sometimes spelt pat thai) is kway teow pad thai, which means stir-fried rice noodles in a Thai style, and it is thought to be a southern Chinese dish which was introduced to Thailand in the mid-20th century.
Pad Thai Noodles
It is important to cook the noodles perfectly in order to make the very best traditional Pad Thai recipe. You will need 'rice sticks' which are dried flat noodles. Some people soak them while others boil them. I've tried both ways and both work fine. Continue reading →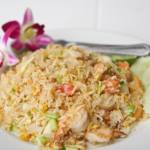 This is very typical food in Thailand, and you can find Thai fried rice with shrimp (or chicken or another protein) served everywhere from a food stand on the street corner to a fine Thai food restaurant. There are different ways to make Thai fried rice with shrimp and you can usually specify which meat you want to have in there. When making Thai fried rice, you can use up any meats or seafood and veggies left in the refrigerator so if you have leftovers it is a great way to use them up.
More about Thai Fried Rice with Shrimp
Unlike Chinese fried rice and some other kinds, Thai fried rice comes with a wedge of lime on the side along with prik nam pla, which is chilies and fish sauce combined together. Use the following recipe as a starting point, adjusting the ingredients to match what you happen to have available.
It is always best to use day-old cooked rice to make your Thai fried rice with shrimp, because freshly cooked rice is too moist and will steam instead of fry. If that isn't possible though, just ensure your rice has time to cool down because this will dry it out quite well.
If you want to make your own prik nam pla (fish and chili sauce) to serve with this (and you really should, for an authentic Thai rice flavor!) then you should put 3 tablespoons of fish sauce in a bowl and add 4 sliced Thai chilies. Squeeze in the juice of half a lime if you like, although the lime is optional.
Continue reading
Other Posts You Might Like