I love making this 100 calorie vegetable soup but I am quite lazy sometimes! Even though I will go to the trouble of roasting pumpkin to make pumpkin soup or caramelizing onion for French onion soup, other times I like to toss the ingredients into a pot.
Then I forget about it for an hour, then puree the results, and actually that's how you end up with a really good vegetable soup recipe sometimes! If you're new to making soup (or looking for some vegetable soup ideas) read on for a very easy recipe for 100 calorie vegetable soup.
I'd like to share my 100 calorie vegetable soup recipe with you because I've made it a few times now and it makes a really fantastic lunch.
Although each time I make it slightly differently the flavors are similar, and you can also tweak the recipe to make it fit your taste. The calorie count is roughly 100 calories per bowl, so add some crusty bread and you have a low calorie, filling lunch.
How to Make 100 Calorie Vegetable Soup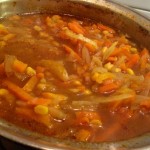 The first thing you need to do is get your vegetables together. I'm in Holland and in my local supermarket they sell 'Hutspot mix' which is a bag full of grated carrot and onion.
What you're supposed to do is cook that with potatoes and mash the whole lot together (to end up with Hutspot, a famous Dutch recipe) but what I do with it is tip it into a pot, fill the pot with water, add some other ingredients and simmer it all for an hour.
In the picture on the left you can see I've also added some corn to the pot.
I like to add a heaped tablespoon of curry paste and perhaps some loose spices like curry powder, turmeric, nutmeg or anything else which catches my eye and imagination.
Last time I added some sugar-free applesauce to my 100 calorie vegetable soup and that added sweetness, fruitiness and added to the overall texture. You could add some fruit juice for sweetness.
I just love the true curry flavor though so I tend to stick with the Patak's mild curry paste. Near the end of the cooking time, when everything is tender, I might add some coconut milk or regular milk, just to add some creaminess to the soup.
100 Calorie Vegetable Soup Tips
The joy of making this type of soup is that pretty much anything goes. Have some vegetables which are past their prime and too mushy to serve sautéed or boiled?
Simply throw them in the soup! Got a can of beans that you can't think of a recipe to use them in? Throw them in there. Got a big bag of vegetables from your kind gardener neighbor? Go on, toss them in the soup!
Print
100 Calorie Vegetable Soup
Veggies are the key component in this exciting 100 calorie vegetable soup recipe, along with Indian curry paste and anything else you care to add. Puree it to achieve a smooth, creamy finish.
Author:
Prep Time:

10 mins

Cook Time:

1 hour

Total Time:

1 hour 10 mins

Yield:

1

2

1

x
Category:

Soup

Cuisine:

Indian
1

lb (450g) bag of shredded carrots and onions
Water, as needed

1 tablespoon

Indian curry paste
Big handful chopped pumpkin (optional)

14 oz

(

400g

) can of corn kernels, drained (optional)

1/2 pint

(

1 cup

) nonfat milk, unsweetened almond milk or light coconut milk (optional)

2 tablespoons

applesauce or raisins (optional)
Handful of cilantro (fresh coriander leaves) (optional)
Instructions
Tip the bag of carrots and onions into the biggest pot you have.
If you can't get such a bag then just peel and shred a pound of carrots and onions.
You can add pumpkin, corn or any other vegetables at this point.
You can also add some applesauce, raisins or other spices.
Pour water into the pot to about an inch over the vegetable level.
Simmer the mixture over a low heat for about an hour.
Stir in some cilantro if you like and perhaps some milk or coconut milk too.
Use an immersion blender to puree the soup or puree it in batches in a blender or food processor (let it cool down a bit first).
Nutrition
Serving Size:

12th of the Recipe

Calories:

100 (Approx)
Keywords: low calorie vegetable soup, 100 calorie vegetable soup
Veggie Soup Presentation
The color of the 100 calorie vegetable soup is going to depend on the vegetables you use. If your soup is mainly carrot and pumpkin, you can expect a naturally sweet flavor, as well as an orange color. If you use a whole mixture of veggies the soup might look more brown.
Feel free to add croutons or anything else you want, to garnish the 100 calorie vegetable soup. Some cilantro on top might look nice, or even a dollop of sour cream or thick yogurt.
Yes You Can Freeze Vegetable Soup
I usually divide the finished 100 calorie vegetable soup into 4 plastic containers when it's ready and get 3 portions out of each one.
The soup keeps a few days in the refrigerator or you can just freeze it. That's one of the things that's so good about making a huge batch of soup. You will have a tasty soup all week or you can freeze containers of it for months.
To reheat it simply microwave it, stirring every 30 seconds, or else warm it in a pan on the stove, as you prefer. The flavor gets better every day and if you've put spices in there you will find their flavors become more pronounced.
This low cal vegetable soup can be made with slightly different ingredients each time – you'll never get bored with it!