How to cook a T bone steak in a pan is well worth knowing so you can rustle up this delicious meaty treat whenever you want.
T bone steak is relatively lean and extremely tasty. Choose one with a nice red color and a bit of marbling and then you can pan fry it for amazing results. If you usually grill your steaks, consider pan-frying instead because you will still get a really good flavor, plus 'grill marks' if you are using a griddle pan (a ribbed pan).
Also, if the weather isn't quite warm enough to fire up the grill, you can still cook your T bone to perfection. Learn how to cook a T bone steak in a pan and you can prepare a side dish in the oven at the same time, and always know how to make juicy, tasty steak.
T Bone Perfection: It's Clear in the Sear
Cooking the T bone steak in a pan means you can bring out its wonderful flavor and sear it beautifully.
The T bone comes from beef top loin and it is so named because of the shape of the bone. One steak offers about 300 calories, 20g of protein and no carbs.
The hot surface of your pan will sear the steak and you do not have to add extra fat to the pan when cooking a T bone in this way if you use a cast iron pan or griddle pan.
How to Cook a T Bone Steak in a Pan – An Important Tip
It is important to let a steak come to room temperature before cooking and that applies to all steaks and all cooking methods, so it is good practice. Either let it sit on the counter for about 45 minutes or wrap it tightly and let it sit in room temperature water for half an hour if you're in a rush.
Preparing the Steak
Rub it with olive oil, not too much, and add salt and pepper, or a rub if you prefer. The salt will pull the juices out of the center of the meat and these juices will soak back into the meat as it cooks, keeping it succulent.
How to Cook a T Bone Steak in a Pan Perfectly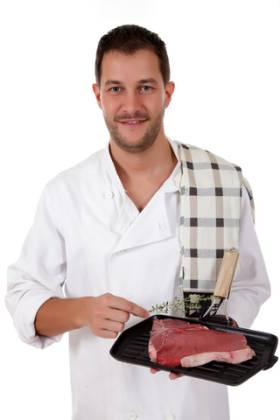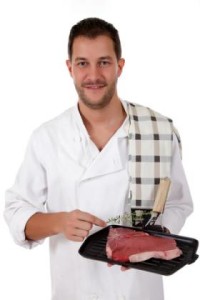 Use a high heat and pan fry it quickly, not adding the steak to the pan until the pan is already hot. Cook it for about 7 minutes and flip it over using tongs.
Cook it until it is done the way you want, but I suggest not going over medium-rare if you want the juiciest, most tender result. An instant-read thermometer is useful for determining doneness.
How Long to Cook T Bone Steak on Stove
When the steak is still about 5 degrees below the temperature you are going for, take it out of the pan and let it sit under loosely tented foil for 10 minutes or so, for the juices to redistribute. So what temperature are you going to cook it to?
Here are the guidelines:
Rare is 120 degrees F
Medium rare is 145 degrees F
Medium is 160 degrees F
Well done is 170 degrees F
Serve your side with a classic side dish such as fries or a baked potato, a creamy dressing topped green salad, onion rings, breaded mushrooms, or coleslaw. Corn on the cob is also great with T bone steak. Now you know how to cook a T bone steak in a pan you will be able to make this tasty treat anytime.
Print
How to Cook a T Bone Steak in a Pan
T bone steak is one of the most succulent steaks to choose, and learning how to coax the best out of it is crucial. The resulting steak will be juicy and oh-so-tender.
Author:
Prep Time:

10 mins

Cook Time:

12 mins

Total Time:

22 mins

Yield:

2

1

x
Category:

Entree

Cuisine:

USA (Traditional)
1 1/2

lbs (675g) bone-in T-bone steak

1 tablespoon

olive or canola oil
Salt and black pepper
Instructions
Preheat the oven to 450 degrees F.
Half an hour before cooking take the steak out of the refrigerator.
Let it come to room temperature.
Heat a skillet or griddle pan over a high heat.
Pat the meat dry and rub a little oil over it.
Season with salt and pepper.
Reduce the heat slightly and cook the T bone for 7 minutes.
Flip it over and cook until done to your liking.
Transfer the steak to a cutting board.
Let it rest for 10 minutes.
Cut the meat off the bone and carve it across the grain.