Wonton Articles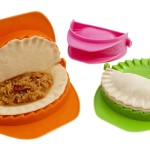 Just because wontons are Chinese in origin does not mean you have to stick with the tried and tested Chinese wonton recipes. International wontons are an exercise in experimentation and sometimes this fusion really works! Of course, traditional wonton soup is delicious and Chinese-style fried wontons offer a flavor experience that most people enjoy very much, but you might like to experiment with a different take on the classic wonton recipe.
Since wonton skins are made with egg, flour and water, they do not have a lot of flavor. This means you can use any kind of filling and rest assured it will complement the wonton skin flavor. For example, if you want to try out something Italian, what about combining mozzarella or cream cheese with finely chopped sundried tomatoes and basil as your wonton filling. For a Greek feel, you could use feta cheese, diced black olives and perhaps some lemon juice and black pepper. A pinch of oregano would also work.
For an unusual Asian wonton, try duck and plum sauce or your favorite meat with your favorite Asian condiment. You could even make a Mexican wonton recipe by mixing grated Mexican blend cheese with minced chilies and ground beef if you want international wontons in a south of the border style. The sky is the limit and you can incorporate your favorite ingredients to make a wonton filling to die for. Continue reading →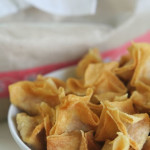 Although you might have enjoyed wontons at a Chinese restaurant or from a takeout, there is nothing quite like the flavor of homemade wontons. Easy wonton recipes are great and there's nothing quite like them! Yes, they have a beautiful fresh flavor and of course you can decide what type of wontons you wish to prepare. Homemade wontons are wonderfully unique because you can experiment with the fillings and flavorings, perhaps making spicy wontons with a cooling dipping sauce, mild-flavored wontons with a spicy dipping sauce, or even traditional wonton soup or healthy baked wontons.
It is totally up to you how to make them, and you can make the most amazing wonton recipes with ease. There is nothing hard about making your own wontons and once you realize how easy wonton recipes are, you will want to experiment with different kinds.
Easy Wonton Recipes: Nothing Quite Like Them!
Wontons are the quintessential crunchy Asian snack and nothing else comes close. Whether you are serving plain fried wonton skins or stuffed wontons, crispy wontons which are still hot from the fryer make an amazing snack. There is also nothing quite like wontons if you are making an Asian soup recipe, and finding soft, succulent wontons floating in your fragrant soup means a meal you will not forget in a hurry. Continue reading →
Some More Hot Content For You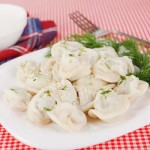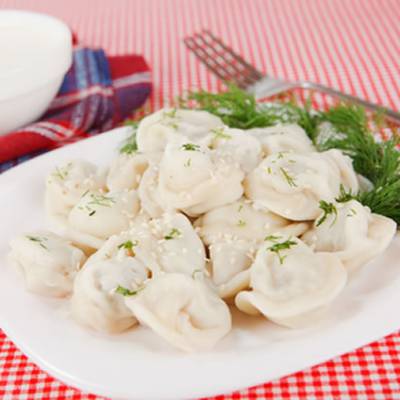 Everyone loves wontons! So what is the history of wontons and how did they come about, get so popular and make their way all over the globe into all of our hearts? Well, wontons originated in North China. They used to be sealed stuffed buns and were named 'huidun' which means chaos. The name was later changed to 'wonton' to suit the Chinese writing characters. Today the word wonton is understood all over the globe, and new varieties and flavors are coming out all the time.
Flour wonton wrappers are stuffed, and then boiled, steamed or fried. They are very similar to Chinese dumplings, although wontons are made with square wrappers and dumplings are made with round ones. Wonton wrappers are also thinner than dumpling wrappers.
There were numerous wonton restaurants in cities during the Tang and Song dynasties, and they were filled with a delicate stuffing and boiled in soup. It was traditional in some regions to eat wontons on the midwinter day, and this is an important fact in the history of wontons. Continue reading →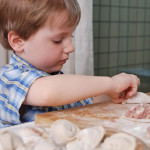 Wontons are both economical and easy to make yourself. You can of course buy readymade wontons or wonton soup, or you can buy it from a Chinese restaurant, but when you do you are cheating yourself. Nothing is as yummy as your homemade wontons. Everyone can rustle up an easy wonton recipe, regardless of cooking ability and experience or lack thereof. The top five reasons to make your own easy wonton recipe, using a time-honored wonton recipe are as follows:
1) Wonton recipes are easy, there is no doubt about it. If you use a single ingredient (applesauce or cream cheese, for example) for the filling, plus readymade wonton wrappers, you will only need two ingredients to make homemade wontons. How many other recipes can claim that?
2) Wontons purchased from a grocery store or Chinese restaurant are many times more expensive than homemade ones. Why spend more money on something which will not taste as good as your homemade wontons? Continue reading →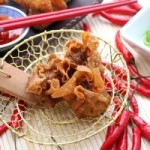 Easy wonton recipe ideas are vital for every keen cook who wants to learn more about Chinese cooking. Making your own wontons is a great idea if you want to make something simple yet tasty, using easy-to-find ingredients and common cooking methods. A lot of wonton recipes freeze well too, so you might wish to make a batch of wontons and freeze them for a future wonton soup recipe or fried wonton recipe. If you are feeding a crowd, you might like to offer them a platter of steaming hot crispy wontons, as well as a bowl of chili dipping sauce, or you could make dessert wontons to thrill your kids. There are easy wonton recipes for everybody.
Easy Wonton Recipe Ideas: The Simplicity of an Easy Recipe
Easy wonton recipe ideas might sound like something for an experienced cook, but they are actually a lot simpler than you might have thought. Consider the most easy wonton recipe for example. This means you would put a teaspoon of your filling (perhaps something readymade like ground chicken, cream cheese or even applesauce) on to each wonton wrapper, seal them and fry them for a couple of minutes.
If you want to make wonton soup, then the procedure is similar but you would seal the wontons around your filling, then drop them into simmering liquid for four minutes or until they float to the top. That is how straightforward it is to make easy wonton recipes. Continue reading →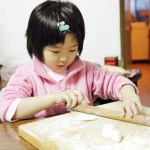 The most important part of your cabbage soup is, of course, the cabbage. You can get cabbage year-round and this vegetable weighs between one and seven pounds. Choose a cabbage with a big, compact head, and tender green leaves which do not show insect damage or holes. Fresh cabbage has plenty of outer leaves and greengrocers peel these off as the cabbage ages. Consider cream cheese wonton ideas. Cream cheese goes with cabbage really well (and seafood too!)
Check the bottom of the cabbage before buying it, to check the leaves are not coming off the stem. If they are, that means the cabbage is old. Savoy cabbages are lighter for their size than other types, since the leaves are looser. You might even like to grow your own cabbage; they are not hard to grow.
How to Freeze Cabbage
If you have too much cabbage to use immediately, you may freeze it. Cut the cabbage into coarse shreds and blanch for a couple of minutes in boiling water. Drain it and chill it, then freeze it for up to a year in airtight containers. It can be thawed and cooked. Continue reading →
Other Posts You Might Like